Northern Ireland First Minister Arlene Foster said British Prime Minister Boris Johnson's new restrictions should be followed to save lives.
Mr Johnson said people must remain at home except for shopping for basic necessities, exercise, any medical need and travelling to and from essential work.
Ms Foster said: "We need to follow this advice to save lives and protect our hospitals.
"People should stay in unless it's essential to go out. It won't be easy but it's for the best."
Shops selling non-essential items were told to shut, and gatherings in public of more than two people who do not live together are banned.
Glyn Roberts, chief executive of Retail NI, which represents small and medium-sized businesses, said: "The Prime Minister has called it right.
Earlier it was announced a third person had died from coronavirus in Northern Ireland.
A statement from Stormont's Department of Health said the patient was in their late 60s and had underlying health conditions.
Health Minister Robin Swann said: "My heart goes out to the loved ones of this patient.
"This is the third tragic announcement of this kind I have had to make in recent days.
"The lethal threat from this virus is very real and we all have to do everything we can to combat it."
Stormont's Deputy First Minister Michelle O'Neill has said that it is a matter of when, not if, a lockdown is introduced in Northern Ireland in an attempt to limit the spread of Covid-19.
It comes after the Justice Minister Naomi Long warned that businesses and event organisers who defy Stormont's coronavirus bans and closure orders will face fines up to £100,000.
Naomi Long said the financial penalties are among new powers set to be made available to the Stormont Executive through emergency laws being passed at Westminster.
Addressing the Assembly on the crisis, Ms Long also said any prisoners who might potentially be released early to alleviate pressure on the prisons system during the emergency would first be assessed to ensure they do not pose a risk to the public or themselves.
Ms Long joined Assembly members from across the chamber condemning those who continue to ignore social distancing advice.
"It is not good enough for people to sit down and wait until they are forced to behave appropriately," she said.
"We all have it in our gift to implement social distancing now, we all have it in our gift to maintain our social isolation if we are in vulnerable groups now, to work from home now.
"We do not need an emergency bill for common sense.
"And so we have got to appeal to people that whilst £100,000 is a lot of money, it will not compensate for the loss of a grandparent and for the loss of a brother or sister or the loss of a child.
"And so people need to take responsibility for their actions, because their decisions today will dictate what happens in two and three and four weeks' time.
"And I don't believe that anyone wants to be standing lonely around a graveside because they went to an event that was completely unnecessary today."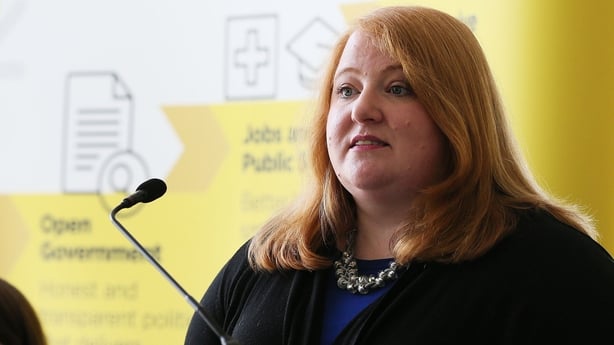 There were 20 new positives cases of the virus in Northern Ireland today bringing the total to 148.
There are 906 cases in the Republic making a total of 1,054 cases on the island of Ireland.
Around 80% of cases of Covid-19 will be a mild to moderate illness, close to 14% have severe disease and around 6% are critical.
Generally, you need to be 15 minutes or more in the vicinity of an infected person, within 1-2 metres, to be considered at-risk or a close contact.
Sinn Féin's John O'Dowd said those who were ignoring the advice were "literally killing people".
"These people who are not respecting the advice they have been given are quite literally killing people and they need to understand that," he said.
"They are spreading this disease, while they may be feeling healthy, they are literally killing people and they need to take that on board."