Minister for Health Simon Harris has said priority testing, for example for healthcare workers, may be implemented as the number of people here with Covid-19 reaches 1,125.
Health officials have said that the waiting time for a test for the coronavirus is between four to five days and around 40,000 people are currently waiting for a test.
But it said that additional centres were being installed across the country to cope with the pressure.
Speaking on RTÉ's Morning Ireland, the minister said that efforts were under way to increase testing capacity, but it was important for anyone displaying symptoms of the virus to self-isolate immediately.
Mr Harris said every effort would be made to protect healthcare workers, adding that there was personal protective equipment in Ireland and it was being distributed fairly.
More equipment is due to arrive from China at the end of the week.
He said he was overwhelmed by the sense of solidarity and dedication of healthcare professions and public servants.
The minister said he expects the National Public Health Emergency Team will make further recommendations when it meets tomorrow.
He said the Government would implement any recommendations, adding that he expects there may be more guidance in relation to public spaces and businesses.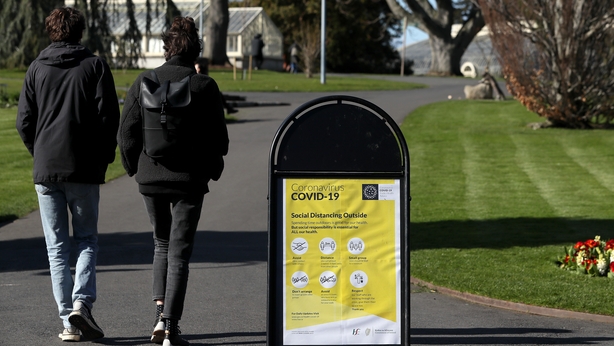 ---
Read:
More coronavirus stories
---
Social distancing is an essential part of slowing the spread of #coronavirus. In order to pull together we must stay apart. #ItsInOurHands #COVID19 pic.twitter.com/EqhKEMCHbb

— HSE Ireland (@HSELive) March 22, 2020
Concerns over availability of protective equipment
Meanwhile, the Secretary General of the Irish Hospital Consultants Association has said he was aware of increasing concerns about access to protective equipment among consultants and doctors.
Martin Varley said IHCA members were surveyed last week and they said they were concerned about the availability of goggles, masks, visors and gowns.
He welcomed comments made by the Minister for Health this morning and said equipment must be delivered to hospitals with the greatest demand and where shortages were already developing.
Dr Varley said supplies at local hospitals are beginning to dwindle and when this happens, confidence also dwindles.
He said frontline workers must be protected from the virus and the protective gear has to be of a high quality.
Dr Varley reiterated an appeal for members of the public to comply with social distancing and practise good hand hygiene.
It comes as the President of the Irish College of General Practitioners said she believes it is inevitable that greater social restrictions will be brought in, but that we should defer to public health to make that decision.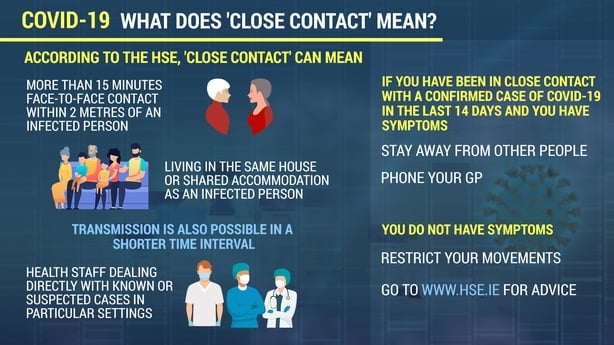 Speaking on Morning Ireland, Dr Mary Favier, a GP in Cork, said that in the interim we must follow the public health advice.
When asked about testing, she said there was a significant backlog in testing and results, saying she had referred some patients last Monday, but they have yet to receive an appointment.
However, she said that GPs cannot expedite tests or receive the test results, and she asked patients not to clog up doctors' phone lines with requests for test results.
Anyone with respiratory symptoms should contact their GP by phone, she advised. She said prioritising the testing of GPs for Covid-19 has not been satisfactorily sorted to date.
She added that it was critical that this problem was sorted because a GP waiting for testing must isolate, it has implications for other people in their practice.
Dr Favier also urged patients with other problems or complications to continue to contact their GPs and call them if there is an issue.
We do not, she said, want to end up in a situation where Covid-19 is under control but other health issues emerge.
Also speaking on Morning Ireland, Dr Christian Lindmeier from the World Health Organization said a 'lockdown' will only be effective if it is part of a comprehensive package of measures to minimise the spread of the coronavirus.
Dr Lindmeier said you first look look at testing, as well as tracing and isolating contacts, then as the second part of the package he said "social distancing can be useful".
In a country where you cannot test everyone, where you do not have enough kits or staff or labaratories, Dr Lindmeier said this was where social distancing was "a useful part of the package", as delaying the spread of the virus facilitated greater preparation to deal with it.