Dozens of new testing centres for the coronavirus are opening around the country, many in venues usually used for social or sporting purposes.
GAA stadiums and grounds are a common site for drive-through testing, including Croke Park, Páirc Uí Chaoimh in Cork and Nowlan Park in Kilkenny.
Waterford Institute of Technology's sports arena is also poised to become a testing location.
In Tipperary, the Moyle Rovers GAA complex, halfway between Clonmel and South Tipperary, goes into use today as a drive-through centre.
This, and other such centres, are by appointment-only and anyone getting tested there will have been referred by a GP.
Less than three weeks ago, the club's pitches and indoor facilities were being used for the many juvenile and adult camogie, hurling and football teams, as well as social reasons, but training came to a stop as a ban was put on all sporting activities countrywide.
The ground was temporarily "taken over" by the HSE and prepared for use as a drive-through testing facility, and went into operation today.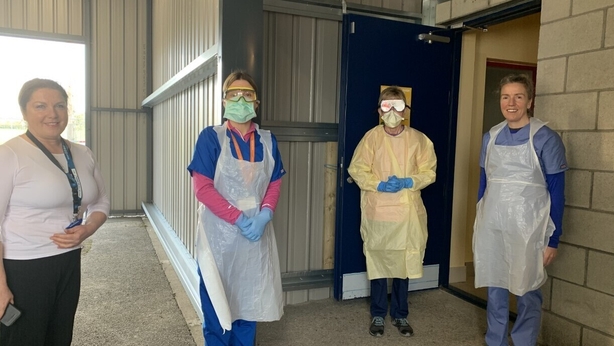 "When somebody gets an appointment, we ask them to call to the centre at a specific time," HSE primary care quality, risk, protection and control adviser Ailis Holohan explained.
"They will arrive in and are asked by our security personnel to verify who they are. We have named people on our list, so if you're not on a list for an appointment, you should not come to the test centre.
"Once they're approved to come for the testing, we ask them to drive up in their cars and into our hub.
"One of the HSE staff members will then carry out the swab procedure, within a specially-constructed steel shelter, taking all necessary precautions and restrictions, before the person drives away.
COVID -19 testing Centre . See https://t.co/g3w7wmbM20 for more. #ClubZap

— Moyle Rovers (@moylerovers) March 20, 2020
"Your whole appointment time will be less than ten minutes at the centre. It is a little bit uncomfortable but by the time it's done you're driving out the gate and we're onto our next client."
When fully up and running, this centre could test up to 50 people every day.
"We're trying to get these hubs up and running all over the country and it's about resources and human resources to get these done. We have the PPEs [personal protective equipment] and we have the people. We're experiencing a backlog currently but we will get there."
Others hubs will open in the coming days, along with the bigger venues such as Croke Park, including centres in Wexford and Carlow and Waterford.
A HSE spokesperson said: "It is important to be clear that this service is only for people who are showing symptoms and who have been referred by their GP and not for the 'worried well'.
"This is important, so that the service is not overloaded and to ensure that the health services are in a position to provide it for those who need it most."
The HSE has also appealed for the privacy of those staffing and visiting the test centres to be respected.
"At no stage will visitors leave their cars," the spokesperson added.
While a test centre centre already exists in Waterford in Kilcohan, preparations are under way to establish a second Covid-19 testing facility at the Institute of Technology's sports arena.
Waterford IT confirmed this evening that the service is being established in partnership with UPMC, under the direction of the HSE.
The test centre will be at the WIT Arena, which is at the college's Carriganore campus on the western side of the city, close to the Cork Road and the outer relief road.
"The institute is proud to be able to be part of the national response to this pandemic. In these extraordinary times we must all play our part and we are comforted that we can make a contribution in this way," a statement from the college read.
"To ensure patient confidentiality and public confidence in the process, media and the general public must stay away from testing facilities, including the WIT Arena."