Taoiseach Leo Varadkar has met US President Donald Trump at the White House.
Asked if he could confirm that Ireland was not included in the travel ban he announced last night, President Trump said it was made very clear who was and who was not on the list of countries.
The Taoiseach confirmed that Ireland is exempt from the restrictions.
I asked @realDonaldTrump if he could confirm that Ireland is NOT on his list of banned countries. He didn't give a direct answer but the Taoiseach did confirm that Ireland is not on the banned list. #coronavirus @rtenews pic.twitter.com/e0EJTy0BqL

— Brian O'Donovan (@BrianOD_News) March 12, 2020
Mr Varadkar outlined the measures Ireland is taking and also called on countries, including the US, to work together to tackle the coronavirus.
"This virus knows no borders or nationalities," Mr Varadkar said. 
President Trump said the UK had been excluded because it has very strong borders.
It comes after the traditional St Patrick's Shamrock Ceremony reception at the White House was cancelled because of concerns over the coronavirus.
The White House said the event, which was due to take place this evening, would not be going ahead "out of an abundance of caution".
The move became apparent last night when it was not included on US President Donald Trump's daily schedule for today.
Yesterday, Mr Trump announced he was suspending all travel between the US and Europe - excluding Ireland and the UK - for 30 days starting midnight Friday as he seeks to combat coronavirus.
Elsewhere, New York City has postponed its annual St Patrick's Day parade over the global coronavirus pandemic, days after other events in US cities were cancelled.
State governor Andrew Cuomo said the decision was taken after a meeting with parade organisers.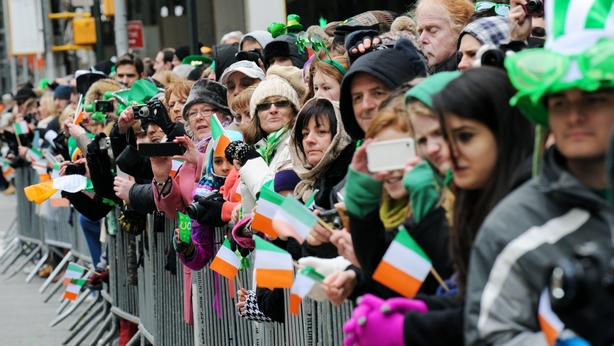 ↵
---
Read more:
US bans travel from Europe
Coronavirus: Live updates
Govts urged to scale up response
Covid-19: The facts and the myths
---
"One of the most effective ways to contain the spread of the virus is to limit large gatherings and close contacts, and I applaud the parade's leadership for working cooperatively with us," said New York state governor Andrew Cuomo in a statement.
New York's St Patrick's Day parade is the largest in the US and typically attracts two million spectators.
The event has been held annually for more than 250 years and yesterday's announcement marked the first time it would not be held as scheduled.
Officials said the parade would be held at a later date.
"I know this decision didn't come easy, so I'll make this promise: this is a postponement, not a cancellation," said Mayor Bill de Blasio.
Boston's mayor on Monday announced the cancellation of his city's St Patrick's Day parade, which was expected to attract around one million attendees.
Earlier this week, the Irish Government decided to cancel all St Patrick's Day parades on the advice of health officials.