The number of people who have died from the Covid-19 coronavirus in Italy has risen to 148 after 41 new deaths were reported.
The increase was the highest for a single day to date. The number of cases also jumped by a new high of 769, reaching 3,858.
The UK has also confirmed its first death from coronavirus, with the Royal Berkshire NHS Trust issuing a statement saying: "Sadly, we can confirm that an older patient with underlying health conditions has died.
"The patient has previously been in and out of hospital for non-coronavirus reasons, but on this occasion was admitted and last night tested positive for coronavirus."
It comes after the World Health Organization said the coronavirus outbreak is not yet at pandemic level, but there are "very concerning signs".
Speaking in Geneva, WHO Director General Tedros Adhanom Ghebreyesus also warned that a number of countries are not taking all the steps needed to fight against the spread of the coronavirus.
He said he was concerned that a "long list" of countries were not showing "the level of political commitment" needed to "match the level of the threat we all face."
"This is not a drill," he said.
Dr Tedros also said some people are saying the virus is already a pandemic, but the WHO does not think its containment strategy should be abandoned.
In the UK, the number of confirmed cases has exceeded 100. As of 9am, 18,083 people had been tested in the UK.
Some 116 people have tested positive, including 105 in England, three in Wales, six in Scotland and three in Northern Ireland. Just two days ago there were 51 UK cases.
Professor Chris Whitty said 17 people were diagnosed who had recently travelled from countries or clusters already under investigation. Eight people contracted the virus in the UK, he added.
Prof Whitty told MPs the UK has now mainly moved into the "delay phase" of tackling the virus.
Half of all coronavirus cases in the UK are most likely to occur in just a three-week period, with 95% of them over a nine-week period, he added.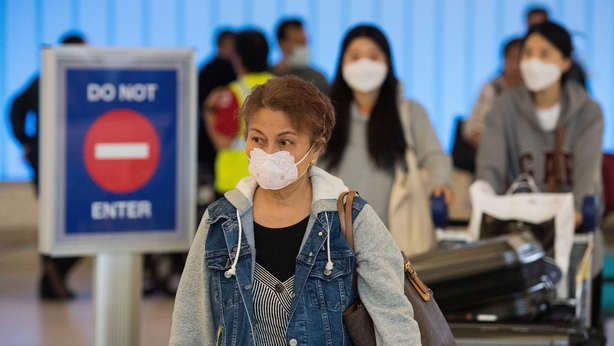 Elsewhere, California has declared a state of emergency due to the virus, as a cruise ship was held off the coast over fears of a new outbreak.
Separately, the US federal government said it was going to buy 500 million respirators to stockpile for use by healthcare professionals.
The measures came as the death toll in the United States hit 11, including the first fatality in California.
California Governor Gavin Newsom announced the emergency measures as he reported the death of an elderly person who had taken a cruise to Mexico.
Mr Newsom told reporters: "The State of California is deploying every level of government to help identify cases and slow the spread of this coronavirus."
The emergency proclamation would help the state prepare "in the event it spreads more broadly", he said.
Thousands traveling aboard the Grand Princess, the same cruise ship on which California's first victim was thought to have contracted the virus, were held offshore last night.
The ship cut short its current voyage back from Hawaii after passengers and crew members developed symptoms.
But its planned return to San Francisco was held up in order to carry out testing on board for those potentially infected.
Eleven passengers and ten crew members were potentially infected with the virus.
4 ways you can help prevent the spread of coronavirus: pic.twitter.com/49oggxYhrI

— Gavin Newsom (@GavinNewsom) March 5, 2020
In total, some 2,500 passengers and around 1,150 crew were on board for its Mexico voyage.
The Grand Princess belongs to Princess Cruises, the same company that operated the coronavirus-stricken ship held off Japan last month on which more than 700 people on board tested positive.
---
Read More:
Focus remains on containment to stop virus spread - Dept of Health
Four more cases of coronavirus confirmed in west of Ireland
Call for more stringent travel restrictions in wake of Covid-19
Fist bumps and elbow taps replace handshakes and kisses
Why the coronavirus has led to so many conspiracy theories
Global battle against virus sees 290 million students out of school
---
Throughout the US, more than 130 people have been infected, with the virus detected in more than a dozen states.
House Speaker Nancy Pelosi said Republicans and Democrats had reached a deal to fund the response to the outbreak to the tune of $8.3 billion.
Elsewhere, a 74-year-old woman has died in Switzerland, marking the country's first death in the outbreak, police said.
The woman, who was hospitalised in the western city of Lausanne with the virus on Tuesday, had died overnight, regional police in the canton of Vaud said in a statement.
To date, Switzerland has registered 58 confirmed cases of Covid-19 since the disease first surfaced in the country on 25 February.
Japan has said it quarantine all passengers arriving from China and South Korea, the country's prime minister said, as the government ramps up measures to contain an outbreak of Covid-19.
Shinzo Abe told a cabinet-level task force meeting on the virus: "We will strengthen immigration quarantines on people from the two countries."
"We will ask them to stay in designated areas for two weeks and not to use public transport," Mr Abe added, saying the measures would come into force from 9 March.
Yesterday, Italy ordered schools and universities shut until 15 March, ramping up its response as the national death toll rose to 107, the deadliest outbreak outside China.
South Korea, the country with the largest number of cases outside China with over 6,000, has postponed the start of the next term until 23 March.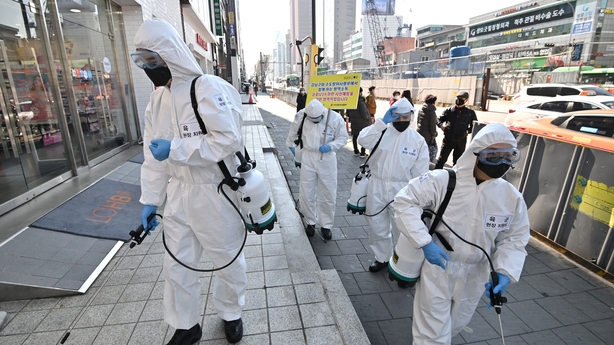 The German health minister said the outbreak was now a "global pandemic", a term the World Health Organization has stopped short of using, meaning the virus is spreading in several regions through local transmission.
Infections are now rising faster abroad than they are in China, where 31 more deaths and 139 new cases were reported today.
China's death toll now stands at 3,012, with over 80,000 infections.
Beijing is now concerned about importing cases, with 20 infections brought from abroad so far, including Italy and Iran, prompting the capital to require people arriving from hard-hit countries to go into self-quarantine.
From western Europe to eastern Asia, supermarket and pharmacy shelves have been stripped of supplies in recent weeks, including masks, toilet paper and hand sanitiser.
Stock markets have rumbled over fears of recession, but Asian shares extended gains today after a surge on Wall Street buoyed by global stimulus measures.
The IMF said it was making $50 billion in aid available for low-income and emerging-market countries to fight the epidemic, which it sees as a "serious threat" that would slow global growth to below last year's 2.9 percent.
"At a time of uncertainty... it is better to do more than to do not enough," IMF chief Kristalina Georgieva said, calling the epidemic "is a global problem calling for global response".