Four more cases of coronavirus have been confirmed in the west of Ireland, bringing the total number of cases in the country to six.
The patients, two male and two female, are all associated with travel from the same affected area in northern Italy.
There are now nine cases on the island of Ireland, including the three cases in Northern Ireland.
Dr Tony Holohan, Chief Medical Officer with the Department of Health, described the latest cases as a cluster and said all four had travelled together.
Speaking on RTÉ's Nine News, Dr Holohan said they are being treated in a isolation unit in a hospital in the west of the country.

Dr Holohan said he was confident that control arrangements around these and other cases can help contain the virus.
He said the scale of contact tracing in this case would be significant due to the number of potential contacts involved. He said public health doctors were experts in this area and had effective training.
Dr Holohan also said he did not believe travel restrictions should be increased in the wake of these latest cases.
The two previous cases were confirmed in the east of the country and concerned people who had also travelled from northern Italy.
Meanwhile, two cases of coronavirus were confirmed in Northern Ireland this evening, bringing the total there to three.
The NI Department of Health said the cases were not connected and both patients were adults.
One person travelled back to Northern Ireland from northern Italy, while the other had contact with a person in the UK, who subsequently tested positive for the virus.
The first case in Northern Ireland was confirmed last week and concerned a person who had returned from northern Italy.
The department said the latest patients were receiving appropriate care and they were working rapidly to identify any contact they may have had.
Queen's University Belfast said it has been informed by the Public Health Agency of a presumptive positive case of the virus within the university community.
It said it was now working to trace anyone who had been in contact with the individual to ensure they were supported to receive medical attention if required.
COVID-19 #Coronavirus Update: We have been informed by @PublicHealthNI of a presumptive positive case of #COVID19 within the University community.

Please read the full statement below and click here to see our guidance for staff and students: https://t.co/R6qfESdaDu pic.twitter.com/5WexC98erb

— Queen's University Belfast 🎓 (@QUBelfast) March 4, 2020
"The university is open and operating as normal," it said.
It urged people to refer to its FAQs page on its website and the latest official advice and guidance from the Public Health Agency and other statutory bodies.
Earlier, Dr Holohan said he did not believe the people who tested positive in Northern Ireland had travelled through the Republic.
Speaking at a press briefing in Dublin this evening, he said: "The contact tracing process has only begun. We have not been alerted to any cross-border aspect in terms of that contact tracing.
"It is still quite early in the contact tracing process so it is still possible, but there are no indications as of yet."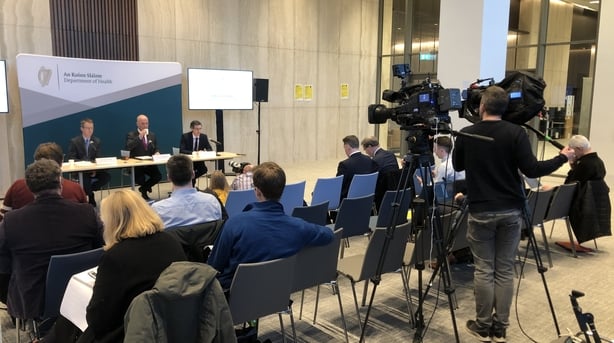 Dr Holohan also said there was no reason to cancel the St Patrick's Day parade in Dublin, which attracts hundreds of thousands of tourists from around the world.
He said: "As things stand and on the basis of our assessment, we see no implications for the St Patrick's Day parade."
Minister for Health Simon Harris warned that the virus could be with us "for months and months".
Speaking on RTÉ's News at One, Mr Harris said Irish citizens are being advised to avoid unnecessary travel to northern Italy, but that banning flights arriving here from affected areas would not be effective.
"All of the public health advice - not just in Ireland, but at an EU level - is that that wouldn't be effective for a variety of reasons", Mr Harris said.
"Including the fact that even if you did do it, what's to stop somebody arriving from an affected region who has flown out of another member state?"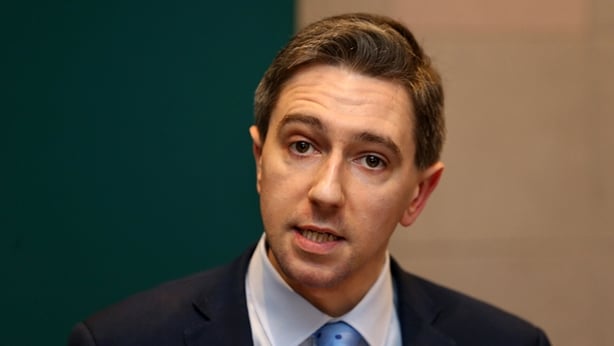 With regards to the cancellation of the Ireland-Italy rugby match last week, Mr Harris said there were "very specific circumstances" under which he was advised to do so.
He said he understands that many Italians may still choose to travel to Ireland for the weekend, but that the risk was having a "very large number of people from an affected region in a confined space".
The risk is not seen as the same if people are dispersed across a number of different locations, he said.
"It is a fact of life that people will continue to move from one member state to another," he said.
"It's about being proportionate. We've got to remember, this is a virus that may well be with us here in Ireland for weeks and weeks, if not months and months."
---
Read more
Number of UK coronavirus cases jumps to 85
Antrim hospital sets up drive-through testing service
Latest coronavirus stories
---
When asked if the St Patrick's Day Festival should go ahead, Mr Harris said it was his view that his view should not matter.
"I have to make decisions on the basis of best public health information," he said. "The public health advice is that if you were to call it today, you would say that it could go ahead."
He said this is for a variety of reasons, including the fact that the St Patrick's Day parade does not take place in one confined location.
"But three weeks ago, there's not a hope we would have cancelled the Ireland/Italy rugby game," Mr Harris warned.
"And then we saw what happened in Italy. So this is something that's being monitored. The advice as of today is that there's no need for it to be cancelled but advice may change, because the situation may change."
Coronavirus situation should not be 'over dramatised' - Italian ambassador
The Italian Ambassador to Ireland, Paolo Serpi, has said travel advice has not been issued to Italian citizens who may come to Ireland this weekend, despite the cancellation of the Ireland v Italy Six Nations match.
Speaking on RTÉ's Drivetime, Mr Serpi said the situation "across Italy is being monitored very closely" but he urged people not to be over dramatic in relation to coronavirus.
"Authorities are telling people that if they have symptoms they should not travel but we should not become hysterical."
He added: "We should not over dramatise, when we get over dramatic we risk making mistakes and this is simply silly because we are in a good framework. We are in a country well equipped in terms of public health.
"We are in the European Union, and we are responsible for each other. It is a serious situation but we don't want to transform it in to a drama when it is not a drama."
He said that northern Italy has close connections with China due to strong links in the textile trade.
"It has Italy's largest Chinese population because of the textile industry. That is why Italy was the first country to be affected in Europe on such a scale," he said.