The Department of Health has said everyone who has been in close contact with a woman diagnosed with coronavirus has been traced and notified.
The woman travelled through Dublin Airport on her way home to Northern Ireland from northern Italy.
It was confirmed last night that the woman tested positive for the illness on returning home to Belfast.
The woman was travelling with a child, who is not displaying any symptoms.
While the patient was tested at the Royal Victoria Hospital in Belfast, she was then allowed to return home and is receiving specialist medical treatment there.
Lombardy in northern Italy, where the woman is believed to have been visiting, is one of the major centres of the coronavirus outbreak in Europe.
Chief Medical Officer Dr Tony Holohan said the contact tracing process had been completed and the individuals involved had been contacted and given the appropriate advice.
We need your consent to load this rte-player contentWe use rte-player to manage extra content that can set cookies on your device and collect data about your activity. Please review their details and accept them to load the content.Manage Preferences

Aer Lingus confirmed that the woman travelled on one of the airline's flights.
It said it was co-operating fully with the HSE and liaising with the Department of Foreign Affairs, other Government departments and the relevant authorities as required.
It said it would continue to assess the situation based on the guidance received.
Cabin crew who worked on the flight are in self-isolation for 14 days.
In an internal memo to staff seen by RTÉ News, the airline said that the aircraft involved was not used for 16 hours after it returned to Dublin and that the flight crew, maintenance and cleaning staff that were in contact with the the aircraft do not need to take any action as they were not in direct contact with the suspected case.
Aer Lingus says that self-isolation is a precautionary measure but that it is a stressful time for those involved and their families.
It said it would not be releasing the flight details to protect the identities of those involved and said messages of support could be sent internally.
---
Read more
---
The Health Protection Surveillance Centre said the number of people who were in close contact with the woman was small.
Dr John Cuddihy, the Director of the HPSC, said that all stages of the woman's journey have been identified.
Dr Holohan also said while the country continues to be in a containment phase, he said "it is likely that another case or cases could be imported" into Ireland.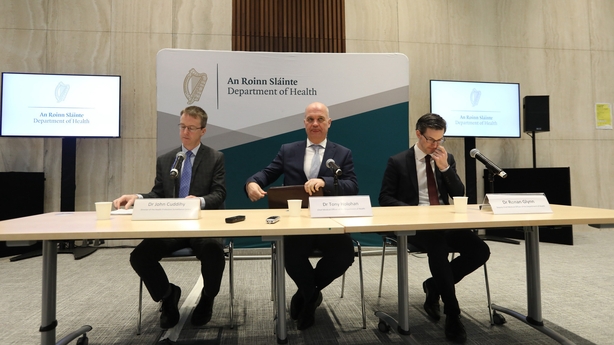 Northern Ireland Health Minister Robin Swann has said he is confident everyone who came into close contact with the patient has been identified and contacted.
He said none of them has been tested because they are not displaying any of the symptoms associated with the virus.
The minister revealed that 93 people have now been tested for coronavirus in Northern Ireland – but the only confirmed case was that which arose last night.
The minister said the departments of health and health agencies on both sides of the border are working closely together.
In terms of specialist equipment for GPs and hospital staff who would have to treat anyone with the virus, Robin Swann said Stormont's preparations for a possible No Deal Brexit helped its level of readiness.
We need your consent to load this rte-player contentWe use rte-player to manage extra content that can set cookies on your device and collect data about your activity. Please review their details and accept them to load the content.Manage Preferences
Deputy Chief Medical Officer Dr Ronan Glynn said "it wouldn't be a surprise to us if there are further cases in the days to come" but he said Ireland was "not a high-risk country".
He added: "The emphasis at the moment is, and will continue to be, on identifying cases early and ensuring minimisation of spread."
Dr Glynn said the European Centre for Disease Prevention and Control "has been quite clear that the risk of scenarios similar to what happened in Italy is moderate to high across Europe, so of course we are planning for a scenario such as that here in Ireland, but in the first instance we are dealing with the case that we have on the island".
They reiterated that anyone who had been in close contact with a confirmed case of Covid-19 in the last 14 days and is experiencing symptoms should immediately self-isolate and call their GP.
Dr Glynn said there was no need in this case to put public alerts about travel on buses and trains as has been done in the past in relation to measles cases.
In relation to the case in Northern Ireland and concerns over how the woman travelled from Dublin to Belfast, he said: "If you have not been contacted by somebody from public health in the last 12-15 hours you can stop worrying. You have not been in contact with this case and that's as much reassurance as we can give anybody."
He was speaking as he and other health officials, including the Minister for Health, were in Dublin Airport to meet people manning an information stand about Covid-19.
Simon Harris also said it is important that people get their information from reputable public health sources.
He said he was aware of rumours of hospitals in lockdown and false videos circulating on Twitter.
But he said the World Health Organisation says the spread of misinformation is one of the greatest challenges in stopping the spread of this virus.
Northern Ireland's Public Health Agency would not confirm how the patient travelled home from Dublin Airport, but she is believed to have used public transport.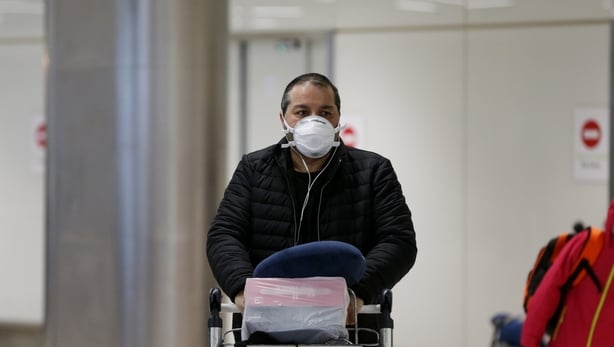 Health services in 'containment phase'
The Chief Executive of the HSE has said that health services remain in a "containment phase".
Paul Reid said the 29 emergency units have isolation units and the ICU capacity is being increased.
He said the call centre has handled about 2,500 calls, 300 of those would have referred to public health experts and those experts have handled cases directly themselves.
Mr Reid said up to Wednesday evening 110 tests had been carried out all of which had tested negative.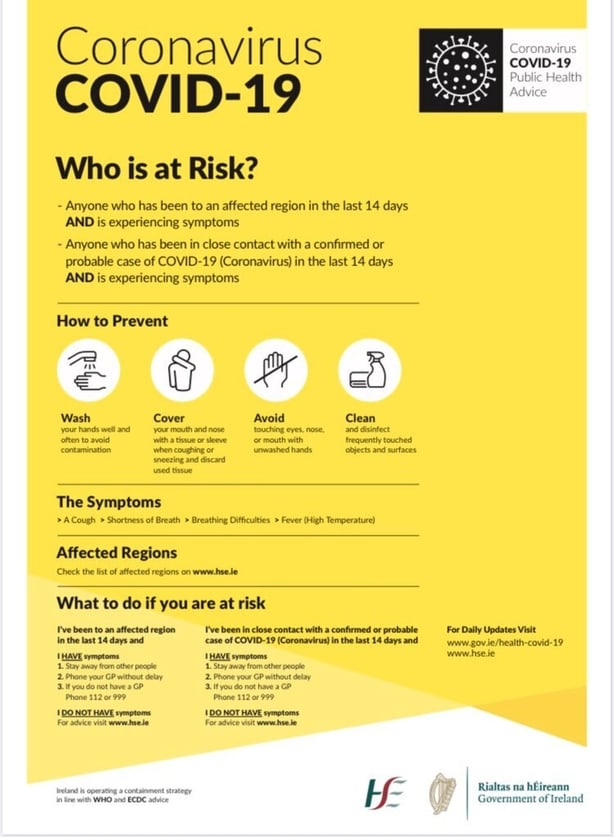 He said the HSE is talking to public health nurses and the national ambulance services about testing for Covid-19 in people's homes.
Iarnród Éireann has said a deep-clean of the carriages on the Dublin to Belfast Enterprise train fleet has been carried out as a "precautionary measure".
The rail company said it had "no confirmation" that the woman was a passenger on the Enterprise train.
However, a spokesperson said "but both Iarnród Éireann and Translink undertook a sanitising clean of the Enterprise fleet as a precautionary measure overnight."
Iarnród Éireann also said it is "working internally on contingencies in the event of cases of Covid-19 in Ireland, or on our services and in our workplaces, and will engage and be guided by the relevant health and other government agencies".
It is liaising with the National Transport Authority and other transport operators as part of the process.
Translink in Northern Ireland has said that members of the public who travelled between Dublin and Belfast using public transport "need not be concerned".
"All stages of the individual's journey were identified and those who came into closest contact have been traced and contacted with public health advice and guidance".
Speaking on RTÉ's Today with Sean O'Rourke, Mr Harris said the public should continue to adhere to public health protocols issued by the Department of Health.
The NI Public Health Agency said it was confident the risk to the wider public was low because the patient self-isolated and contacted her doctor as soon as she displayed symptoms associated with the virus.
Reporting: Fergal O'Brien and Vincent Kearney