Health Correspondent Fergal Bowers explains what this first case in Northern Ireland involving a person who landed at Dublin Airport means for passengers on that plane?
For the public health authorities here, they will follow the European Centre for Disease Control and Prevention guidelines.
They will assist with contact tracing people who were on the flight into Dublin, and onwards if public transport was used.
They will get the flight manifest and names and seats.
This is split into two groups – those who were in close contact and those who were casual contacts.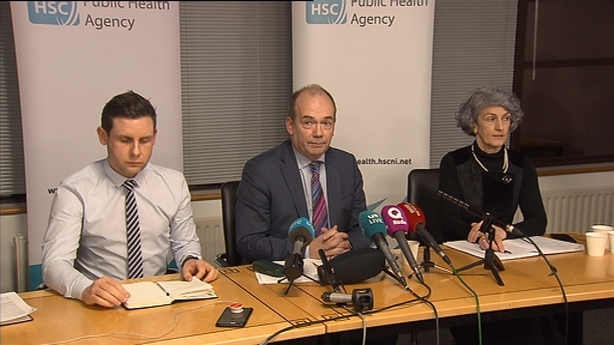 On a plane, people in close contact, are those about two seats in either direction.
People who were in close contact will be contacted and advised to self-isolate and public health officials here will normally to monitor them daily to see how they are.
Those in casual contact would be advised to get general advice from HSE and contact their GP by phone if they become ill and follow the well-publicised guidelines.
For reasons of patient confidentiality, limited details of the Dublin-Belfast patients will be provided.
The first case in Northern Ireland does not change a lot for the Irish health service.
But it is the first case on the island of Ireland.
---
Read more:
NI coronavirus case had travelled through Dublin
Coronavirus: Latest advice as cases rise abroad
Which European countries have reported coronavirus cases?
WHO says coronavirus epidemic at 'decisive point'
---
The approach being adopted by the HSE will continue. The HSE remains in the containment phase.
A case, or cases, here are seen as likely soon.
But there have been no confirmed cases in the Republic of Ireland at this point.
The contact tracing of people on the plan which landed in Dublin could change that.
The case in Northern Ireland will not change any at risk status here for Ireland.
Even the UK, with it 15th and now its 16th case, is not on any at-risk list regarding travel by the European Centre for Disease Prevention and Control.
But these events will raise the alert among health authorities north and south.
Anyone seeking general advice is being advised to look up the HSE website.