The death toll from an outbreak of coronavirus in Italy has risen by 28 over the past 24 hours to 107.
The country's the Civil Protection Agency confirmed the new fatality figures as the spread of virus showed little sign of slowing.
The accumulative number of cases in the country, which has been hardest hit by the virus in Europe, totalled almost 3,090, up from 2,502 yesterday.
The contagion came to light 13 days ago and is focused on a handful of hotspots in the north of Italy.
However, cases have now been confirmed in all but one of the country's 20 regions. The spread of the virus has forced Italy to close all schools and universities until 15 March.
The Italian government also ordered all sporting events to be held behind closed doors until 3 April.
In a statement, the government said "all sporting events and competitions of all types, whether private or public" can proceed "in sports facilities behind closed doors - namely in the open air but without the presence of the public".
The country's prime minister, Giuseppe Conte, said that Italy's health service risks being overwhelmed by the coronavirus.
Meanwhile, the UK has seen its biggest day-on-day increase in coronavirus cases, with 87 people now confirmed to have Covid-19 including two more cases in Northern Ireland, bringing the total there to three.
Three of the 29 new cases in England were passed on in the UK, raising fears that community transmission may now be taking hold.
The jump comes as England's chief medical officer, Professor Chris Whitty, warned that a UK epidemic is looking "likely".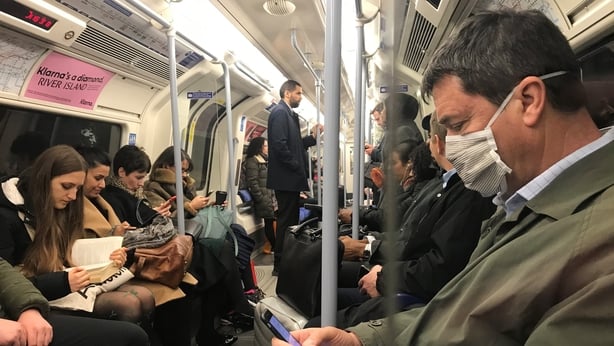 Prof Whitty said the new cases in the UK included 32 patients from England.
"Twenty-nine patients were diagnosed who had recently travelled from recognised countries or from recognised clusters which were under investigation," he said.
"Three additional patients contracted the virus in the UK and it is not yet clear whether they contracted it directly or indirectly from an individual who had recently returned from abroad. This is being investigated and contact tracing has begun."
UPDATE on coronavirus (#COVID19) testing in the UK:

As of 9am 4 March 2020, a total of 16,659 people have been tested:

16,574 negative.
85 positive.

For latest information visit:
??https://t.co/CZh5JdyN2Q pic.twitter.com/Zlu9TSBUwH

— Department of Health and Social Care (@DHSCgovuk) March 4, 2020
Earlier, Prof Whitty told the BBC there could be a need to do "extreme things" to protect the elderly and those with pre-existing health conditions.
He added: "At this point in time we think it is likely, not definite, that we will move into onward transmission and an epidemic here in the UK."
More than 90,000 people have been infected and around 3,200 have died worldwide since the virus, which erupted in China but has now spread to dozens of countries worldwide.
Around 80% of cases of Covid-19 will be a mild to moderate illness, close to 14% have severe disease and around 6% are critical.
Generally, you need to be 15 minutes or more in the vicinity of an infected person, within 1-2 metres, to be considered at-risk or a close contact.
Case confirmed in EU institutions
A first EU official working in the bloc's Brussels administration has tested positive for the virus.
"We have confirmation of the case," EU Commission spokeswoman Dana Spinant said.
A spokeswoman for the European Defence Agency confirmed that a male public servant of the agency had returned from Italy on 23 February and subsequently tested positive.
Meetings at the headquarters of the Brussels-based agency have been cancelled until 13 March, Elisabeth Schoeffmann said.
But the EDA spokeswoman denied a report that the official had attended a four-hour meeting with 30 more staff from the other EU bodies in the city before he was diagnosed.
Brussels is the de facto capital of the 27-nation union and home to many of its institutions, including the European Commission, European Council and European Parliament.
Parliament has already limited public access to its buildings in Brussels and Strasbourg, amid fears that large gatherings could hasten the spread of the global outbreak.
---
Read More:
Four cases of coronavirus confirmed in west of Ireland
Latest Covid-19 updates
Antrim hospital sets up drive-through testing service
Latest coronavirus stories
---
Meanwhile, South Korea reported 516 new coronavirus cases as thousands of sick people waited for hospital beds in Daegu, the city at the centre of the worst outbreak outside mainland China.
The new cases bring South Korea's total to 5,328, with at least 32 deaths, the Korea Centers for Disease Control and Prevention (KCDC) said.
Most cases were in and around Daegu, the country's fourth-largest city, where the flu-like virus has spread rapidly through members of a fringe Christian group.
Health officials expect the number of new cases to be high for the near future as they complete the testing of more than 200,000 members of the Christian sect, as well as thousands of other suspected cases from smaller clusters.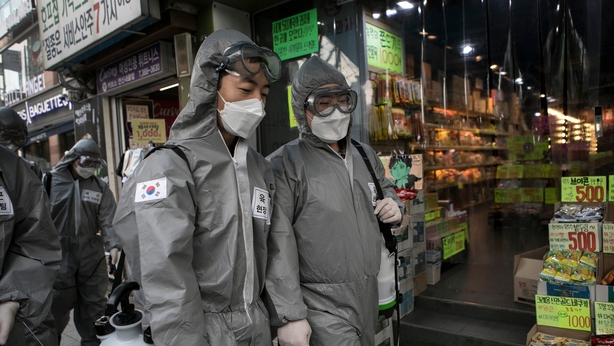 Covid-19 is the illness caused by the new coronavirus which emerged from central China late last year and has spread around the world.
In India, a group of Italian tourists have been put in quarantine, with 17 testing positive for Covid-19, according to reports.
After two out of a group of 23 tourists who arrived in the country last month tested positive in the western state of Rajasthan, the other 21 were put under quarantine in a special facility in New Delhi yesterday.
Worldwide around 3,200 people have died from the virus with more than 93,000 infections, with China, South Korea, Italy, Iran and Japan the worst affected.
Mainland China had 119 new confirmed infections as of yesterday.
India has now stepped up preventative measures including barring visitors from Italy, Iran, South Korea and Japan, except diplomats and officials from international bodies.
The number of confirmed infections in Japan has reached the 1,000 mark.
Japan's northern island of Hokkaido reported three more cases of coronavirus infections, bringing the total to 82 in the prefecture.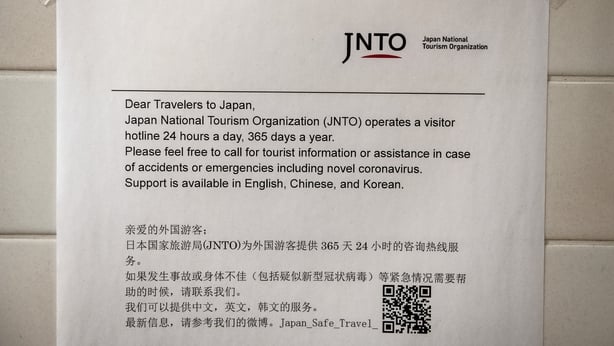 The new cases all involve men, one in his 50s and the other two in their 60s, the prefecture said on its website.
Hokkaido accounts for the highest number of infections among Japan's prefectures.
"There is no need to panic. We need to work together, take small yet important measures to ensure self-protection," India's Prime Minister Narendra Modi tweeted.
"Had an extensive review regarding preparedness on the Covid-19 Novel Coronavirus. Different ministries & states are working together, from screening people arriving in India to providing prompt medical attention," he said.
Poland's health minister has confirmed the first case of Covid-19 in the country.
Lukasz Szumowski said the sick man is in hospital in Zielona Gora, western Poland, and that his condition is good.
Amazon has confirmed that an employee who works in the internet giant's home city of Seattle had been quarantined after testing positive for the new coronavirus.
Amazon sent an internal memo explaining that the employee went home after feeling unwell at work last week and has not returned to the company's offices, according to a report in CNBC.
Amazon has an "urban campus" in Seattle, with offices spread across the city.
Workers known to have been in close contact with the ill employee were notified, and the risk to others at the company was considered low, the memo was reported to say.
Additional reporting PA