A professor of experimental immunology at Trinity College Dublin has warned that because the Covid-19 cases in Ireland all originated from northern Italy more stringent travel restrictions to those regions should be enforced.
Speaking on RTÉ's Today with Sean O'Rourke, Dr Kingston Mills said that it is good news that there are only three cases of coronavirus on the island of Ireland and all of them are imported.
Currently the Government is advising against non-essential travel to northern Italy. Previously it was limited to nine named towns but that has been extended to the four affected provinces.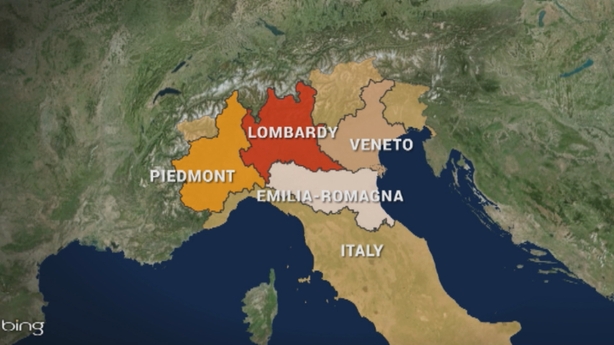 Anyone travelling to Italy in the next few days is advised to consult the Department of Foreign Affairs website.
Dr Mills said handwashing will mitigate against someone from contaminating a surface but the biggest risk of catching the virus was coming into contact with someone who is infected.
He said he was surprised by the advice stating that you would need to be sitting beside someone for 15 minutes before you need to become concerned about contracting the virus, adding that "15 minutes is a very arbitrary figure."
Dr Mills said that if you are sitting beside someone and they sneeze in your face for ten seconds, you are likely to contract the virus.
---
Read: Latest Covid-19 stories
---
The Department of Foreign Affairs is advising people against all non-essential travel across four regions of northern Italy | Read more: https://t.co/qwitRwyR9H pic.twitter.com/VXLrEJIWW6

— RTÉ News (@rtenews) March 4, 2020
Public health officials have confirmed that no school has been closed as part of the ongoing contact tracing process regarding the second confirmed case of Covid-19.
In a statement the Department of Education said "it is essential that any decision regarding school closures in regard to Covid-19 is proportionate, necessary, and based on specific public health advice. No other response is appropriate.
"The Departments of Health and Education are in constant communication regarding Ireland's responsiveness to Covid-19.
"The Department has been in contact with one school which closed to pupils today. This school will reopen tomorrow."
Coronavirus vaccine may not be available until end of year
A potential coronavirus vaccine may not be available to the general public until the final months of this year because of the need to ensure it is effective and safe to use.
Medical experts have told RTÉ News of the likely timeline during a pharmaceutical industry event at the Printworks in Dublin Castle.
Speaking at the BioPharma Ambition 2020 event Irish Pharmaceutical Healthcare Association chief executive, Oliver O'Connor, said it will take a number of months before a guaranteed vaccine is available.
"It's not a matter of delay so much as making sure that safety precautions are taken when you introduce a vaccine," Mr O'Connor said.
"All the safety precautions have to be taken when introducing a vaccine into the population."
Mr O'Connor said it would take quite a few months for a vaccine to be identified. It is understood it could be the second half of 2021 before it becomes widely available.
His view was mirrored by Jim Greenwood, chief executive of US pharmaceutical firm Bio and a keynote speaker at the Dublin Castle event, who said in reality researchers are facing "a race against time" to find a workable vaccine.
"The bio-pharma industry is really scrambling to come up with both a vaccine and an anti-viral much faster than it has ever done before.
"I think we all know this virus is going to spread, that's inevitable.
"We're in a race now to try to slow down the spread of the disease while we prepare anti-virals which are actually already on trial in China and the US.
"We'll have a drug fairly soon but the vaccine will take longer. When SARS happened it took 20 months to have a vaccine into humans," Mr Greenwood said.
Speaking at the same event, Tánaiste and Minister for Foreign Affairs Simon Coveney said the public should continue to listen to the Department of Health and HSE's advice.
Mr Coveney also said his department has updated travel advice to say "very clearly to people that there should be no non-essential travel to the four regions of Italy that have been impacted by this virus", with 79 deaths already in the country.
Mr Coveney said: "I think we have to take this step by step. The HSE and the Department of Health will do what is necessary to protect Irish people.
"But I think we need to put this into context, we have two cases in Ireland. So we are very much in the containment phase of this virus.
"Should it spread to many more people then obviously need to move to a different phase, but the Department of Health is very much on top of this."
Meanwhile, Google workers in Ireland will resume working in the company's offices tomorrow.
It follows the news that an employee who had been displaying flu-like symptoms tested negative for Covid-19.
It is understood that following careful consideration the company has decided to reopen its Dublin offices.
A majority of Google's 8,000 employees and contractors have been working from home for the past two days, because of the suspected case and also to test the firm's capability for having everyone work remotely in case the Covid-19 situation escalates.
The office closures have not impact the search engine's Sandyford, East Point or data centre facilities.
Additional reporting Fiachra Ó Cionnaith