Ireland experienced more than twice the normal amount of rainfall per day during the first sixteen days of February according to official precipitation figures published on the Met Éireann website.
Met Éireann has 25 synoptic weather stations located all around the country measuring rainfall, temperature, wind speed, sunshine, air pressure and other weather variables on an hourly basis.
They are located in places like Malin Head, Mace Head, Valentia Island, Sherkin Island, Shannon Airport, Dublin Airport and many more.
The Met Éireann data shows large variations in average monthly rainfall amounts depending on where in the country the weather stations are located.
For instance the long-term average rainfall for February - established over a thirty year period - ranges from a low of 48.5 millimetres at Casement Aerodrome in Co Dublin to a high of 126.5 millimetres of rain at Newport in Co Mayo.
However, taking all of Met Éireann's 25 weather stations together shows the typical or average amount of rain recorded per station during the month of February is 82.8 millimetres for the whole month. That works at about 2.95 millimetres of rain per day per station during February.
The numbers so far for February this year are significantly higher than that.
They show that for the sixteen days up to and including yesterday, Sunday 15 February the average amount of rainfall per station recorded by Met Éireann's instruments was 6.46 millimetres per day.
This is more than twice the long-term average daily rainfall per weather station for the month of February.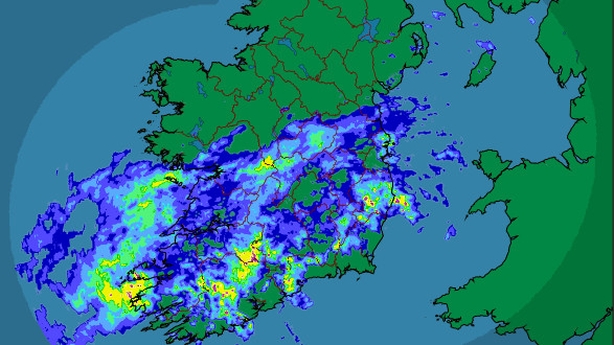 It highlights precisely why there are growing concerns in rural and other areas about the impact of local and regional flooding in the face of further forecasts of poor weather over the coming weeks.
The Met Éireann figures also show that Co Mayo has experienced the highest level of rainfall so far this month.
Its weather station at Claremorris has recorded 149.5 millimetres of rain up to and including yesterday. This is the highest rainfall in the country so far this month. It is closely followed by Newport also in Co Mayo with 146.5 millimetres, and Knock Airport with 139.5 millimetres. 
At the other end of the scale the lowest level of February rainfall so far was recorded at Dublin airport with 65.9 millimetres of rain, followed by Dunsany near Grange in Co Meath with 71.4 millimetres and Mace head in Connemara with just 78 millimetres of rain recorded.
The heavy rain nationwide so far during February comes after a drier than usual January. Met Éireann data for last month showed that rainfall was below average in most places.
The ten wettest locations so far this month:
1. Claremorris, Mayo                      149.5 mm rainfall
2. Newport, Mayo                           146.5 mm
3. Knock Airport, Mayo                   139.5 mm 
4. Valentia, Co Kerry                      129.3 mm
5. Finner, Co Donegal                    125.8 mm
6. Shannon, Co Clare                     122.8 mm
7. Markree Castle, Co Sligo            121.3 mm
8. Belmullet, Co Mayo                     115.5 mm
9. Cork Airport                                 114.7 mm
10. Mount Dillon, Co Roscommon   107.9 mm
The ten least wet Location so far this month:
1.Dublin, Airport                                65.9 mm rainfall
2. Dunsany, Co Meath                       71.4 mm
3. Mace Head Co Galway                  78.0 mm
4. Casement Aerodrome, Co Dublin  78.1 mm
5. Phoenix Park, Dublin                      79.3 mm
6. Roches Point, Co Cork                    80.2 mm
7. Sherkin Island, Co Cork                   80.9 mm
8. Johnstown Castle, Co Wexford        82.6 mm
9. Moorepark, Co Cork                         89.7 mm
10. Mullingar, Co Westmeath               94mm