The family of a woman who learned her cancer might have been prevented say they are devastated and angry. 
Bernadette Kiely was told by an expert review panel that high-grade abnormalities in a 2009 CervicalCheck smear test were not identified.
The review panel, from the UK-based Royal College of Obstetricians and Gynaecologists, has found that in 159 cases, including Bernadette's, there were missed opportunities to prevent or diagnose cancer earlier.
"It could have all been prevented, and it was hell on earth going through it." 
The result represents 15% of the cases reviewed.
We need your consent to load this rte-player contentWe use rte-player to manage extra content that can set cookies on your device and collect data about your activity. Please review their details and accept them to load the content.Manage Preferences
Bernadette is a 64-year old mother of three from Model Farm Road in Cork.
In August 2009, cell samples from a smear test were found by CervicalCheck to have low grade abnormalities. 
She was referred for colposcopy, arising from these test results. 
Colposcopy is a medical procedure to check for cancer, and changes that may lead to cancer, in women.
It involves an examination of women, taking tissue samples and checking those tissue samples under a microscope for signs of the disease.
According to the findings of the expert review panel in Bernadette's case, no abnormalities were seen in the 2009 colposcopy procedure, and there was no further active management of Bernadette's case for six years.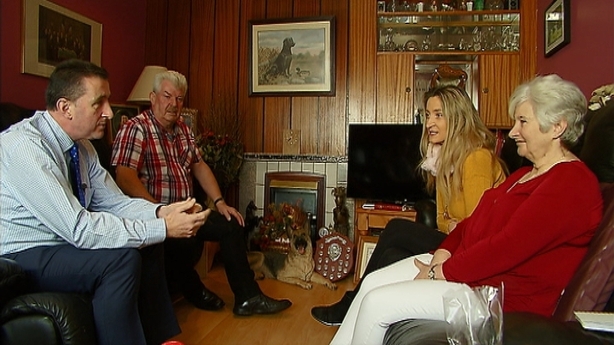 Bernadette's daughter, Claudia McNamee, said her mother wasn't invited to return for another smear test.
However, in 2015, Bernadette developed symptoms and attended her GP. On foot of that, a further smear test was taken, and Bernadette was again referred for colposcopy.
She was diagnosed with cervical cancer in October, 2015.
The RCOG expert panel reviewed Bernadette's original smear test, taken in August, 2009.  
CervicalCheck reported at that time that low-grade abnormalities were found in that test. 
The expert panel disagreed, however, and found instead that cells on the slide showed high-grade abnormalities.
The expert review said, had the high grade abnormal cells been reported when the test was taken in 2009, the absence of a colposcopic abnormality might have triggered a procedure known as a large loop excision.
The expert panel said that might have detected precancerous change "and led to prevention of the cancer".
Furthermore, the expert review said there didn't appear to be adequate follow-up in Bernadette's case in 2009.
Bernadette and her family said the effect on them has been devastating.
"I just cry when I think of it. I just break down and cry," she said.
"It could have all been prevented, and it was hell on earth going through it."
Bernadette said she feels "terrible" since she learned of the findings of the expert review panel.
"It just makes me cry every time I think of it," Bernadette said, "all that I went through, (I) couldn't get out of the bed. My husband used have to lift me to the toilet.
"My daughter used have to come up and dress me, and she has her own family and (she is) working and trying to do all this. My son used come and sit with me when he'd get a chance. I put them through hell with what I had to go through."
Bernadette's daughter Claudia described the different treatments Bernadette had to go through: "The chemotherapy, the radiotherapy, the brachytherapy, the hysterectomy - her quality of life will never again be the same."
Claudia said fear is ever-present in their lives now.
"We still live with worry, I suppose, for my Mom - she still lives with constant worry for her future. 
"I think she's been given a life sentence in all this, unnecessarily."
Of 159 women involved in the expert panel review where the review found there were missed opportunities to prevent their cancer or to diagnose the disease earlier, 12 are now dead.
On 22 October, Taoiseach Leo Varadkar offered a State apology in the Dáil to the women and their families affected by the cervical smear test controversy.
In the course of that apology, Mr Varadkar said: "We need a better culture in our health service, one that treats patients with respect and always tells the truth.
"We must always share full information with our patients, admit mistakes, and put the person first."
At that stage, as the Taoiseach was delivering the State apology, full disclosure hadn't been made in Bernadette Kiely's case. 
According to Bernadette's family, it was only after her solicitor Caoimhe Haughey went looking for all the records on file in relation to her that all information was disclosed, including a two-year old letter from CervicalCheck, which Bernadette's daughter, Claudia, said they weren't told about.
"We were never told about it," Claudia said, "and it makes me think he's standing there, giving an apology for exactly what's still going on."
Bernadette Kiely's recovery is continuing. 
She is still undergoing medical treatment and said she has a long way to go and she will never be the same again.
Claudia said: "I'm hoping she lives a long and wonderful life and we can get back to being the normal family we were before all this happened."
A spokeswoman for Minister Simon Harris said the Department of Health is awaiting a full report on the circumstances of Bernadette Kiely's case from National Screening Service.
The HSE said it would be happy for any woman who was part of the expert review and who has concerns to meet with a senior clinician for a further consultation.