A sperm whale which died after it became stranded on the Isle of Harris in Scotland's Outer Hebrides had a "huge ball" of marine debris in its stomach.
Whale experts said that while it was not immediately clear whether the debris had contributed to the whale's death, it undoubtedly highlighted the wider problem of marine pollution.
Members of the Scottish Marine Animal Stranding Scheme (SMASS), an organisation that investigates the deaths of whales and dolphins, dissected the whale to try to determine its cause of death.
According to a post on the group's Facebook page, they discovered "approximately 100kg of marine debris - a whole range of plastic including sections of net, bundles of rope, plastic cups, bags, gloves, packing straps and tubing."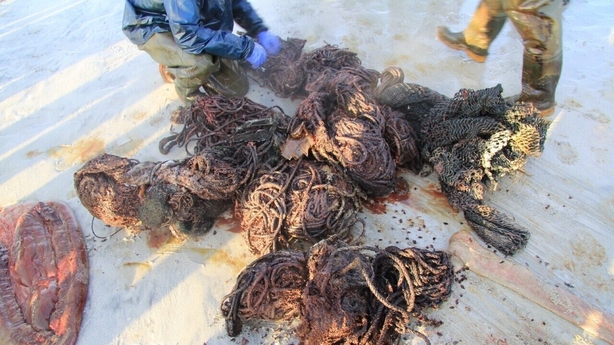 SMASS described the amount of plastic as "horrific", adding that it "serves to demonstrate, yet again, the hazards that marine litter and lost or discarded fishing gear can cause to marine life. It is also perhaps a good example that this is a global issue caused by a whole host of human activities."
The group said the 20-tonne animal was buried on site at Luskentyre beach on Harris.