A final year student at the University of York has written her undergraduate dissertation on the hit Channel 4 comedy show Derry Girls.
Réiltín Doherty, 21, from the Waterside in Derry, decided to do her dissertation on the show after joking about it with her father.
Réiltín said: "It started off as a joke with my dad but when it came around to submitting my idea for it, I thought it would be really interesting, so I just went for it."
Her dissertation is titled: "Being a Derry Girl, it's a state of mind: Humour, Teens and the Troubles in Derry Girls."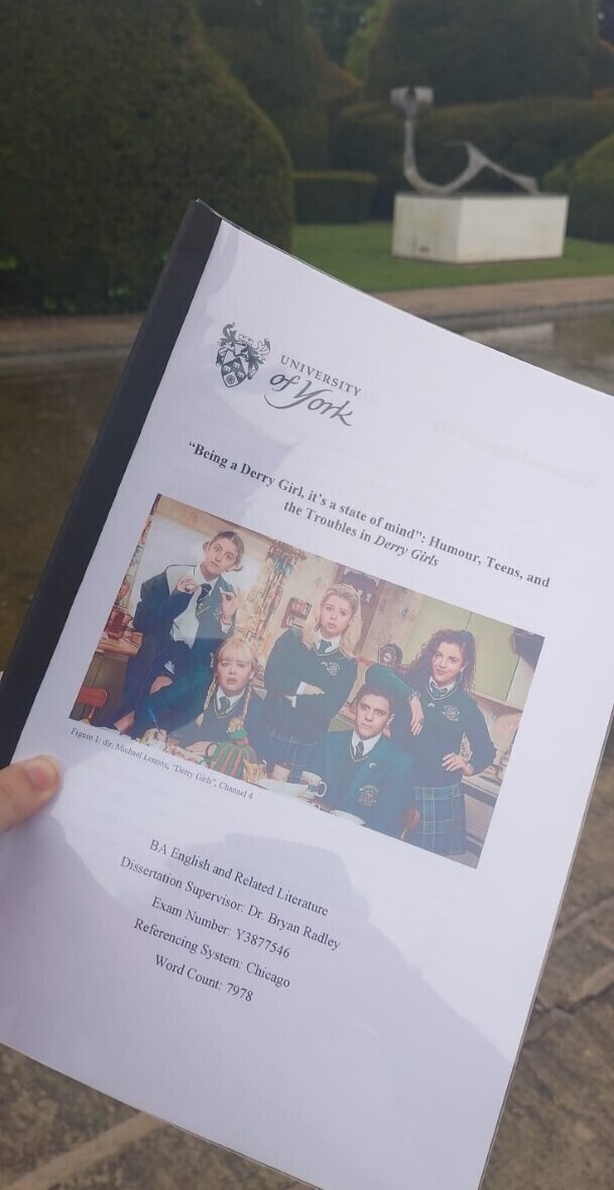 The dissertation explores how the show compares the troubles of being a teenager to the Troubles in Northern Ireland.
Réiltiín said the support she received from her University was extremely positive.
"My supervisor was enthusiastic about it. He does a lot of writing of Irish comedy, so he was an immense help for me."
She added, "it was a little weird going to the library every day and watching Derry Girls on repeat. While all my friends had their heads in books, I was sitting back taking notes on my favourite show. I must have watched every episode at least twice. I really enjoyed every minute of writing it."
Réiltiín grew up in Derry, and said she was a fan of the show from the first episode.
She said: "I remember when the first episode aired, my friends and I were all comparing ourselves to the girls the next day in school. I am most like Claire with a little bit of Erin and Michelle thrown in."
The final season of Derry Girls was aired over the last couple of weeks and Réiltín did not have time to include it in her dissertation.
Reiltín said: "I could just sit back and enjoy the last season without having to overanalyse each episode. I actually finished writing it the day before the last episode aired, so it feels very full circle."