Many families will be feeling the pinch after shelling out on back-to-school costs on top of all the other current cost of living pressures.
Last month, children's charity Barnardos warned that many families were "at breaking point" and had been left "feeling stressed and worried" that they might not be able to afford the clothes and shoes their children require for school.
But with the new school year now upon us, how do you get the most from those expensive uniform purchases?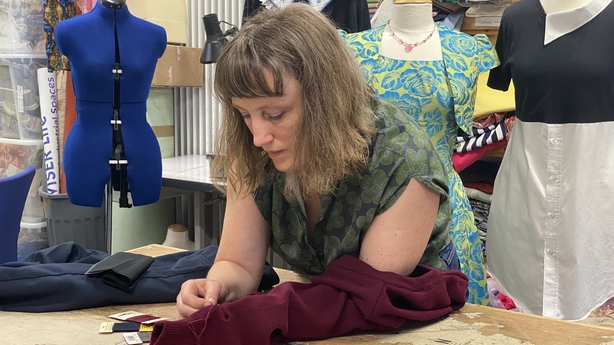 Arran Murphy runs a school uniform repair workshop at the Rediscovery Centre in Ballymun in Dublin.
Here are Arran's top tips.
1) Buy bigger
When looking at uniforms, it is always a good idea to buy bigger. This will make your uniform last longer as your child grows. A lot of the time, kids are going to grow up, rather than out. Buying longer is particularly important with trousers and skirts. You can take the hem up, then and let it down throughout the year as your child grows.
2) Follow the care instructions
Another thing in terms of getting the most out of your uniforms is looking at the wash and care labels and making sure you are following the instructions. If buying new, it's a good idea to wash them initially. That will stop any piling or bobbling.
3) Repair wear and tear
One way to save money regarding uniforms is to make them last longer by repairing any wear and tear. If you're taking good care of your uniforms, you will notice this before it becomes too big of a problem. Doing small repairs like darning before a hole develops is a really clever idea.
4) Replace missing buttons or broken zips
Along with repairs, you can also do a lot of replacements. If a zip goes or a button goes, or a clasp at the top of a skirt, these are all things you can replace really easily. This is important because instead of it being a broken thing that you throw away, you are going to save it from landfill and keep on using it. This is important both in terms of cost of living, you don't have to go out and buy a new one, but also for the environment.
5) Swap and reuse
A lot of the time kids will grow out of things before they're worn out. Being able to pass them on is a really good thing. Again, for the cost of living and how much you are spending on uniforms, but also for the environment.