The Health Service Executive and the Regional Hospital Mullingar have apologised to the family of a 26-year-old pregnant woman who was kept on life support against her family's wishes due to concerns about the Eighth Amendment.
Natasha Perie, who was a mother of two children, was around 15 weeks' pregnant with her third child, when she suffered a brain cyst, which was undetected and then ruptured. 
She was kept alive on life support for four weeks until her family got orders from the High Court at Christmas 2014 allowing the ventilator to be switched off.
The High Court ruled that the life support could be withdrawn because the only prospect for her unborn child, who was only at 15 weeks' gestation, was "distress and death".
The court had heard doctors had been concerned that taking her off life support could have breached the constitutional right to life of the unborn in the Eighth Amendment to the Constitution, which has since been repealed.
The hearing, just before Christmas 2014, heard shocking and distressing evidence about the physical condition of the young woman whose body and brain were disintegrating while she remained on life support.
The judges made their decision on St Stephen's Day.
In their claim, the Perie family said they were traumatised and distressed by Natasha's death and the continuation of life support against their wishes.
The High Court heard today that Natasha's now 11-year-old daughter had been brought to see her while she was on life support and had been deeply distressed by her mother's death.
We need your consent to load this rte-player contentWe use rte-player to manage extra content that can set cookies on your device and collect data about your activity. Please review their details and accept them to load the content.Manage Preferences
The HSE and the Midlands Regional Hospital, Mullingar, have apologised to the family of 26-year-old Natasha Perie, who was pregnant and kept on life support against her family's wishes. Her father read out a statement outside the High Court today | https://t.co/2hoCE1wIdr pic.twitter.com/8JJQU88AXl

— RTÉ News (@rtenews) November 20, 2019
---
'Christmas forever associated with Natasha's loss' - Peter Perie
---
Senior Counsel Denis McCullough told the court Ms Perie died on 3 December 2014 after an undetected cyst in her brain ruptured.
She was 15 weeks' pregnant at the time and she was kept her on a ventilator, although she was brain dead, because of concerns about the Eighth Amendment to the Constitution, which protected the right to life of the unborn.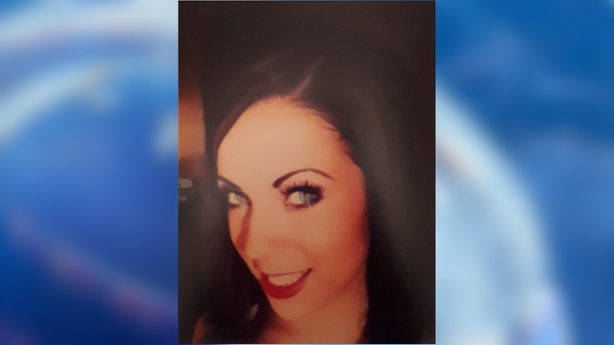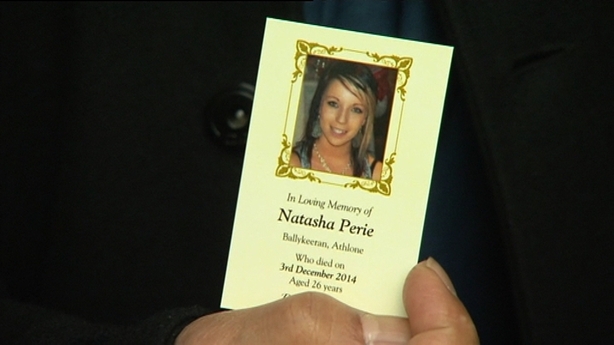 During that time, Mr McCullough said the family was given advice by a social worker that her children should be brought in to see her.
Ms Perie was in a "truly appalling condition", he said, and her daughter, who was only six at the time, was deeply affected by this.
She was also present when her mother's life support system was turned off on St Stephen's Day 2014.
Seven members of Ms Perie's family brought actions against the HSE for nervous shock.
The others were settled and struck out because they involved her father and other adult family members. But the case involving her now 11-year-old daughter had to be ruled on by the High Court.
Mr McCullough said Ms Perie and her daughter were very close. She and her children had been living with her father, Peter Perie, and after her death, the daughter went to live with her own father and does not see her grandfather or brother as often as she would like.
The court heard the 11-year-old was grieving very deeply. A psychiatrist had assessed her as a "sad child". Given three wishes, her first wish was for her mam to come back. She was suffering from sadness, depressive feelings and prolonged grief for her mother. 
Mr McCullough said she had not had much, if any professional, therapeutic help and would benefit from it.
In a letter of apology, read to the court, the General Manager of the Regional Hospital Mullingar, Anita Brennan, said she wanted to offer her sincere apologies to them on behalf of the HSE and the hospital for the failings in the care provided for Ms Perie and the upset, distress and trauma the family had endured.
Mr McCullough said this gave the family some element of closure.
Mr Justice Kevin Cross approved a settlement of €150,000 for Natasha's daughter. He said her mother had been kept alive due to an erroneous view that there was an obligation to do so pursuant to the Eighth Amendment.
He said the defendants had been given advice to this effect, but it was incorrect. The judge said that Ms Perie's daughter had been through a terrible time.
He hoped she would now be able to put the case behind her and have a concrete memory of her mother. He extended his best wishes to her and to her family.