Same sex parents held a demonstration in Dublin today calling for equal parenting rights. 
They say the fact that only one parent in LGBTQ+ families can put their name on a child's birth cert leaves parents and children without adequate legal protection.
They are also concerned that that new laws planned in this area will not cover all types of same sex families. 
Equality for Children, who organised the protest, said that because they achieved marriage equality in 2015, the public believed that same sex couples had equal parenting rights. 
But demonstrators described how current laws restrict their rights to care for the children they are raising.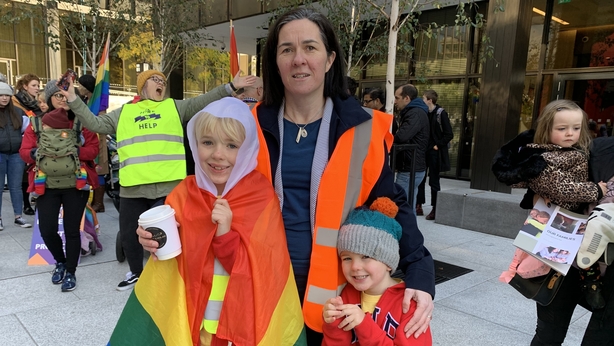 Elaine Grange Furlong is a mother of two boys, Kaden and Senan, aged eight and five. 
As her wife gave birth to both sons she does not have a legal right to be named on either of their birth certificates.
She described how when applying for passports for her children her wife has to sign an affidavit to say she is a single parent.
"She's legally married, we're a family of four, but she had to go and sit in front of a solicitor and lie and say no actually I'm a sole parent while I sat in the waiting room with our kids, just to get them a passport. 
"It's insane, it's not right and it impacts how we feel and think about travel, education, care, protection. God forbid, what if something happens to my wife?"
"I was there at every step...every scan, the birth. I gave them their first cuddle, their first bath, yet I am not a parent in the eyes of the government and it's not right, it's not fair to them. 
"They have a right to have their parents known, recorded and able to make good decisions on their behalf.
"You feel quite invisible, I'm always very aware of something missing in how my kids are protected. I'm not afraid for me...my sons deserve better."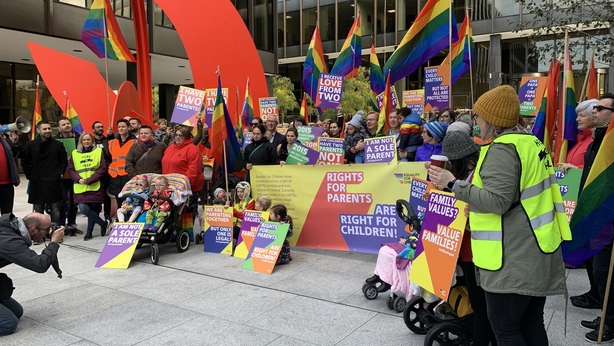 Gearóid Kenny Moore and his husband have a son and daughter who were born via a friend in the UK who acted as a surrogate. 
Gearóid is the biological parent of the girl, his husband the biological parent to their boy and he says this means he is unable to give consent for everyday things for his son such as registering him for school or when he requires a vaccination. 
"That presents everyday difficulties, particularly as he travels a lot for work and he's out of the country for long periods of time. 
"So if our little boy became ill during that time, I wouldn't be able to bring him to hospital or if I did, I would either have to lie to the doctor and say I am able to give consent for a medical procedure, or I would have to admit the truth and hope that the doctor would offer the treatment." 
The Children and Family Relationship Act which would grant parental rights to some same sex parents was due to be commenced this year.
But during the summer campaigners were told it would be delayed until May 2020, the seventh occasion they say it had been put back.
The Department of Health said this delay was needed to ensure there were no unintended consequences or hardship caused to people who are currently undergoing donor-assisted fertility treatment.
It is a complicated issue but the new laws will mean changes to the rules around the use of donor eggs and sperm here and there were concerns around the implications for the thousands of these donations that are currently in storage.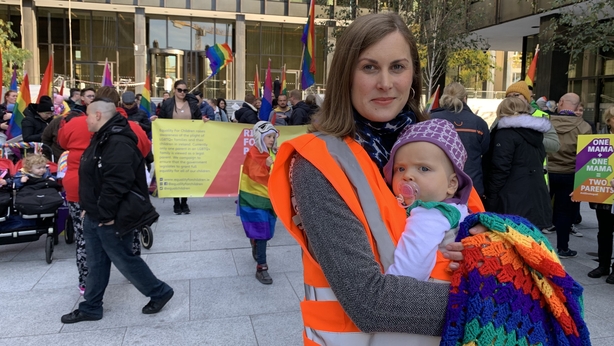 Ranae Von Meding is a mother of two girls, Ava and Aria and the director of the Equality for Children campaign.
As she went into a meeting with the Minister for Health this afternoon she said she was concerned that the news laws had been delayed again, that they would only cover a fraction of the same sex parents in Ireland and that the reason for that delay was putting the rights of children who had not yet been born ahead of ones that already had. 
"It's not good enough to say that peoples genetic material have more worth than living breathing children that need protection, because it's about the children that are here." 
After the meeting with Minister Harris she said he understood the group's concerns and had committed to addressing the issues, including the fact that many couples would be excluded from current legislation but she said the timeframe was still an issue.
"We do understand that these things do take time but we have real children living in uncertainty every day so we need that to happen now." 
Campaigners have been invited back to the Department in two weeks time on 4 November to witness the Minister signing the commencement of the Children and Family Relationship Act which will take effect on 5 May of next year.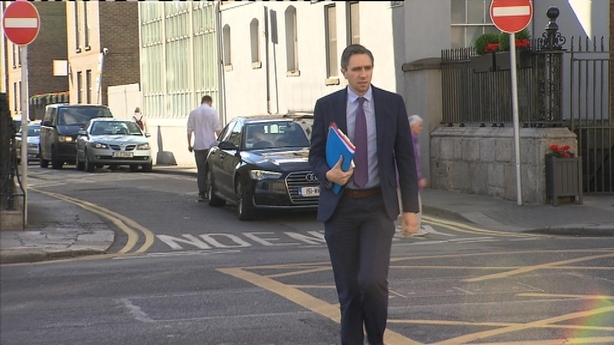 The Minister for Health, Simon Harris said he had heard the message from campaigners that laws need to evolve and "catch up" to ensure every child and parent in the country is equal. 
He said parts 2 and 3 of the Children and Family Relationship Act will from next year give rights to some parents and that the Assisted Human Reproduction Bill will deal with some others.
"There may be legal complexities that we need to work our way through but that cannot be an excuse, this cannot be impossible to get right, other countries have done it and my commitment today is to work with the group, work with the legal advisors, work across the Dáil to make sure this happens".