Children across the world, including thousands of Irish students, have taken part in what has been described as the largest global climate protest in history.
Students have heeded the rallying cry of fellow teen activist Greta Thunberg in a collective call to action.
Several thousand students marched from Dublin's Custom House to Merrion Square.
A view through the crowds... #ClimateStrike protestors gathered at Merrion Square, Dublin #FridaysForFuture pic.twitter.com/vKIfJGra4B

— Philip Bromwell (@philipbromwell) September 20, 2019
Thousands of students also marched in cities and towns across Ireland in the third such strike.
They were supported and joined by a wide range of adult organisations including trade unions, faith-based organisations, environmental activist groups, and other non-government organisations.
Students assembled from around midday in Dublin, Cork, Galway, Limerick, Waterford, Drogheda, Navan, Dundalk, Belfast and many other towns before marching to rallies in central locations.
In all, demonstrations were planned in more than 50 towns in 18 counties across the country.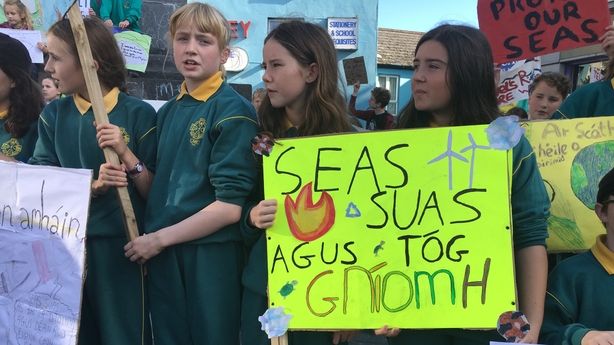 The strike was organised by three student groups - Friday's for Future Ireland, School Strikes for Climate Ireland, and Schools Climate Action Network - with adult organisations including Stop Climate Chaos, SIPTU, The Irish Congress of Trade Unions, Fórsa, the Union of Students of Ireland, Extinction Rebellion and many more groups as organising partners.
The students claim the Government has been shown to be a climate laggard and that decades of inaction has led to a rise in emissions and degradation in the environment.
They are calling on the Government to commit to immediate and substantial action and say that by taking time off school they will show politicians that people everywhere want climate justice.
Minister for Communications, Climate Action and Environment Richard Bruton said young people had led the way with highlighting the urgency of taking climate action.
In a statement, he said: "I have heard the voices of those protesting today. By being a powerful voice, they are paying testament to the damage that is being done to their inheritance."
Listen Leo they chanted as Students from in Ennis protest about climate action ?@rtenews? ??@leo_campaign? pic.twitter.com/vaKBz6m8tJ

— Cathy Halloran (@HalloranCathy) September 20, 2019
The Taoiseach also said he was inspired by the thousands of young people who took part in today's protests.
Leo Varadkar said the Government was committed in implementing its climate action plan and today's demonstrations would spur that effort on.
Representatives of the Irish Catholic Bishops also took to the streets in solidarity with young people engaged in the Global Climate Strike.
Bishop Alan McGuckian SJ, the Chair of the hierarchy's Council for Justice and Peace, issued a statement applauding the strikers' example of leadership to protect our future generations.
He said he supported the mobilisation of young people - and all others with a love for the environment - to actively highlight the vulnerability of what he called "our fragile ecosystem".
Student s from coláiste Bríde Clondalkin gathering for the Climate strike @rtenews pic.twitter.com/aQ6cmYfKOY

— Colm Mc Caughey (@colmwhatyalike) September 20, 2019
He underlined that Pope Francis has pointed out that caring for our shared planet is a moral duty in its own right and that humanity is confronted by great cultural, spiritual and educational challenges which demand that people set out together on "the long path of renewal".
Bishop McGuckian said young people have been at the forefront of driving this renewal and that the council stood with them in calling for "a radical ecological conversion".
A Youth Climate Summit will take place at the United Nations tomorrow.
UN Secretary-General Antonio Guterres will then host an emergency summit on Monday in which he will urge world leaders to raise their commitments made in the 2015 Paris Climate Accord.
The agreement saw countries pledge to limit the long-term rise in the average temperature of the Earth to two degrees Celsius over pre-industrial levels, and if possible, to 1.5 C.
A landmark UN report to be unveiled next week will warn that global warming and pollution are ravaging Earth's oceans and icy regions in ways that could unleash misery on a global scale.
Additional Reporting: Emma O Kelly, Joe Little, AFP
---
On Friday 15 November, RTÉ and the Houses of the Oireachtas will convene the country's first ever Youth Assembly on Climate in Dáil Éireann. It will be a chance for young people to discuss what Ireland needs to do to tackle climate issues.