Around 1,000 extra charge points for electric vehicles are expected to be put in place over the next five years as part of a new on-street infrastructure scheme.
Minister for Communications, Climate Action and Environment Richard Bruton has announced funding that will help local authorities provide a widespread rollout of electric cars.
They will receive €5,000 to develop 200 charge points every year until 2025.
The Government's Climate Action Plan launched earlier this year commits to having 936,000 electric vehicles on Irish roads by 2030.
Director of Consumer Affairs for AA Ireland Conor Faughnan said the target is modest in terms of ambition, but he believes it is good news.
Speaking on RTÉ's Morning Ireland, he said if the Government seeks to promote electric vehicles and give people a tax incentive, then they will really get behind it.
---
Read more:
Climate plan to include initiatives on electric vehicles and retro-fitting homes
Wind farms, electric cars and smart meters in climate action plan
Climate Action Plan 'ahead' of other European countries - SIMI
---
Mr Faughnan said this was proven when Irish motorists were persuaded to make the switch from petrol to diesel a decade ago, when that was the best technology at the time in terms of meeting environmental standards.
Mr Faughnan said: "The way you use an electric vehicle, if you have one, typically you'll have a charge point at home and the Government will give you a few bob towards installing that.
"You'll buy an electric car and the Government will give you a significant chunk of money off it to do that and your habit then will be that you plug your car in at night and that is sufficient, bar exceptions, to give you all of the transport you need.
"So you tend not to need the on-street infrastructure, but you'll pay a few bob to charge at home and you'll get it free on the street and that kind of sort of tilts the dynamic a little bit."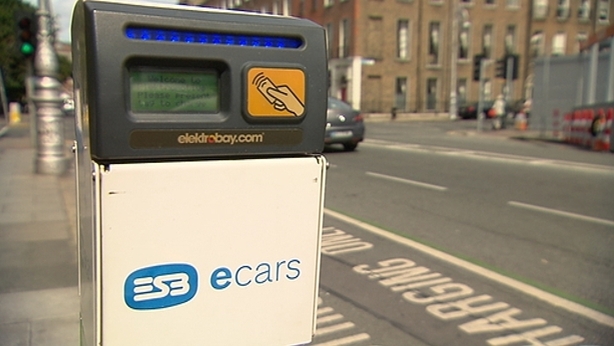 Mr Faughnan said the ESB was providing charging points for free for a long time, but it was now introducing a modest charge to encourage good consumer behaviour.
He said that having the on-street infrastructure is "potentially liberating", adding that being able to use charge points the same way one uses a petrol station opens up the whole road network, including long-distance travel.
He said the electric car is a really exciting technology and has the potential to be transformative in terms of the emissions profile for transport.
Minister Bruton said: "We are investing in this network to give people confidence to make the switch. Now is the time to make the change. This network, along with the investment ESB are making in new high speed chargers and the renewal of existing chargers, is building a strong network that vehicle owners can trust.
"Under the Climate Action Plan we will introduce the necessary actions to increase renewable electricity to 70% by 2030. By increasing the amount of electricity we get from renewable sources, we will further improve the positive impact such vehicles have on the environment.
"Increasing the number of electric vehicles, in particular where battery electric vehicles replace older diesel vehicles, will also have a very beneficial impact on air quality, as battery electric vehicles do not produce any fumes."