More than 20 survivors of the controversial Tuam mother-and-baby home have urged the Government to begin collecting their DNA samples immediately.
They say that results from their ageing and in, some cases, frail membership should be banked to eliminate any delay in returning human remains to identifiable relatives for dignified burials.
Recently, Taoiseach Leo Varadkar predicted that the enhanced excavation of the site of the former Co Galway home would begin later this year.
This follows the Mother and Baby Homes Commission's 2016 finding that a "significant quantity of human remains" lies in the vicinity of the home's septic tank.
Last October, the Cabinet was persuaded by the warning in a report it commissioned from Dr Geoffrey Shannon, its Rapporteur on Child Protection, that a failure to provide relatives with credible information may breach the State's international human rights obligations.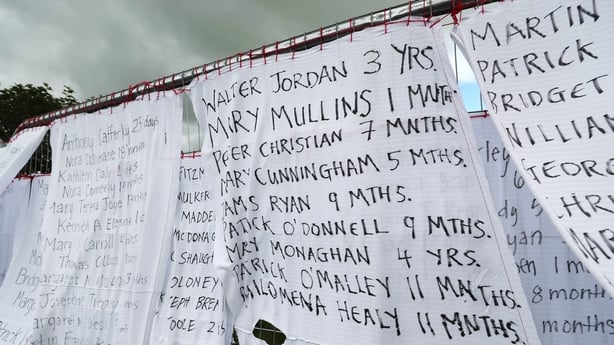 On Sunday, Dr Shannon addressed the Tuam Home Survivors' Network, which said he repeated his view that "victims should be front and centre of any decision-making".
In a statement to RTÉ News, the Tuam Home Survivors' Network, which comprises just over 20 survivors, said this year's work must "proceed in a way that will be of greatest benefit to the greatest number of survivors, victims and families".
It said the quantification of the DNA extracted from the remains is of paramount importance and sketches its three preferred scientific research scenarios: one flowing from a high yield of DNA and the second from a low yield.
Finally, if the yield is insufficient, the network says samples should be stored for future analysis when technology has advanced.
The network urges the Government to perform genealogical studies on a random sample of relatives of the 796 child and infant residents, which death certificates suggest died in the institution between 1925 and 1961.
The group hopes that samples from living relatives will someday be matched to any DNA that may be discovered in human remains on the site.
But the group warns that, given the advanced age of many of them, their offers to provide DNA samples should be taken up immediately.