A detailed breakdown of figures within the RTÉ exit poll suggest that older voters were less likely to back the removal of the reference to blasphemy from the Constitution.
The poll suggests that 71% of the electorate voted to remove the reference to blasphemy, with more than eight out of ten under the age of 44 voting Yes.
That fell to seven out of ten aged between 45 and 64 and to six out of ten among voters over the age of 65.
Clearly, resistance to doing away with the constitutional offence of blasphemy increased with age among middle-aged and older voters.
The poll, conducted by RED C, indicates that there was no difference between the proportion of women and men who voted to remove blasphemy from the statute book.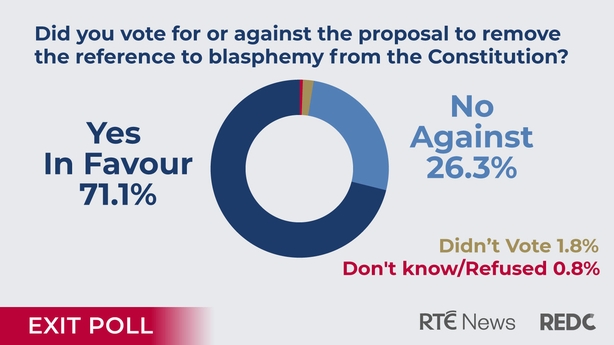 Resistance also increased the lower the voter was placed on the social class ladder.
More than 77% of the top ABC1 echelon voted 'Yes'.
That fell to 70% among the C2DE grouping and to 63% in the lowest, or F, grouping.
Sinn Féin voters were most likely to vote 'Yes', followed by Fine Gael, Independents, Labour and Fianna Fáil voters.
Geographically, the variation ranged from 80% voting 'Yes' in Dublin to slightly over 70% in Munster, and slightly under that level in the rest of Leinster and Connacht and the three border counties of Ulster.
69% said they understood the proposition to abolish the offence in the Constitution.
The breakdown of that score was 74% for 'Yes' voters and 64% for 'No' voters.
In a supplementary question, figures also suggested 68% said RTÉ should be broadcasting the Angelus.
When voters were asked if RTÉ should be broadcasting the Angelus, 68% said 'Yes', 21% said 'No' and 11% declined to respond.