This week, I returned to the spot where Donald Trump was inaugurated a year ago; the steps of the Capitol Building.
There I met plenty of US voters and asked them how they viewed President Trump's first year in office.
Some were tourists, some were locals and they all had one thing in common - strong views on Donald Trump.
Most of the people I spoke to were critical of the president.
This is not surprising given my location.
Big cities in general, and Washington DC in particular, are traditionally Democrat, but I did meet some people who voted for Mr Trump and believe he's doing a good job.
---
The A-Z of Trump's first year
Trump hurdles: November mid-terms, 2020 primaries
---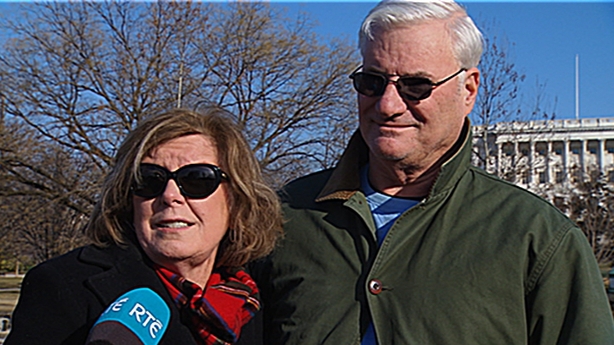 When I encountered Ann and Alan Collins they were taking selfies in front of the Capitol Building.
They're from Culpeper, Virginia.
They voted for Mr Trump and have no regrets.
Ann does admit however that they were unsure about their choice of candidate.
She recalls: "To be frank, we thought long and hard about voting for him. We don't personally care for his arrogance or some of the statements he's made. But we believe he's a very intelligent man who loves his country."
Alan is also positive about Mr Trump's first year in office. "He's doing the things that he thinks will turn the country around. It looks like the stock market is going up so financially he's doing a good job."
Alan also admires President Trump's stance on immigration.
"He's trying to help security with walls to be built and beefing up military services, I think that's what this country needs."
'Intelligent' or 'a lunatic' - Trump's first year provokes strong views | https://t.co/0MRUqczjpJ pic.twitter.com/mYjzkvRBUR

— RTÉ News (@rtenews) January 19, 2018
The next couple I met outside the Capitol Building were an interesting pair.
David and Chelsea Kilcress from Lafayette, Louisiana were wearing matching luminous orange hats. Their political views were almost as striking as their attire.
They're Democrats, so obviously they didn't vote for Donald Trump, but one year on, they think he's doing a good job.
David tells me: "Every month it seems more jobs are being created and the economy is improving."
But David has concerns about Donald Trump's "Twitter stuff" which he describes as a major negative.
His wife Chelsea says she thinks the president's first year has been "fairly decent" and that he does have some good ideas.
As mentioned above, most of the people I met were not happy with Mr Trump.
Words like divisive, inadequate and offensive were used.
One young woman told me many of her family members had voted for Mr Trump and now regret it.
Another woman described how her husband had voted for him but now thinks he's "a bully and a lunatic but is doing what he said he was going to do".
I ask if this means he'll vote for him again in three years time, and she said yes.
So it seems despite a year of controversies, many of Mr Trump's supporters still back him.