Ibrahim Halawa has been reunited with his family on his return to Ireland after spending four years in a Cairo prison.
His flight from Frankfurt landed at Dublin Airport just after 11am and he was then taken through to meet his family for the first time since his arrest in August 2013.
Speaking to reporters at the airport, Mr Halawa thanked his family, the Government and all those who helped him over the last four years.
He said: "It still feels like a dream. This is the moment I've waited for for four years.
"It's a dream come true. It's impossible that I'm really here. I didn't think it would come through any time soon.
"I want to thank all the Ministers, Minister Simon [Coveney]. I want to thank the Taoiseach and I want to thank [Sinn Féin MEP] Lynn Boylan as well for working so hard. The parliament, all the human rights organisations, the student union. I just want to thank everyone for helping me."
"I need to get some medical check-ups. I'm going to be taking some time off. My mum is sick, so I need to spend some time by her side. We need to get some family time as well."
The moment Ibrahim Halawa arrived home to Dublin pic.twitter.com/RoTYgYyCKE

— RTÉ News (@rtenews) October 24, 2017
He said he would speak about his experiences in the Cairo prison in the near future.
He also outlined his plans to work with homeless people and go back to college.
Draped in the Tricolour and passionately embracing old school friends and supporters, Mr Halawa said he wanted to get his "life straight" and added that he was looking forward to a plate of fish and chips.
"There's going to be a lot to talk about," Mr Halawa said. "It still feels like a dream.
"This is a moment I've waited for for four years - a free man, acquired after four years. I have left a lot of cellmates behind. There's a lot of innocent people behind bars around the world, not just in Egypt."

- Ibrahim Halawa
Mr Halawa added that his experience of incarceration abroad has made him want to work for Irish prisoners overseas.
"Even if they are criminals or if they have been convicted I'm going to be asking for them to come back to do their time in Ireland," he said.
"I felt how it is to be away from home.
"I was always hoping that the least I could get would be prison at home so at least I could see my family."
Mr Halawa said people who criticised him for supporting the rallies in Cairo in 2013 made him stronger.
"I really want to thank the haters," he said. "They made me stronger, to come out and be ready for everything.
"Like they say, sticks and stones will break my bones..."
Mr Halawa said the sight of his mother in a wheelchair was difficult to take. "It was depressing for me," he said.
He also said that he was feeling mixed emotions.
Ibrahim Halawa: 'It still feels like a dream – the moment I have waited for, for four years' https://t.co/zCx8fcrHXO pic.twitter.com/DBzc336U5g

— RTÉ News (@rtenews) October 24, 2017
"It's a dream come true," he said. "Every day in prison I would imagine this day - how it's going to be. It's what made me go forward."
Mr Halawa added: "I'm looking forward to the future but I can't forget the past.
"It's going to make me work harder in the future.
"I feel hurt but I feel happy, obviously, reunited and back home."
Mr Halawa said he did not feel safe after his release from prison last week.
I'm back into a new world. I was taken away from life and then, one second, you're back. It's going to be hard to recover
The 21-year-old was acquitted last month of all charges relating to mass protests in the Egyptian capital in 2013.
However, he was only finally released from custody on Thursday night and then had to secure the correct documentation to allow him to leave Egypt.
Ibraham Halawa is Home! @dfatirl pic.twitter.com/euzfSgnHeV

— Katherine Zappone (@KZapponeTD) October 24, 2017
In an update on his Facebook page earlier this morning, Mr Halawa posted a photo of himself on board the plane, accompanied by his sister Nosayba and Ambassador to Egypt Sean O'Regan.
He wrote: "Finally on my way home :) thank you to everyone who has caused this moment I love you all so much :) looking forward to finally coming home :)".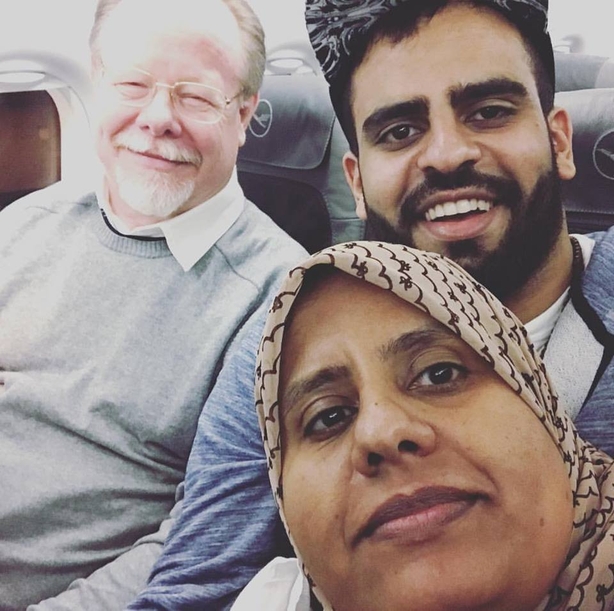 Minister for Foreign Affairs Simon Coveney said Mr Halawa met his family at the airport and described it as a very happy day for them.
Mr Coveney said: "I and all of my colleagues in Government are very pleased that Ibrahim's ordeal is now at an end, and that he is back home with his family.
"There will be many challenges for Ibrahim as he comes to terms with all that he has been through, and all the changes that have taken pace while he has been detained in Egypt.
"He will need time and space in the period ahead and I hope that his privacy and that of his family will be respected.
"I'm coming home"
A joyous Ibrahim Halawa posted this video to Facebook just before his flight home to Dublin. pic.twitter.com/aDvXPBNu23

— RTÉ News (@rtenews) October 24, 2017
---
Read More:
---
Mr Halawa was on trial with nearly 500 other defendants over the protests against the ousting of then president Mohammed Mursi.
Mr Halawa's three sisters, Somaia, Fatima and Omaima were also arrested in 2013 but later released on bail and returned to Dublin.
All three, who were tried in absentia, were acquitted.
Dawn. A new day. A new beginning. It was a pleasure to see you home safely Ibrahim. All very best for the future. #Halawa #IbrahimHalawa pic.twitter.com/NsR1VoI4wr

— Seán O Regan (@SeanOReganIRL) October 24, 2017