Ibrahim Halawa has posted a message on Facebook thanking staff at the Irish Embassy in Egypt for their work in securing his release from prison.
The 21-year-old from Firhouse in Dublin was jailed in 2013 after being arrested in a mosque amid protests over the removal of the then Egyptian president Mohamed Morsi.
Last month, he was acquitted of all charges related to the mass protest.
In the Facebook post, Mr Halawa spoke about his relief following his release from prison.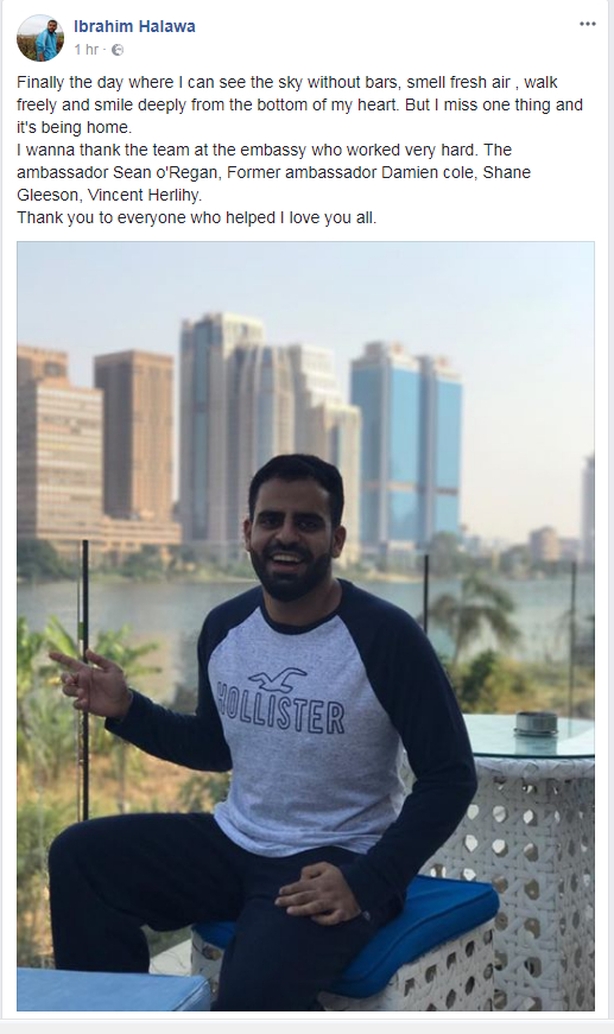 Earlier, Minister for Foreign Affairs Simon Coveney said he imagined Mr Halawa would return to Ireland by Sunday or Monday following his release.
Speaking on RTÉ's Morning Ireland, Mr Coveney outlined the outstanding formalities, with an immigration stamp required for Ibrahim to leave Egypt and travel home to Ireland.
"We need to get that immigration stamp. In order to do that, he needs to turn up in person at the immigration ministry," Mr Coveney said.
"The timing and problem with that is we are in the Egyptian weekend, which is Friday and Saturday.
"That office is not open on a Friday and has very limited opening on a Saturday, so we are obviously working to get him home as quickly as possible, but it will be either Sunday or Monday by the time he is home, I suspect."
The Minister also said that the timing of Mr Halawa's release was "somewhat unexpected last night actually, as he was released at 11pm last night from the police station that he was originally detained in".
He added that the Halawa family have asked for some privacy and do not wish to make a big deal about his homecoming.
---
Read more:
---
President Michael D Higgins, who is on a State visit to Australia, welcomed Mr Halawa's release.
In a statement, President Higgins said:
"The release of Ibrahim Halawa will come as a great relief to his family. It will be welcomed by all those who were concerned for him in his long ordeal of imprisonment. I wish Ibrahim Halawa well on his journey home."

- Michael D Higgins
The Taoiseach, Leo Varadkar, expressed his delight at hearing of Mr Halawa's release.
Speaking at a summit of EU leaders in Brussels, Mr Varadkar said Mr Halawa is receiving full consular assistance at the moment.
Taoiseach Leo Varadkar welcomed news of Ibrahim Halawa's release from prison in Egypt pic.twitter.com/tgY9u3xZD4

— RTÉ News (@rtenews) October 20, 2017
"The Government is helping to bring him back to Ireland, to reunite him with his family and allow him to get back to his life," he said.
News of Mr Halawa's release was made on the Free Ibrahim Halawa Facebook page. The post read:
"Fantastic news, Ibrahim has finally been released from prison. We will now begin to make arrangements to bring him home where he belongs in Ireland."
"We can't thank enough all those who worked so hard for Ibrahim's release, we owe you all so much".
Mr Halawa's three sisters, Somaia, Fatima and Omaima were also arrested in 2013, but were later released on bail and returned to Dublin.
All three, who were tried in absentia, were acquitted.