Amazon has suspended the head of its entertainment division in the wake of sexual harassment accusations from a TV producer, the company has announced.
A spokesman said Amazon Studios chief Roy Price was "on leave of absence effective immediately".
The move came after Isa Hackett, a producer for 'The Man in the High Castle', one of the studio's highest-profile shows, told The Hollywood Reporter he had repeatedly propositioned her in July 2015.
Ms Hackett, the daughter of author Philip K. Dick, whose work is the basis for 'The Man in the High Castle', said Mr Price, 51, made lewd suggestions in a taxi on the way to a party during the annual San Diego Comic-Con fan convention.
She says she made it clear that she was not interested - that she had a wife and children - but Mr Price persisted, according to the magazine, and even approached her at the party later and shouted lewd comments in her ear.
Ms Hackett, 50, told the Hollywood Reporter she raised Mr Price's behavior with studio executives who launched an investigation - but she was never informed of the outcome.
The women speaking out against Harvey Weinstein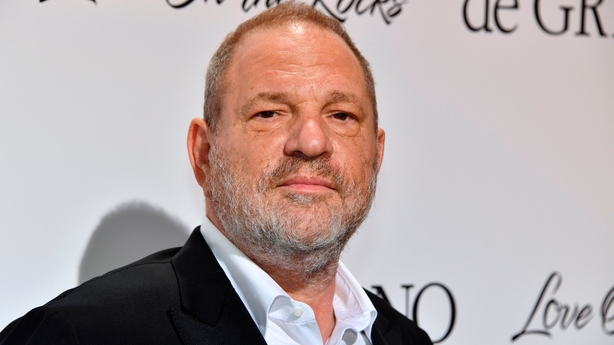 The allegations came as actress Rose McGowan berated Amazon CEO Jeff Bezos on Twitter, claiming the company ignored her allegations that disgraced movie mogul Harvey Weinstein had raped her.
Ms McGowan, 44, said she repeatedly warned Amazon about "HW" and pleaded with the studio not to work with the producer but was told by an executive that "it hadn't been proven".
The 'Charmed' actress accused Amazon of dropping a show based on a script she had sold the studio after she heard that "a Weinstein bailout was in the works".
The Hollywood Reporter said the actress had confirmed that "HW" referred to Weinstein, who was sacked by the board of his own company this week amid numerous allegations of sexual harassment and rape going back decades.
Amazon said it was "reviewing our options for our projects we have with the Weinstein Company".
Yesterday, police in Britain and the US police said they are investigating allegations against Mr Weinstein.
The movie mogul is facing a litany of accusations of sexual harassment and assault from some of film's biggest stars, with Kate Beckinsale becoming the latest British celebrity to speak out by revealing an alleged encounter when she was a schoolgirl.
Scotland Yard also said detectives from a child abuse and sexual offences unit will be looking into an alleged sexual assault in the London area in the 1980s.
No more details have been released as to the nature of the allegation made against the film producer, while the New York Police Department has also opened a separate investigation into the 65-year-old.