Media technology consultant Richard Aylmer-Hall, 53, was sitting on the District Line train bound for central London when panic unfolded at around 8.20am after a reported blast on a train.
He said he saw several people injured, having apparently been trampled as they tried to escape.
He said: "I was blissfully reading my paper and listening to a podcast and suddenly the whole world charged past me down the platform, down the Tube.
"I was on the Tube, we had just stopped at Parsons Green, I was on my way up from Wimbledon towards Paddington and suddenly there was panic, lots of people shouting, screaming, lots of screaming.
"There was a woman on the platform who said she had seen a bag, a flash and a bang, so obviously something had gone off.
"It was an absolutely packed, rush-hour District Line train from Wimbledon to Edgware Road.
"I saw crying women, there was lots of shouting and screaming, there was a bit of a crush on the stairs going down to the streets.
"Some people got pushed over and trampled on, I saw two women being treated by ambulance crews.
"Since then, every emergency vehicle in London has gone past me, fire engines, ambulances, every type of police vehicle."
Mr Aylmer-Hall added: "I don't think anyone was hurt by the actual device or whatever it was."
Chris Wildish, who was on the train, said he saw the "device" in the last carriage.
"It was a white bucket, a builder's bucket," he told BBC 5 live.
"Flames were still coming out of it when I saw it and had a lot of wires hanging out of it - I can only assume it was done on purpose.
"It was standing against the door of the rear-most carriage."
#parsonsgreen pic.twitter.com/0OUV819EtE

— Sylvain Pennec (@sylvainpennec) September 15, 2017
Sylvain Pennec, who was around 10 metres from the source of the explosion, stayed behind to take a closer look at what he believed was the source of the explosion.
"It looked like a bucket of mayonnaise," he said.
"I'm not sure if it was a chemical reaction or something else, but it looked home-made. I'm not an expert though."
---
Read more:
---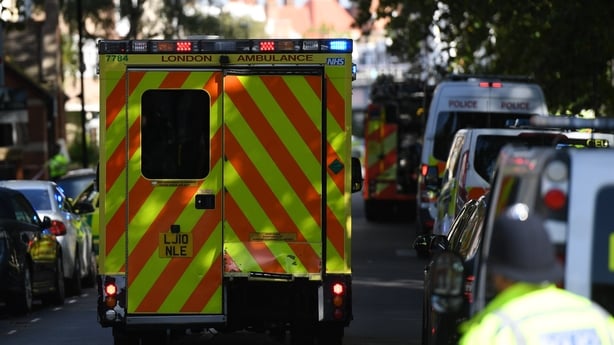 'It felt like an eternity, but it was only a couple of minutes'
Ryan Barnett was caught up in the crush that took place in the stairwell of the Tube station.
He heard of victims with burn injuries and reported seeing some commuters taking selfies on the platform.
The 25-year-old, who works in politics and had been travelling to his office, said: "I was lucky, I wasn't in the carriage, I was in a few carriages down but I was caught up in the stampede down the stairs.
"I was sitting there, headphones in, at Parsons Green, the doors open fine, I'm not really paying attention and all of a sudden hundreds of people run past me screaming a mixture of 'stampede', 'attack', 'terrorist', 'explosion', 'get off the train', 'everyone run'.
"Parsons Green station has a staircase at the front of the carriage where the train pulls up - I'm running and keeping my head down because there might be gunfire and on to the staircase.
"But when I was on the staircase, the stewards and other passengers, they are shouting 'stop, stop, stop', so I ended up squashed on the staircase, people were falling over, people fainting, crying, there were little kids clinging on to the back of me.
"It is absolute chaos, it was quite scary because at one stage we thought we might be trapped there - I heard a pregnant woman lost her shoes and had fallen over."
Ferried back on to the station platform, Mr Barnett began hearing from others around him about the state of those injured.
He said: "Someone said there had been an explosion, there was white stuff, someone said there was a lot of wires, one girl outside the station had her leg pretty badly cut up.
"People were saying there was one man who was singed down the side of his body, including his hair.
"It felt like an eternity, but it was only a couple of minutes, probably.
"There were a lot of people taking photos, there was a couple of people taking selfies and I thought: 'What is the world coming to?"'
Commuter Robyn Frost was arriving at the station when she saw people trying to escape.
She told the BBC: "I walked into the station, there was blood on the floor and people running down the stairs screaming 'get out'.
"People were coming out of the station covered in blood."
Passengers on the train behind the affected Tube witnessed terrified passengers sprinting away up the tracks.
They were then held in their train for over an hour before being evacuated on to the tracks themselves.