Britain has been put on 'critical' terror alert with military troops set to bolster police forces as a hunt takes place for the person who planted a bomb on a packed London train yesterday morning.
British Prime Minister Theresa May last night raised the threat level to the highest possible rating, meaning another attack is expected imminently.
A manhunt is under way after the improvised explosive device (IED) sent a fireball through a packed London Underground train carriage in London, during the morning rush-hour.
29 people were injured in the attack.
Mrs May said military personnel would replace police officers "on guard duties at certain protected sites which are not accessible to the public".
She said: "The public will see more armed police on the transport network and on our streets, providing extra protection.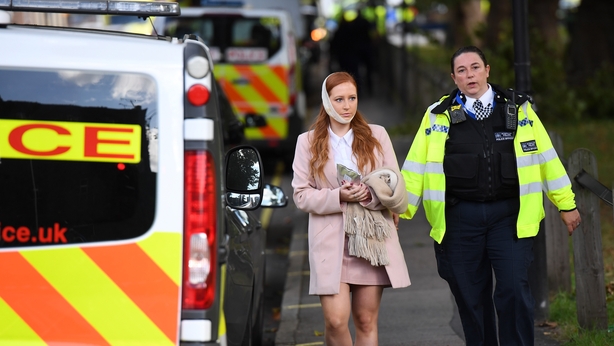 "This is a proportionate and sensible step which will provide extra reassurance and protection while the investigation progresses," said Mrs May.
The so-called Islamic State terror group has claimed responsibility for the attack.
The militant group's Amaq news agency has claimed it was behind the attack, according to the US-based Site Intelligence.
Mrs May condemned the "cowardly" attack saying it involved a device "clearly intended to cause significant harm".
Witnesses described scenes of terror and panic after the blast sent a "fireball" and a "wall of flame" through a District line service at Parsons Green in West London.
Britain's top counter-terror officer Mark Rowley said officers were sifting through surveillance footage and examining the remains of the device.
"This is a very complex investigation which is continuing at speed," he told reporters.
"We are chasing down suspects," Mr Rowley said.
US President Donald Trump denounced the attack on Twitter saying: "Another attack in London by a loser terrorist. These are sick and demented people who were in the sights of Scotland Yard. Must be proactive!"
Mrs May later rebuked him over his comments saying, "I never think it's helpful for anybody to
speculate on what is an ongoing investigation".
Statement from AC Mark Rowley following incident at #ParsonsGreen tube station https://t.co/32iXTs1X2w

— Metropolitan Police (@metpoliceuk) September 15, 2017
The Taoiseach said Irish authorities had been in touch with the Irish Embassy in London in relation to the attack.
Yesterday Mrs May said: "My thoughts are with those injured at Parsons Green and the emergency services who, once again, are responding swiftly and bravely to a suspected terrorist incident."
---
Read more:
---
Mr Rowley said the investigation is being led by the Met's counter-terrorism command, with support from MI5.
Speaking outside Scotland Yard, the assistant commissioner said: "There are many urgent inquiries ongoing now with hundreds of officers involved - looking at CCTV, forensic work and speaking to witnesses."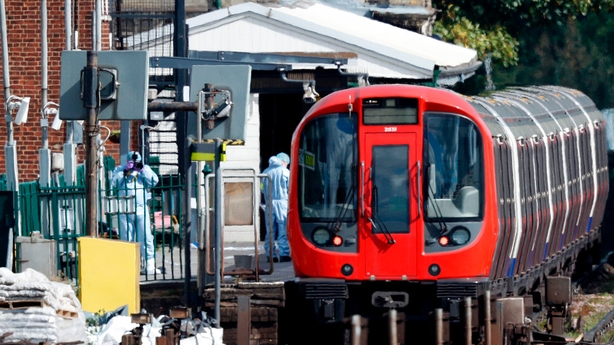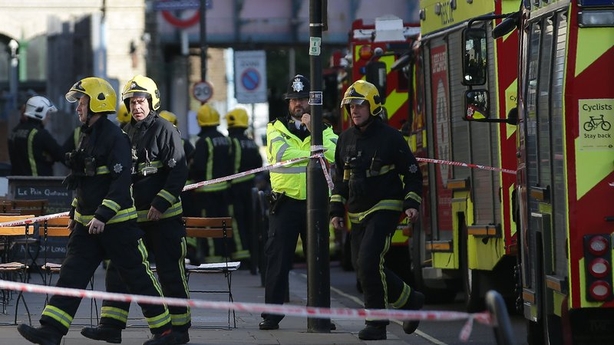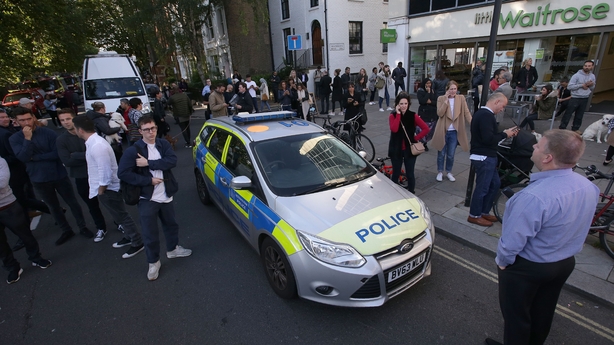 Asked if it was clear whether the person responsible was on the train at the time, Mr Rowley said: "It's very much a live investigation and we are following down the lines of inquiry as I said."
NHS England said patients were being treated at Imperial, Chelsea and Westminster, Guy's and St Thomas' and the Central London Community Healthcare Urgent Care Centre.
Commuters fled in terror after the blast and witnesses reported seeing several people hurt and "covered in blood" after a "flash and a bang" on the District Line Tube.
Emergency services including armed police rushed to the scene and cordoned off the station.
Explosion on Parsons Green district line train. Fireball flew down carriage and we just jumped out open door. pic.twitter.com/pGbfotbfsJ

— Rigs (@RRigs) September 15, 2017
Pictures posted on social media appeared to show wires protruding from a flaming bucket inside a plastic carrier bag on the floor of a carriage.
Media technology consultant Richard Aylmer-Hall, 53, was sitting on the District Line train bound for central London when panic unfolded at around 8.20am.
He said he saw several people injured, having apparently been trampled as they tried to escape.
He said: "I was blissfully reading my paper and listening to a podcast and suddenly the whole world charged past me down the platform, down the Tube."
#parsonsgreen pic.twitter.com/0OUV819EtE

— Sylvain Pennec (@sylvainpennec) September 15, 2017
Sylvain Pennec, a software developer from Southfields, near Wimbledon, was around 10m from the source of the explosion when fire filled the carriage.
"I heard a boom and when I looked there were flames all around," he said.