US Defense Secretary James Mattis has warned North Korea that the United States has "many" military options which US President Donald Trump could use to deal with its nuclear arms and long-range missile programmes.
Standing outside the White House after a national security meeting with Mr Trump and the Vice President Mike Pence, Mr Mattis said any major threat to the United States, its territories or its allies would be met with a "massive" military response that would be "both effective and overwhelming".
North Korea conducted its sixth and most powerful nuclear test yesterday, which it said was an advanced hydrogen bomb for a long-range missile.
The hydrogen bomb test ordered by leader Kim Jong-un was a "perfect success" and was a "meaningful" step in completing the country's nuclear weapons programme, state television said.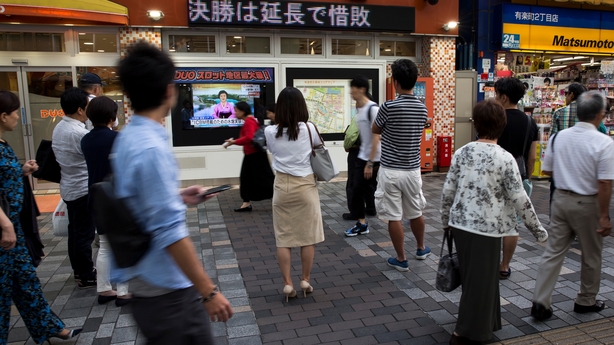 The test was condemned around the world, with several leaders calling for new sanctions and Mr Trump saying "appeasement" would not work.
The explosion came just days after North Korea fired a missile over Japan. Mr Trump said after last week's missile launch that talking to Pyongyang "is not the answer".
Mr Mattis said the Trump administration is not looking for the "total annihilation" of any country, "namely North Korea", but said they had "many options to do so".
Mr Mattis said the president had wanted to be briefed on the "many military options" that the US had available in response to the latest provocation in the Korean peninsula.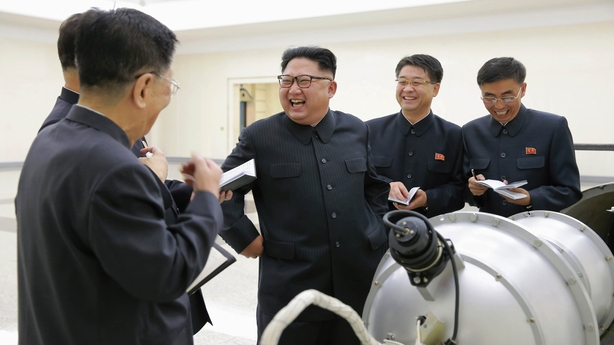 We need your consent to load this rte-player contentWe use rte-player to manage extra content that can set cookies on your device and collect data about your activity. Please review their details and accept them to load the content.Manage Preferences
Secretary Mattis was joined by Joint Chiefs Chairman Gen. Joseph Dunford. Neither man responded to several shouted questions, including whether war with North Korea was now inevitable.
The UN Security Council will hold an emergency meeting today to discuss an international response to North Korea's latest nuclear test, diplomats said yesterday.
The United States, Britain, France, Japan and South Korea requested the urgent meeting, the US mission said in a statement.
The council will meet in an open session, in contrast to many other meetings on North Korea that have been held behind closed doors.
Earlier, German Chancellor Angela Merkel and French President Emmanuel Macron said they planned to tighten European Union sanctions.
---
Read more:
---
"This latest provocation by the ruler in Pyongyang has reached a new dimension," the German government said in a statement after Ms Merkel and Mr Macron discussed the issue by phone.
Britain's foreign minister Boris Johnson said: "They (North Korea) seem to be moving closer towards a hydrogen bomb which, if fitted to a successful missile, would unquestionably present a new order of threat," adding that there were no palatable military solutions.
British Prime Minister Theresa May said the UN Security Council should urgently look at new measures.
Russia struck a cautious tone.
"In the emerging conditions it is absolutely essential to keep cool, refrain from any actions that could lead to a further escalation of tensions," Russia's foreign ministry said, adding that North Korea risked "serious consequences".
This afternoon, Russian President Vladimir Putin met his Chinese counterpart Xi Jinping in China where they agreed to "appropriately deal with" the crisis, Chinese state news agency Xinhua said.
"The two leaders agreed to stick to the goal of denuclearisation on the Korean Peninsula and keep close communication and coordination to deal with the new situation," Xinhua said.
China urged North Korea to stop "wrong" actions and said it would fully enforce UN resolutions on the country.
South Korea is finding, as I have told them, that their talk of appeasement with North Korea will not work, they only understand one thing!

— Donald J. Trump (@realDonaldTrump) September 3, 2017
..North Korea is a rogue nation which has become a great threat and embarrassment to China, which is trying to help but with little success.

— Donald J. Trump (@realDonaldTrump) September 3, 2017
As North Korea's most important trading partner, the position of China - a permanent member of the UN Security Council - will be closely watched.
A Japanese government source said there would be pressure on Beijing to impose an oil embargo.
"They will probably act eventually but ... it is possible that will not be before their October (party) convention," the source said. "Russia does not have real influence on North Korea. It's China that matters."
Mr Trump said North Korea had become "a great threat and embarrassment to China" and that Beijing had tried but failed to solve the problem.
What he called South Korea's "talk of appeasement" would not work as "they (the North Koreans) only understand one thing!".
The International Atomic Energy Agency, which has no access to North Korea, called the nuclear test, Pyongyang's sixth since 2006, "an extremely regrettable act" that was "in complete disregard of the repeated demands of the international community".
UN chief condemns test as 'profoundly destabilising'
UN Secretary-General Antonio Guterres earlier condemned the nuclear test as "profoundly destabilising" for regional security and again urged Pyongyang to halt such acts.
"This act is yet another serious breach of the DPRK's international obligations and undermines international non-proliferation and disarmament efforts," Mr Guterres said in a statement.
"This act is also profoundly destabilising for regional security. The DPRK is the only country that continues to break the norm against nuclear test explosions."
Mr Guterres called on Pyongyang to "cease such acts and to comply fully with its international obligations".