North Korea has said it has successfully tested a hydrogen bomb designed to be mounted on its newly-developed intercontinental ballistic missile, producing a greater yield than any of its previous nuclear tests.
The hydrogen bomb test ordered by leader Kim Jong-un was a "perfect success" and was a "meaningful" step in completing the country's nuclear weapons programme, state television said.
The announcement came hours after a large earthquake that appeared to be man-made was detected near the North's known nuclear test site, indicating that the reclusive country had conducted its sixth nuclear test.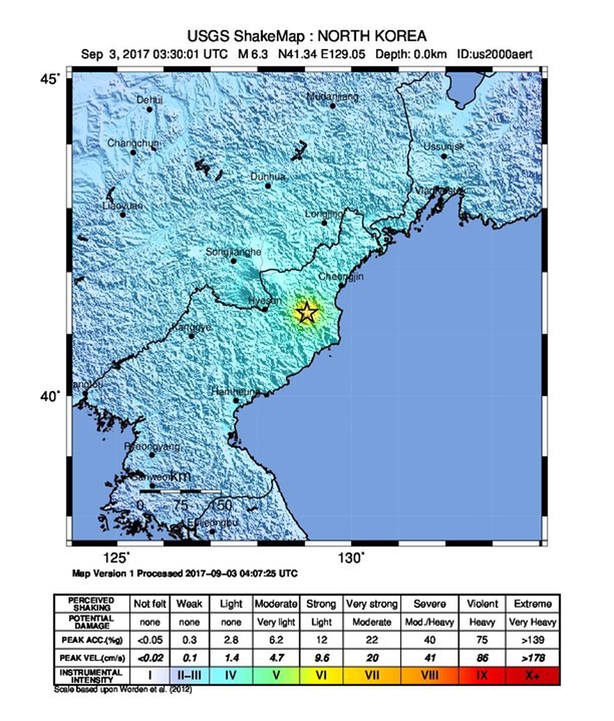 Japanese foreign minister Taro Kono earlier said his government "confirms that North Korea conducted a nuclear test after examining information from the weather agency and other information."
He said Japan registered a protest with the North Korean embassy in Beijing.
Ahead of the confirmation, Japanese Prime Minister Shinzo Abe said a sixth nuclear test by North Korea would be "absolutely unacceptable".
Meanwhile, defence minister Itsunori Onodera said that the ministry has begun flying "sniffer" planes capable of detecting radioactive fallout.
"We'll do our best to collect information," he said, according to public broadcaster NHK.
The North's official news agency earlier said the country had developed a hydrogen bomb which can be loaded into new intercontinental ballistic missile.
Questions remain over whether North Korea has successfully miniaturised its nuclear weapons, and whether it has a working H-bomb, but the Korean Central News Agency said that Mr Kim had inspected such a device at the Nuclear Weapons Institute.
It was a "thermonuclear weapon with super explosive power made by our own efforts and technology", KCNA cited Mr Kim as saying, and "all components of the H-bomb were 100% domestically made".
Pictures showed Mr Kim in a black suit examining a metal casing with two bulges.
North Korea triggered a new escalation of tensions in July, when it carried out two successful tests of an ICBM, the Hwasong-14, which apparently brought much of the US mainland within range.
After its fourth nuclear test, in January 2016, it claimed that the device was a miniaturised H-bomb, which has the potential to be far more powerful than other nuclear devices.
But scientists said the six-kiloton yield achieved then was far too low for a thermonuclear device.
When it carried out its fifth test, in September 2016, it did not say it was a hydrogen bomb.
The North had "further upgraded its technical performance at a higher ultra-modern level on the basis of precious successes made in the first H-bomb test", KCNA said, adding that Mr Kim "set forth tasks to be fulfilled in the research into nukes".
Actually mounting a warhead onto a missile would amount to a significant escalation on the North's part, as it would create a risk that it was preparing an attack.