US President Donald Trump has announced that he was scrapping two business advisory councils in the wake of several high-profile resignations in protest over his comments on a white supremacist rally in Virginia that turned violent.
"Rather than putting pressure on the business people of the Manufacturing Council & Strategy & Policy Forum, I am ending both. Thank you all!" he said on Twitter.
The CEOs of Merck, Intel and Under Armour were among those who quit the forums following Mr Trump's comments about Saturday's violence in Charlottesville.
Rather than putting pressure on the businesspeople of the Manufacturing Council & Strategy & Policy Forum, I am ending both. Thank you all!

— Donald J. Trump (@realDonaldTrump) August 16, 2017
It comes after former US leaders George HW Bush and George W Bush issued a tough joint statement condemning racial bigotry and anti-Semitism, in a veiled rebuke of Mr Trump.
Mr Trump sparked a political firestorm when he said counter-protesters appeared to be equally to blame for violence over the weekend at the Charlottesville rally.
In a statement the father-son former presidents said "America must always reject racial bigotry, anti-Semitism, and hatred in all forms."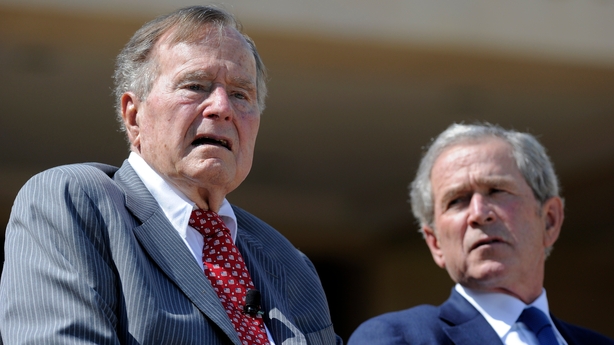 They made reference to Thomas Jefferson, the author of the Declaration of Independence whose main home, Monticello, is in Charlottesville.
"As we pray for Charlottesville, we are reminded of the fundamental truths recorded by that city's most prominent citizen in the Declaration of Independence: we are all created equal and endowed by our Creator with unalienable rights," they said.
"We know these truths to be everlasting because we have seen the decency and greatness of our country."
The joint statement did not mention Mr Trump by name.
Earlier, the head of the United Nations said that "racism, xenophobia, anti-Semitism, Islamophobia" are "poisoning our societies."
Writing on Twitter, UN Secretary General Antonio Guterres said: "We must stand up against them. Every time. Everywhere".
Racism, xenophobia, anti-Semitism & Islamophobia are poisoning our societies. We must stand up against them. Every time. Everywhere.

— António Guterres (@antonioguterres) August 15, 2017
Mr Trump's latest remarks came a day after bowing to pressure to explicitly condemn the Ku Klux Klan, neo-Nazi and white supremacist groups.
Appearing angry and irritated, the president maintained that his original reaction was based on the facts he had at the time.
Donald Trump on clashes in Charlottesville, Virginia: 'I think there's blame on both sides …' https://t.co/Vgh1q9L7Ry pic.twitter.com/4vW3acOOyA

— RTÉ News (@rtenews) August 15, 2017
"Blame", he said, "belonged on both sides.
"You had a group on one side that was bad, and you had a group on the other side that was also very violent. And nobody wants to say that, but I'll say it right now," Mr Trump said, referring to right- and left-wing protesters.
---
Read More:
---
Donald Trump says there were bad people on both sides in Charlottesville pic.twitter.com/jbDU6nWljM

— RTÉ News (@rtenews) August 16, 2017
From there, the back and forth with reporters turned tense.
"Not all of those people were neo-Nazis, believe me. Not all of those people were white supremacists by any stretch," Mr Trump said of the participants in the deadly protest.
"There was a group on this side. You can call them the left ... that came violently attacking the other group. So you can say what you want, but that's the way it is."
As he spoke, his new White House Chief of Staff John Kelly, a former Marine general, appeared displeased during the president's long tirade, standing rigidly.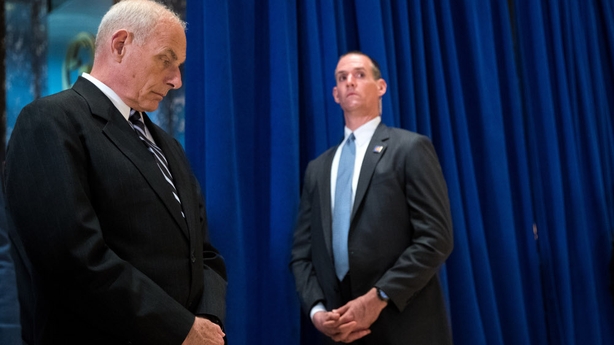 Mr Trump's comments were immediately welcomed by David Duke, a former "grand wizard" of the Ku Klux Klan and a key figure at Saturday's rally.
"Thank you President Trump for your honesty & courage to tell the truth about #Charlottesville & condemn the leftist terrorists," he tweeted.
Thank you President Trump for your honesty & courage to tell the truth about #Charlottesville & condemn the leftist terrorists in BLM/Antifa https://t.co/tTESdV4LP0

— David Duke (@DrDavidDuke) August 15, 2017
But on the political left, the president's words were met with indignation.
"Charlottesville violence was fuelled by one side: white supremacists spreading racism, intolerance and intimidation. Those are the facts," said Tim Kaine, a former Democratic vice presidential candidate and senator from Virginia.
The state's other Democratic senator, Mark Warner, tweeted: "No words."
Mr Trump's fellow Republicans did not mince their words.
"We must be clear. White supremacy is repulsive," Republican House Speaker Paul Ryan wrote on Twitter.
"This bigotry is counter to all this country stands for. There can be no moral ambiguity."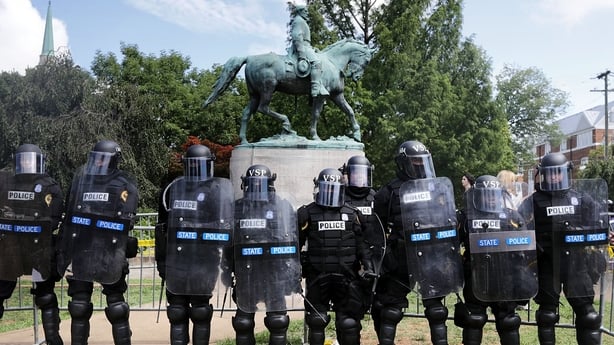 The violence erupted on Saturday after white nationalists converged in Charlottesville for a 'Unite the Right' rally in protest at plans to remove a statue of Robert E Lee, commander of the pro-slavery Confederate army during the US Civil War.
Many of the rally participants were seen carrying firearms, sticks and shields. Some also wore helmets.
Counter-protesters came equipped with sticks, helmets and shields.
The two sides clashed in scattered street brawls before a car ploughed into the rally opponents, killing 32-year-old Heather Heyer and injuring 19 others.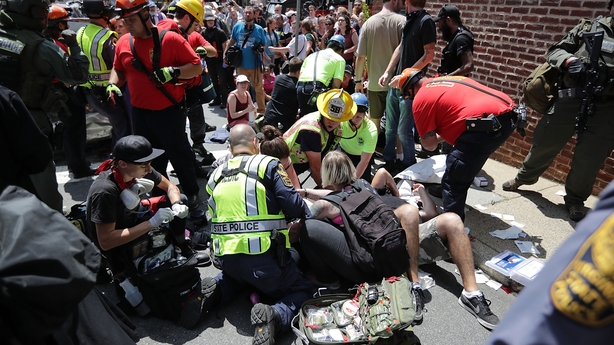 A 20-year-old Ohio man, James Fields, said to have harboured Nazi sympathies, has been charged with murder.
Two state police officers also were killed that day when the helicopter they were flying in as part of crowd-control operations crashed.
Hundreds of people remembered Ms Heyer, a paralegal whom colleagues said was devoted to social justice, at a memorial at the historic Charlottesville theatre.
"They tried to kill my child to shut her up. Well guess what? You just magnified her," Ms Heyer's mother Susan Bro said to long and loud applause.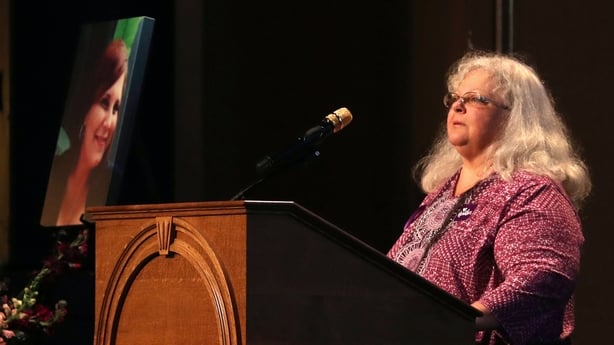 Ms Bro told the audience that her daughter's favorite Facebook post was "If you're not outraged, you're not paying attention."
"She paid attention. And she made a lot of us pay attention," Ms Bro said. "I want this to spread. I don't want this to die. This is just the beginning of Heather's legacy."
Violence on 'many sides'
Addressing the situation for the first time on Saturday, Mr Trump denounced hatred and violence "on many sides".
The comment drew sharp criticism across the political spectrum for not explicitly condemning the white nationalists whose presence in the southern college town was widely seen as having provoked the unrest.
Critics said Mr Trump's remarks highlighted his reluctance to alienate extreme right-wing groups, whose followers constitute a devoted segment of his political base despite his disavowal of them.
Yielding two days later to a mounting political furore over his initial response, Mr Trump delivered a follow-up message expressly referring to the "KKK, neo-Nazis and white supremacists and other hate groups" as "repugnant to everything we hold dear as Americans".
Mr Trump's detractors dismissed his revised statements as too little too late.
His remarks yesterday inflamed the controversy further.
Republican senator Orrin Hatch said on his instagram account: "I was just eight years old when my older brother Jesse was killed in World War II.
"As I said on Saturday, Jesse didn't give his life fighting Hitler for Nazi ideas to go unchallenged here at home. I will never hesitate to speak out against hate - whenever and wherever I see it".
"By saying he is not taking sides, Donald Trump clearly is," said Democratic Senate leader Chuck Schumer of New York.
"When David Duke and white supremacists cheer your remarks, you're doing it very, very wrong."
A tweet by former president Barack Obama soon after the violence had garnered 2.8 million "likes" to become the most liked Twitter message ever by yesterday, the social media network said.
"No one is born hating another person because of the color of his skin or his background or his religion..." pic.twitter.com/InZ58zkoAm

— Barack Obama (@BarackObama) August 13, 2017
There's no moral equivalency between racists & Americans standing up to defy hate& bigotry. The President of the United States should say so

— John McCain (@SenJohnMcCain) August 16, 2017
Administration officials, hoping to put the controversy behind them after the remarks on Monday, worried that the controversy would now last for days and, potentially, affect the president's ability to achieve legislative and policy goals.
Asked about the White House's next steps, one official said: "I think next steps are just to stop talking."