Taoiseach Enda Kenny has said that garda whistleblower Maurice McCabe and his family have been seriously maligned over false allegations of sexual abuse.
RTÉ's Prime Time reported last week that Tusla - the child and family agency - sent a file containing false allegations of sexual abuse against Sgt McCabe to gardaí in 2013.
Sgt McCabe was not informed that the Tusla file contained this allegation.
Speaking in Cork at a jobs launch, Mr Kenny said the important thing is that the Commission of Investigation starts its work as quickly as possible.
Taoiseach says that garda whistleblower Maurice McCabe and his family have been seriously maligned over false allegations of sexual abuse pic.twitter.com/AYqecq8drU

— RTÉ News (@rtenews) February 13, 2017
The Commission of Investigation under Judge Peter Charleton will investigate any links between Garda Commissioner Nóirín O'Sullivan and former commissioner Martin Callinan and an alleged smear campaign against Sgt McCabe.
However, the future of the Charleton Commission has been put in doubt after Sgt McCabe this evening said he was "strongly opposed" to an inquiry that is due to be held in private.
In a statement Sgt McCabe and his wife Lorraine said there is now "no reason to have any secret or private inquiry".
Mr Kenny tonight said he will discuss the matter with Fianna Fáil leader Micheál Martin tomorrow morning. 
Asked by RTÉ News if he will hold a public rather than a private inquiry, Mr Kenny said he was going to find the most effective way of getting to the truth.
Earlier, Mr Kenny said every day that passes in which the commission is unable to carry out its work means further delay in the determination of the truth of the allegations.
He said nobody is objecting to a Commission of Investigation and it could start this week.
The Taoiseach also noted the statement from Garda O'Sullivan and said everyone is "entitled to the presumption of innocence until proven guilty".
Ms O'Sullivan said this afternoon that her position is unchanged in the wake of controversy over the treatment of Sgt McCabe.
She issued a statement saying: "Nothing has emerged in the last three weeks which in any way changes" her position.
She said: "A campaign of false accusations, repeated and multiplied, do not make me guilty of anything".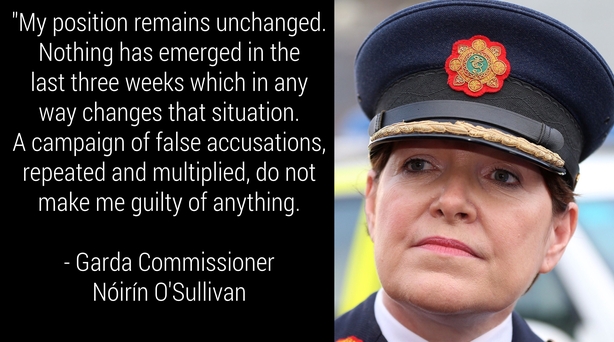 "I have made it clear that I was not part of any campaign to spread rumours about Sgt McCabe and didn't know it was happening at the time it was happening. I have repeatedly refuted that claim and do so again.
"The easiest option for me would be to step aside until the commission finishes its work.
"I'm not taking that option because I am innocent and because An Garda Síochána, under my leadership, has been making significant progress, with the help of our people, the Government, the Policing Authority and Garda Inspectorate, in becoming a beacon of 21st Century policing."
Fianna Fáil leader Micheál Martin is due to meet Sgt McCabe later this evening.
Fianna Fáil has said the meeting is private and it will not be disclosing the time or venue of the meeting.
Labour Party leader Brendan Howlin last week told the Dáil a journalist had alleged to him that Commissioner O'Sullivan had made very serious allegations of sexual crimes about Sgt McCabe to journalists in 2013 and 2014.
Read: Garda Commissioner's statement in full