The Minister for Justice has agreed to broaden the terms of reference of the inquiry into claims of a campaign by senior gardaí to discredit a whistleblower in the force.
The Commission of Investigation under Judge Peter Charleton will now investigate any links between Commissioner Nóirín O'Sullivan and former commissioner Martin Callinan and an alleged smear campaign against whistleblower Sergeant Maurice McCabe.
There were renewed calls in Dáil from some opposition TDs and also from one Government backbencher for the Garda Commissioner to step down.
Labour leader Brendan Howlin said he had spoken to Sgt McCabe this morning and he had expressed gratitude for him raising the matter in the Dáil yesterday.
Sinn Féin, Labour, the Social Democrats, Independents4Change TDs Clare Daly and Mick Wallace and Government backbencher Michael D'Arcy have all called for the commissioner to stand aside as the Commission of Investigation carries out its work.
Ministerial records could be examined by Commission of Investigation, @MartinaFitzg reports https://t.co/tDDGdZFBJB pic.twitter.com/AEQ1SzelGU

— RTÉ News (@rtenews) February 9, 2017
Many pointed out that the former garda press officer Supt Dave Taylor had been suspended for almost two years pending the outcome an investigation.
However, the Tánaiste reiterated that allegations are not wrong doings and the commissioner was entitled to full confidence.
She also pointed out that Mr Justice Iarfhlaith O'Neill had not recommended that the commissioner step aside.
Taoiseach Enda Kenny has said he has full confidence in Ms O'Sullivan.
Speaking in the Polish capital Warsaw, Mr Kenny said there is no prima facie evidence or no indication of any wrongdoing of any kind by the Garda Commissioner, and for that reason she is fully entitled to the support of Government while the commission investigates allegations against her.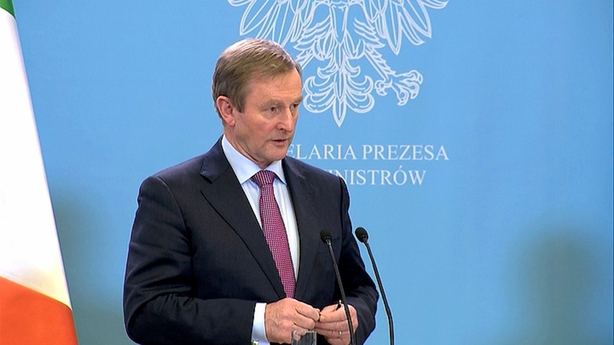 Mr Kenny said it is a "very serious Constitutional matter", which is why a formal investigation arising from protected disclosures is under way.
He said the protected disclosures are a very particular form of allegations and they are being examined. He stressed that they "are all allegations" and none of them has been proven.
Mr Kenny said Commissioner O'Sullivan has the full support of the Government and "that's why we are having the investigation".
The Taoiseach said the fact that witnesses will be compelled to give evidence will determine the "truth or otherwise" of the allegations being made, which he said Justice O'Neill was unable to confirm in his analysis of the protected disclosures.
Sinn Féin's Mary Lou McDonald told the Dáil earlier that senior gardaí stood accused of what she called a "vile and evil" attempt to denigrate the character of Sgt McCabe and added her voice to calls that Commissioner O'Sullivan should stand aside during the inquiry.
Fianna Fáil justice spokesperson Jim O'Callaghan called for the terms of reference to be expanded to allow the judge investigate whether Government figures had been contacted as part of what was being alleged and criticised Mr Howlin for his intervention yesterday.
Ms Daly said she disagrees with the way in which Mr Howlin used Dáil privilege yesterday.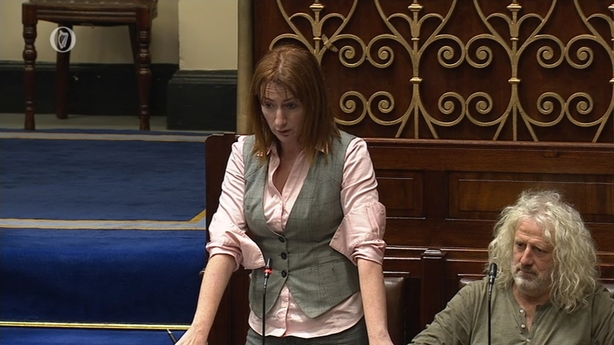 Speaking on RTÉ's News at One, she said that any time she has used Dáil privilege, she has used verified information, but Mr Howlin did not.
To the best of her knowledge, she said she did not believe there had been any contact between Mr Howlin and Sgt McCabe before the comments were made.
Ms Daly said there is sufficient evidence that would lead people to believe the Garda Commissioner should step aside, without Mr Howlin making allegations.
Tánaiste accepts amendments to terms of reference
Closing the debate on the terms of the new Commission of Investigation, Ms Fitzgerald also said she would accept amendments to the terms of reference suggested by Opposition TDs.
Two amendments were made by Fianna Fáil and accepted by the Government.
The first will address the issue of whether Mr Callinan and Ms O'Sullivan had knowledge of the allegation of criminal misconduct being made against Sgt McCabe and whether they had used this to discredit him.
Secondly, the Government is to include an amendment to look at contacts between gardaí and members of the Government regarding allegations of a smear campaign against Sgt McCabe.
Ms Fitzgerald said she accepted the point made by Mr O'Callaghan that the commission needs to be able to pursue fully the issue of the criminal complaint being used improperly.
She said she also accepted the commission should be able to investigate contacts between gardaí with Government on the matter.
She also said she would have to bring the amendments to the terms to Cabinet but she said she did not want to extend the terms to the point where it would take a longer time. However, there is an option to extend the terms once the Commission is up and running, she said.
In relation to the other protected disclosures, these were under investigation by the Garda Síochána Ombudsman Commission and she did not want to interfere with that process.
Responding to a question from Fianna Fáil's John McGuinness as to whether the terms of reference include Tusla - the child and family agency, the Tánaiste said she saw no reason why they could not be included if it was relevant.
In a statement this evening, Tusla said it does not comment on individual cases to protect the "privacy and well being of the children and families with whom we work.
"When a child protection concern is received by Tusla it is screened and assessed in line with 'Children First: National Guidance for the Protection and Welfare of Children'."
We need your consent to load this rte-player contentWe use rte-player to manage extra content that can set cookies on your device and collect data about your activity. Please review their details and accept them to load the content.Manage Preferences