Tusla Chief Executive Fred McBride has said he has issued a written apology to Sergeant Maurice McCabe after it emerged that a false allegation of sexual abuse was made against the garda whistleblower.
The false allegation has been blamed on a clerical error.
The error was identified by a counsellor with the child and family agency in 2014 and highlighted on RTÉ's Prime Time last night.
Speaking on RTÉ's News At One, Mr McBride said he has offered a meeting with Sgt McCabe to personally apologise.
"I have issued an apology today and in that apology I have offered a meeting with the McCabes personally.
"I'll apologise personally, I'll try to explain what happened and I'll try to explain what we are going to do about that," said Mr McBride.
He said mistakes were made on Tusla's part and a full review of the circumstances will be undertaken adding that he would welcome Tusla's inclusion in the forthcoming Commission of Investigation.
Mr McBride also said he absolutely rejects the inference that Tusla is involved in some kind of collusion with the gardaí surrounding the circumstances [in its dealings with Sgt McCabe].
"I would never knowingly allow that to happen, so I absolutely refute that," he said.
He said Tusla passed on the information to the Department of Children within days, towards the end of January, of finding out that an error had been made.
Garda Commissioner Nóirín O'Sullivan said An Garda Síochána is co-operating fully with the Commission of Investigation into claims of a campaign by senior gardaí to discredit a whistleblower in the force.
Speaking after a function in Waterford this afternoon, the Commissioner said that she understands that Tusla is to issue an apology to Sgt McCabe.
She said it was terrible thing to happen to anybody and "our thoughts are with Sgt McCabe and his family".
Sgt McCabe's solicitor said his client intends to take a case against the State for "all the damage" done to him.
Seán Costello also said Sgt McCabe and his wife Lorraine are devastated by events over the past few days.
Speaking to RTÉ News this evening, Mr Costello said Sgt McCabe wanted to know all of the answers to the questions he has and if there were consequences for what had happened.
Mr Costello earlier said the impact on the McCabe family is horrendous.
"To think a Government agency charged with the protection of children, and a State-run body, would deal with a complaint in the manner outlined."
Mr Costello said some questions have been answered about the incident, "but there are a lot of questions, and in my view some degree of gaps in what we are looking at".
He said an apology from Tusla to his client will not be enough.
They need more information from Tusla and the Health Service Executive and it needs to be known how mistakes like this can occur, he said.
"It is extraordinary that an agency like Tusla should make a mistake of that nature. The question will only be answered if this should be the subject of the inquiry."
Mr Costello said: "We were told the Tusla review would take place and it concluded in September of 2016. What we were told is the matter would proceed no further. But at that stage we weren't given any of the details we now know."
He said he has not seen the intended expanded terms of reference in the Charleton Commission.
"In respect of the Tusla matter and how that may or may not tie in, I don't know."
In relation to the files opened on the McCabes' children, Mr Costello said it is also devastating.
Mr Costello said Sgt McCabe has gone through a lot over many years.
"It seems every number of months something occurs. They want to know when this will end and when they can start to live a proper life and not wonder whether tomorrow they are going to read something else about Maurice."
In relation to what action Sgt McCabe will now take, Mr Costello said that is a matter for his client but they are "considering all options".
Questions have also arisen over how much the Cabinet knew about the false allegation against Sgt McCabe after it emerged that he met the Minister for Children ahead of the publication of the terms of reference for the Charleton Commission of Investigation.
Tusla to conduct internal review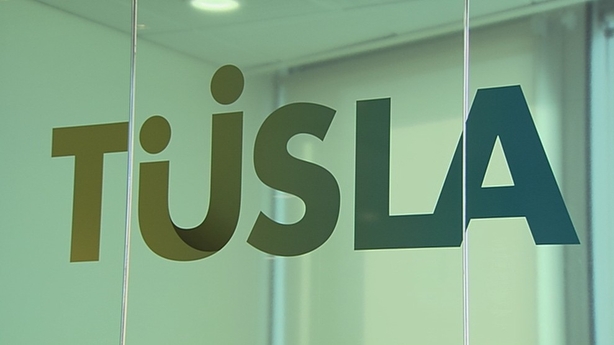 In a statement this morning, Tusla said it was clear that mistakes had been made.
It said it cannot comment on the detail of individual cases, but that: "Taking an overall view of this situation, however, it is clear to us that mistakes have been made.
"On this basis, we have commenced an internal review and will cooperate fully with any Commission of Inquiry if requested."
The statement added that the agency "can confirm that we are in the process of apologising fully to the individual involved".
Error led to false McCabe sex abuse allegation
In 2013 a counsellor notified Tusla that a client had disclosed one incident of child sexual abuse at the hands of Sgt McCabe.
This complaint was passed on to gardaí in May 2014. However, shortly afterwards Tusla was informed that the allegation had never been made against Sgt McCabe, that it had been pasted into his file in error.
Sgt McCabe, who was by then a high-profile garda whistleblower, was not informed of this.
According to a document prepared for the O'Higgins Commission of Investigation by the Chief State Solicitor's Office, in January 2006 Sgt McCabe made a serious complaint against a colleague that resulted in a disciplinary sanction being imposed on that colleague.
Later that year that colleague made a complaint about Sgt McCabe on behalf of his daughter alleging one incident of sexual abuse.
This allegation was investigated fully and the Director of Public Prosecutions concluded there was no grounds for a prosecution and it was doubtful the allegations could constitute a crime at all.
A new allegation was made in 2013 by a separate client against a different individual, which was a very serious claim of child sexual abuse.
Despite being informed in May 2014 that this very serious allegation had never been made against Sgt McCabe, Tusla contacted him in January of last year telling him he was under investigation for this alleged incident of child sexual abuse.
Documents seen by Prime Time show that Tusla said it is its intention to issue a full formal apology to Sgt McCabe for its failings.