A spokesperson for the Minister for Children has said it would have been "highly inappropriate" for Katherine Zappone "to brief the Cabinet on confidential, highly sensitive and personal information which one could reasonably assume was the subject of a protected disclosure".
Questions arose today over how much the Cabinet knew about a false allegation of sexual abuse against garda whistleblower Sgt Maurice McCabe after it emerged that he met Minister Zappone ahead of the publication of the terms of reference for the Charleton Commission of Investigation.
The Commission of Investigation under Mr Justice Peter Charleton will investigate claims made by the former head of the Garda Press Office Superintendent Dave Taylor that he was told to brief the media that claims made by Sgt McCabe were motivated by malice and revenge and had no substance.
It will now also investigate any links between Garda Commissioner Nóirín O'Sullivan and former commissioner Martin Callinan about an alleged smear campaign against Sgt McCabe.
A spokesperson for Minister Zappone today said that she had informed "relevant Government colleagues" of the circumstances of the case involving Sgt McCabe and Tusla since she first heard about it last month. But the spokesperson for Ms Zappone said she will not be commenting further on who she informed.
This evening in a statement, Tánaiste and Minister for Justice Frances Fitzgerald said that Ms Zappone informed her "in January that she intended to meet with Sgt McCabe. She of course did not inform me about any details in relation to confidential Tusla records".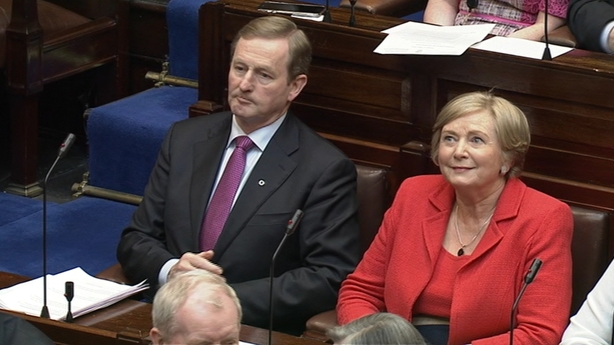 A Government spokesperson said Minister Zappone had told Taoiseach Enda Kenny she was going to meet Sgt McCabe in advance of her meeting with the whistleblower.
The spokesperson said the minister did not state the contents of the meeting. He added it was the understanding of the minister that there would be ongoing contact and the talks were not finished.
A spokesperson for Ms Zappone said the minister was always of the view that Tusla would form part of the investigation by the Commission of Investigation.
The spokesperson added that Ms Zappone became aware of the circumstances when Sgt McCabe's wife, Lorraine, contacted the office of the Minister for Health on 18 January 2017.
We need your consent to load this rte-player contentWe use rte-player to manage extra content that can set cookies on your device and collect data about your activity. Please review their details and accept them to load the content.Manage Preferences
Ms Fitzgerald, who yesterday agreed to broaden the terms of reference for the commission of investigation, said she is proceeding to finalise the terms, while the Government spokesperson reiterated that Tusla will be included in the terms of reference.
Minister for Health Simon Harris said that he had no knowledge that Mrs McCabe had contacted the department and no meeting was requested.
Speaking on RTÉ's News At One, he said he did not know who was briefed by Minister Zappone.
Mr Harris called on Tusla to answer questions "very quickly", saying answers needed to be found and Tusla could and should put more information into the public domain.
Sgt McCabe's solicitor has said he would have thought that Minister Zappone's meeting with his client last month would have been part of the Cabinet discussion on the establishment of the commission.
But Seán Costello said he had every confidence in Mr Justice Charleton and had no doubt he would exercise every power given to him.
Tusla's apology delivered to McCabe's neighbour
Fianna Fáil TD John McGuinness has said a criminal investigation is needed into how the Tusla file on Sgt McCabe was created and by whom.
Speaking on RTÉ's Six One News, he said there are many unanswered questions including who knew about the file, what circle in the gardaí knew about it and why Sgt McCabe and his family were put to such pain in relation to the investigation.
John McGuinness, FF said that Tusla's apology to Maurice McCabe was delivered to Mr McCabe's next door neighbour in error pic.twitter.com/e66qe9Y73j

— RTÉ News (@rtenews) February 10, 2017
Mr McGuinness said the Tusla information should have been included in the terms of reference of the Charleton inquiry "in a very specific way".
He also called for Garda Commissioner Nóirín O'Sullivan to stand aside to allow a "far more comprehensive investigation to take place". He will ask his Fianna Fáil colleagues and party leader Micheál Martin to agree with that position, he said.
Mr McGuinness also stated that Tusla's apology to Sgt McCabe today was delivered to his next door neighbour, an 80-year-old lady, and it was subsequently passed on to the family.
He said no one accepts this was a copy and paste error and said there is something seriously wrong in Tusla.
Sinn Féin deputy leader Mary Lou McDonald has said that Ms Fitzgerald's statement is not credible.
In a statement, Ms McDonald said: "It is alarming that the Tánaiste, having misled the Dáil yesterday, should continue her cycle of evasion this evening.
"Her version of events is not credible. I repeat my call for the Tánaiste to correct the record of the Dáil.
"She should resign if she is not prepared to do so."
Sinn Fein's @MaryLouMcDonald has accused Tánaiste of mis-leading Dáil Asks her to make a full statement or else tender resignation @rtenews pic.twitter.com/V7URZzFDri

— Conor McMorrow (@ConorMcMorrow) February 10, 2017
Earlier, Ms McDonald insisted the terms of reference of the Charleton Commission had to be rewritten to take account of the Tusla revelations, and she reiterated her call for Commissioner O'Sullivan to step aside.
Clerical error of 'monumental proportions' - Howlin
Labour Party leader Brendan Howlin has said it beggared belief that there could have been a discussion at Cabinet about the issue, without the information known to Ms Zappone surfacing. He said if this had happened, the minister had to explain why this was the case.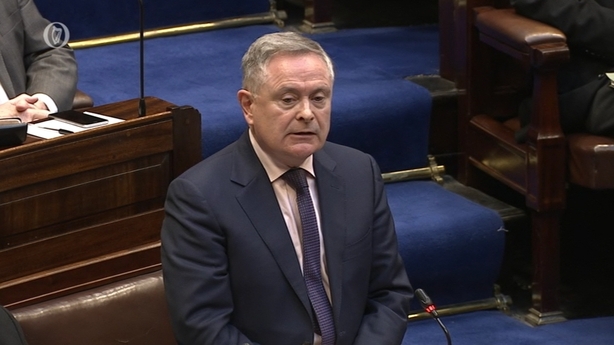 Speaking in Galway this morning, Mr Howlin said if the minister had briefed the Cabinet about what she and her department knew about the involvement of Tusla, then the Minister for Justice needed to explain why this information was not given to the Dáil during yesterday's discussions on the latest Commission of Investigation.
He said it was vital that there was complete clarity on the issues and that they were fully encompassed by the investigation.
The Labour leader said if this was a clerical error it was one of "monumental proportions" and if it was something more sinister, then that needed to be established and fully investigated.
Describing the revelations highlighted on RTÉ's Prime Time last night as "shocking", he said the suffering endured by Sgt McCabe at the hands of "agents of the State" was beyond belief.
Mr Howlin also reiterated his call for Commissioner O'Sullivan to step back from her position while the investigation was carried out. He said it was proper, in the interests of the force, that this happened.
He said he was not aware of any of the allegations in question during his time in government and that he only became aware of the full detail of the allegations relating to Sgt McCabe last night.