Members of a Syrian family who recently arrived here from Greece as part of the Government's Refugee Protection Programme have thanked Ireland for continuing to support Muslim refugees in an increasingly hostile Europe.
The Al Hariri family were speaking at a welcoming ceremony at a mosque in west Dublin for 30 of the 131 Syrian asylum-seekers who arrived from Greece in December.
The ceremony was attended by worshippers and also by representatives of Christian groups.
The Blanchardstown mosque gathering is the first in a series organised by the Islamic Centre of Ireland.
It is designed to promote integration and counter Islamophobia - or hatred of Islam.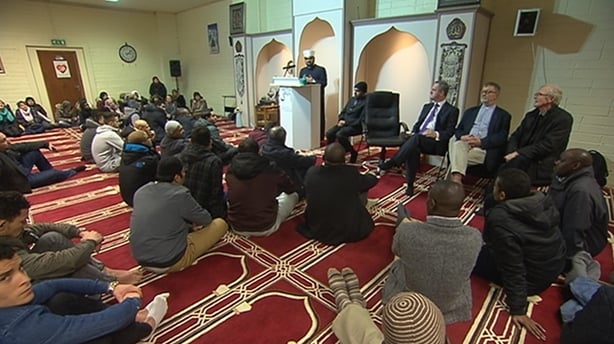 Most of the Al Hariri family fled the war-torn city of Dara, and had to leave their father and two siblings behind in Turkey when they were shipped to the Greek island of Lesbos after paying a people smuggler.
After six months in a Greek government-run camp in Lesbos, the family were brought to Athens where they received a call from an Irish official offering them relocation here.
The Al Hariris say they want the rest of their immediate family to join them here. But before they can broach that the women's own application for refugee status will have to be processed.
Like all others on the Protection Programme, their papers are being fast-tracked and the Al Hariris will know how they have fared by the end of March.
The Department of Justice and Equality says that 75% of applications from Syria are successful in winning refugee status.
The Al Hariri teenagers want to study in Ireland and integrate into Irish society and say they are eternally grateful to their mother - a teacher of Arabic Literature - for shepherding them through their hazardous exodus from Syria and Turkey.
So far 240 people have been brought here from Greece after fleeing warzones in the Middle East and Africa under the relocation strand of the RPP.
Overall, 44% are minors including 36% who are aged 12 or under.
166 more people were interviewed in Athens by the end of last year and they are scheduled to arrive in Ireland early this year.
Under a separate scheme, 520 additional people have been brought to Ireland from refugee camps in Lebanon, a target that has been reached months ahead of schedule.
The Government is now in the process of making a further 520 places available under the scheme.
The Government's relocation programme, which is designed to ease the ongoing humanitarian crisis in southern Europe arising from mass migration from war-zones, is unique in the EU because the then FG-Labour coalition chose to participate by opting into to a community justice initiative.
The Government is committed to admit 4,000 people under the IRPP.
We need your consent to load this rte-player contentWe use rte-player to manage extra content that can set cookies on your device and collect data about your activity. Please review their details and accept them to load the content.Manage Preferences