- US-born gunman opened fire and seized hostages at gay nightclub
- Shooter bought firearms in the last week or so, according to officials
- Obama denounces "act of terror, act of hate"
- Death toll makes this the worst mass shooting in US history
A man armed with an assault rifle killed 49 people at a busy gay nightclub in Orlando, Florida, in the worst mass shooting in US history, which US President Barack Obama described as an "act of terror and hate".
Police killed the shooter, who was identified as Omar Mateen, 29, a Florida resident and US citizen who was the son of immigrants from Afghanistan.
"It has been reported that Mateen made calls to 911 this morning in which he stated his allegiance to the leader of the Islamic State," said Ronald Hopper, the FBI's assistant special agent in charge of the case.
US officials cautioned, however, that they had no conclusive evidence of any direct connection with IS or any other foreign extremist group.
"We know enough to say this was an act of terror, an act of hate," Mr Obama said in a speech from the White House.
"As Americans, we are united in grief, in outrage and in resolve to defend our people."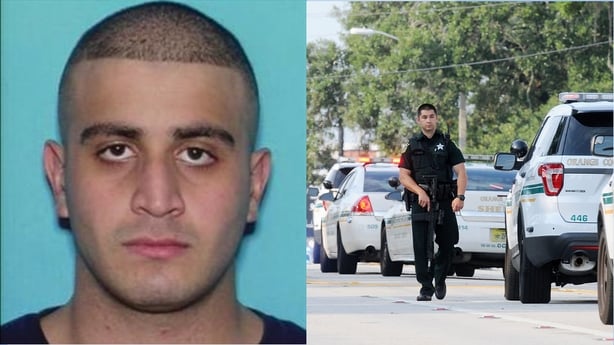 Fifty-three people were also wounded in the rampage.
Pulse nightclub was crowded with some 350 revellers at a Latin music night when the attack happened.
A hostage situation developed, and three hours later a team of SWAT officers used armoured cars to storm the club before shooting dead the gunman. It was unclear when the victims were killed.
The number of dead shocked local officials, who had initially put the death toll at 20.
Pulse shooting: First victim names we can release: Edward Sotomayor Jr.; Stanley Almodovar III; Luis Omar Ocasio-Capo; Juan Ramon Guerrero

— Orlando Police (@OrlandoPolice) June 12, 2016
"Today we're dealing with something that we never imagined and is unimaginable," Orlando Mayor Buddy Dyer said.
The death toll makes the attack the deadliest single shooting incident in US history, eclipsing the 2007 massacre at Virginia Tech university, which left 32 dead.
The toll compares with 27 people who were killed at Sandy Hook primary school in Connecticut in December 2012. In that attack, 20 of the victims were children.
More recently, 14 people were killed by Syed Rizwan Farook and his wife Tashfeen Malik in an attack on a holiday party for civil servants in San Bernardino last December.
Pulse shooting: In hail of gunfire in which suspect was killed, OPD officer was hit. Kevlar helmet saved his life. pic.twitter.com/MAb0jGi7r4

— Orlando Police (@OrlandoPolice) June 12, 2016
Mateen had twice been interviewed by FBI agents, in 2013 and 2014, after making comments to co-workers indicating he supported militant groups, but neither interview lead to evidence of criminal activity, the FBI's Mr Hopper said.
As police tried to determine what motivated Mateen's rampage, about a dozen unmarked police cars had gathered around a Port Saint Lucie house that appeared to be linked to the gunman.
Police on the scene declined to comment, and neighbours said they did not see much activity in or around the home.
"I've never seen anyone come in or out," said Aryne Rackley, who has lived three doors away for the past three years. "Nobody is ever in the backyard."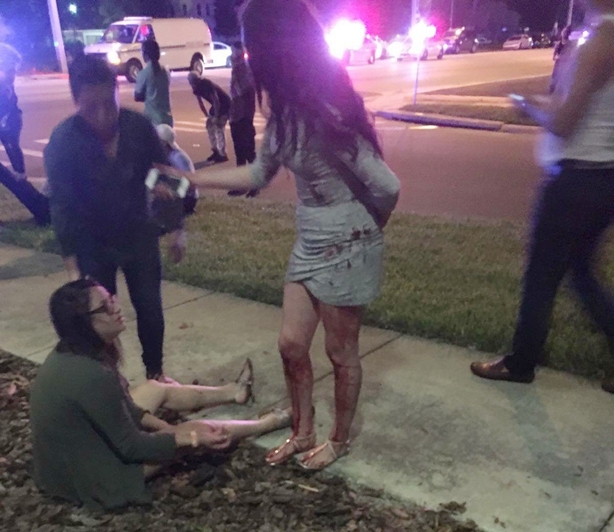 A mother pleads for information on her son in the aftermath of the Orlando nightclub shootinghttps://t.co/vLTZsxklpF

— RTÉ News (@rtenews) June 12, 2016
Likely Republican presidential nominee Donald Trump, who has called for a temporary ban on Muslims entering the United States, said he was "right on radical Islamic terrorism". In a tweet today, he called for "toughness and vigilance."
Democratic candidate Hillary Clinton tweeted a brief statement after the attacks, but did not speculate on the motives of the gunman.
If confirmed as an act of terrorism, it would be the deadliest such attack on US soil since 11 September 2001 when al Qaeda-trained hijackers crashed jetliners into New York's World Trade Centre, the Pentagon and a field in Pennsylvania, killing some 3,000 people.
Also today, a man was arrested in California with assault weapons and possible explosives. He told authorities that he was in the Los Angeles area for the gay pride festival, the Los Angeles Times reported.
The shooting came just over a day after a gunman shot and killed singer Christina Grimmie following a concert at the city's Plaza Live venue.
Grimmie's killer, who took his own life, was identified as 27-year-old Kevin James Loibl, of St Petersburg, Florida.
Loibl was armed with two handguns, ammunition and a hunting knife, police said. His motive was unknown.