Police have identified the killer of The Voice USA contestant Christina Grimmie as 27-year-old Kevin James Loibl from St Petersburg, Florida.
The motive for his attack is not yet known, but police have said that the gunman did not appear to personally know the singer.
Grimmie, who appeared in the 2014 series of The Voice USA, died following a shooting at her concert in Orlando, Florida on Friday night.
The 22-year-old was signing autographs after her concert when she was approached by a male suspect and shot. Following a a struggle with Grimmie's brother, the suspect then shot himself dead.
Grimmie was taken to hospital with critical injuries after the incident but later passed away.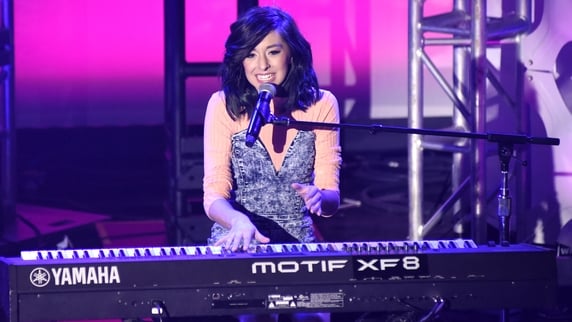 "It is with a heavy heart that we can confirm that Christina has passed and went home to be with the Lord," Grimmie's publicist told E! News.
"She was shot at her show in Orlando and, unfortunately, didn't survive the gunshot wounds. We ask at this time that you respect the privacy of her family and friends in their time of mourning."
With deep regret, we have confirmed Christina Grimmie, @TheRealGrimmie has died from her injuries.

— Orlando Police (@OrlandoPolice) June 11, 2016
A representative from the Orlando Police department told E! News on Saturday, "Upon arrival officers found the male suspect, who was deceased, and one victim who was gravely injured. That victim, singer Christina Grimmie, was transported to the hospital with critical injuries.
"Detectives were told the suspect, who is not being identified at this time, walked toward Christina and shot her. Christina's brother immediately tackled the suspect, stopping him from causing any more harm to Christina and her fans. During the struggle, the suspect shot himself. The suspect was pronounced dead at the scene."
Man who shot and killed Christina Grimmie @TheRealGrimmie is
Kevin James Loibl DOB 03/10/1989 pic.twitter.com/2D7ZIDhXCa

— Orlando Police (@OrlandoPolice) June 11, 2016
During a press conference on Saturday, Orlando Police Chief John Mina said that the suspect did not appear to know Grimmie personally.
Mina said the man who shot and killed the singer apparently travelled from another city in Florida to Orlando to commit the crime, and that he had two handguns, two loaded magazines and a hunting life on his person when he confronted the singer.
There were unarmed security guards at The Plaza concert venue where the attack took place, and they checked people's bags, but there were no metal detectors or pat-downs when people entered the venue.
We are heartbroken. @TheRealGrimmie is a loved member of our family. Our thoughts are with her and her family. #PrayForChristina

— The Voice (@NBCTheVoice) June 11, 2016
Grimmie was a contestant in the 2014 series of The Voice, joining Adam Levine's team and going on to finish in third place.
The Voice tweeted that they are "heartbroken" by the passing of Grimmie.
There are no words. We lost a beautiful soul with an amazing voice. Our hearts go out to the friends, fans and family of @TheRealGrimmie.

— The Voice (@NBCTheVoice) June 11, 2016
Maroon 5 singer Levine shared an old selfie with Grimmie while she was still in critical condition to his Instagram account with the caption, "I'm sad, shocked and confused. We love you so much Grimmie. We are all praying hard that you can pull through this... This just isn't fair."
Tributes to the late singer have poured in on Twitter following the news of her death.
I'm stunned and disgusted and heartbroken that we lost that sweet little girl... Keeping @TheRealGrimmie family in my heart and mind.

— Blake Shelton (@blakeshelton) June 11, 2016
So sad about @TheRealGrimmie. I'm still in shock. She was special. Had IT. Talented. Kind. Funny. Loving. Courageous. We hurt w her family.

— Carson Daly (@CarsonDaly) June 11, 2016
So sad passing of @TheRealGrimmie. Beautiful member of #TheVoice family & true #Fighter. My heart goes out to her family, friends & fans. xo

— Christina Aguilera (@xtina) June 11, 2016
#RIPChristina 😰😢 my thoughts and prayers are with her loved ones..

— Demi Lovato (@ddlovato) June 11, 2016
My heart hurts. I met @TheRealGrimmie on So Random and she was sweet and brilliantly talented. #RIPChristina https://t.co/ietT4YtGPT

— Audrey Whitby (@audreywhitby) June 11, 2016
My thoughts and prayers go out to loved ones of @TheRealGrimmie. She was a star on earth and now she's a star in the sky. ✨

— CeCe (@CeCeFrey) June 11, 2016
we will miss you @TheRealGrimmie. thank you for sharing your talents with the world. our thoughts are with your family.

— DNCE (@DNCE) June 11, 2016
Saddened to hear about the murder of Christina Grimmie. What a tragedy. Condolences to her family.

— William Shatner (@WilliamShatner) June 11, 2016
Terribly saddened & angry at the senseless murder of @TheRealGrimmie last night. RIP, we loved her voice & remember: https://t.co/ozdMJF1fWt

— OneRepublic (@OneRepublic) June 11, 2016
.