The two gunmen shot dead when they attempted to attack an anti-Muslim cartoon exhibition have been identified as roommates from Arizona, one of them a suspected jihadist.
Several US media organisations identified the shooters killed by police in Garland,Texas, as Elton Simpson, 31, and 34-year-old Nadir Soofi.
The Los Angeles Times reported that the pair shared an apartment in the city of Phoenix, and television images showed FBI agents raiding the address.
In court records from 2001, Simpson was sentenced to three years' probation for lying to federal agents investigating his alleged jihadist sympathies.
FBI agents presented the court with taped conversations between an informant and Simpson, discussing travelling to Somalia to join "their brothers" waging holy war.
The prosecution was not able to prove that he had committed a terrorist offence, but did establish he had lied to investigators when he denied having discussed going to Somalia.
Private terror watchdog SITE said that at least one Twitter account linked to a known militant of the self-styled Islamic State jihadist group has claimed the attackers as sympathisers.

The two men carrying assault rifles began shooting at a police car at the event in Garland.
They were shot dead by an off-duty traffic officer with a pistol, Garland Police said.
The event, organised by the American Freedom Defense Initiative, was called 'Muhammad Art Exhibit and Contest' and offered a $10,000 prize for the best artwork or cartoon depicting the Prophet.
The event featured speakers including Dutch politician and anti-Islamic campaigner Geert Wilders, who is on an al-Qaeda hit list.

The AFDI, described by the Southern Poverty Law Center as a hate group, has among other activities sponsored anti-Islamic advertising campaigns in transit systems across the US.
ABC News said officials believed Simpson sent out tweets ahead of the attack, with the last one using the hashtag #texasattack.
He wrote in one tweet: "My bro and myself have given bay'ah to Amirul Mu'mineen. May Allah accept us as mujahideen. Make dua."

"Bay'ah" means "oath of allegiance" in Arabic, and "Amiru lMu'mineen" is "commander of the faithful," a title of caliphs and other Muslim rulers.
"Dua" means "supplication." The tweet was pulled from Twitter after the attack.

Phoenix TV station KTVK reported that neighbours where the two men are believed to have lived said a man and his brother lived in the apartment that was being searched.

A fighter for Islamic State, the militant group which has taken over large parts of Iraq and Syria, said in a tweet that "2 of our brothers just opened fire at the Prophet Muhammad (s.a.w.) art exhibition in Texas," according to the SITE Intelligence Group.

Depictions of the Prophet Muhammad are viewed as offensive in Islam, and Western art that portrays the Prophet has angered Muslims and provoked threats and attacks from radicals.
AFDI defends exhibition
AFDI presdient Pamela Geller defended the exhibition.

She said: "In a pluralistic society you have offensive speech, you have ideas, you have an exchange of ideas, you don't shut down a discussion because 'I'm offended.'"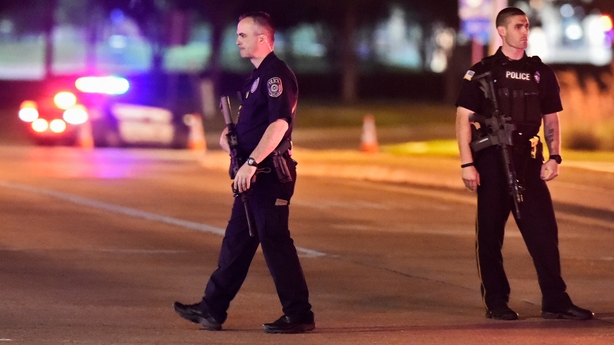 The attack yesterday took place at about 7pm local time in a parking lot of the Curtis Culwell Center, an indoor arena in Garland, northeast of Dallas.

At the scene in Garland today, a police helicopter flew overhead and the area was cordoned-off by police.
Three crime scene investigators were in the street near the shooting.

Early this morning, police alerted reporters that a strong electronic pulse would be activated near the scene, presumably as part of the bomb squad's work, and a loud boom was heard moments later, though police did not comment further.

Most of the 200 people attending the event were still inside the arena when the violence unfolded and unaware of what had happened until later.