Funeral ceremonies have taken place for seven of the victims who were killed in last week's terror attacks in Paris.
At a ceremony in Paris, President Francois Hollande honoured three police officers shot dead in last week's Islamist attacks.
Elsewhere, the bodies of four Jews killed in the attack on a kosher supermarketertr buried in Jerusalem.
President Hollande laid the Legion d'honneur medal on coffins draped in the French flag as the grieving families looked on and the national anthem rang out at the Paris police headquarters.
"They died so that we could live in freedom," Mr Hollande said during an emotional ceremony.
"They died carrying out their duty with courage, bravery, dignity. They died as police officers."
"I assure you that the whole of France shares your pain," he told the victims' mourning relatives.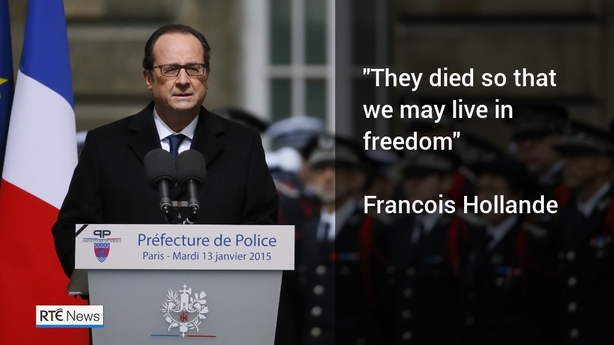 The four Jewish victims died when Amedy Coulibaly fired on hostages in the supermarket on Friday afternoon.
Thousands packed into the Givat Shaul cemetery in an atmosphere of shock and grief.
Rabbis made a symbolic cut into the clothes of immediate family members in a traditional Jewish act of mourning.
Frenchman linked with Cherif Kouachi arrested
A Frenchman who was arrested in Bulgaria trying to cross the border into Turkey had been in contact with one of the Kouachi brothers involved in last week's attack in Paris.
Fritz-Joly Joachin, 29, a French citizen of Haitian origin, "was in contact several times with one of the two brothers - Cherif Kouachi," public prosecutor Darina Slavova said.
She said the contact took place before Mr Joachin left France on 30 December, a week before Cherif Kouachi and his brother Said killed 12 people in Paris.
Mr Joachin was initially wanted on a European arrest warrant issued by France following allegations by his wife that he had kidnapped their three-year-old son.
However on Monday, Bulgarian prosecutors received a second European arrest warrant for Mr Joachin issued by a court in Paris.
"The charges are for participation in an organised crime group whose aim was organisation of terrorist acts," Ms Slavova said.
Meanwhile, thousands of French troops and police are to secure sensitive landmarks, as well as Jewish schools and places of worship, across France today.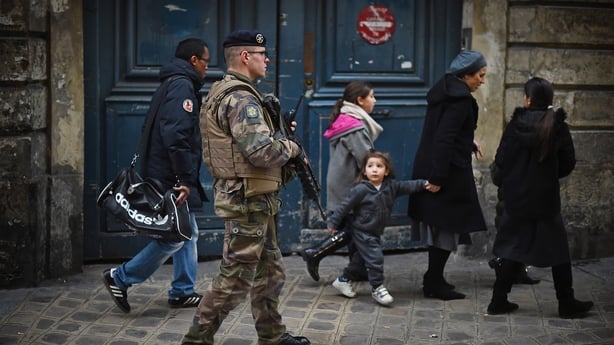 It is part of the government's response to last week's terror attacks in which 17 people were killed.
The French authorities are concerned that further attacks may be in the pipeline, partly because it is unclear whether or not the Islamist cell involved in last week's killings had other members.
But it is clear the show of strength later today is to reassure France's Jewish community that they are safe in the wake of the terror attacks.
Mosques and transport hubs will also be protected, according to officials.
However, there is a growing chorus of concern that the French intelligence services were not alert to the threat posed by the two brothers suspected of carrying out the massacre at Charlie Hebdo.
Said and Cherif Kouachi had been known to authorities as having radical tendencies.
Cherif Kouachi had actually been banned from leaving France because he had served 18 months in prison.
However, he was still able to travel to Yemen in 2011 where he was apparently trained by an al-Qaeda affiliate organisation.
Three million copies of new Charlie Hebdo edition printed
Meanwhile, the front page of the upcoming "survivors" edition of the French satirical weekly Charlie Hebdo shows a cartoon of the Prophet Muhammad holding up a "Je suis Charlie" sign under the words: "All is forgiven".
The frontpage was released to media ahead of the magazine's publication tomorrow.
It will be its first issue since an attack on the weekly's Paris offices last week left 12 people dead, including several cartoonists.
It also shows Muhammad with a tear in his eye.
The special edition will have a print run of three million copies, instead of the usual 60,000.
Charlie Hebdo is known for its satirical attacks on Islam and other religions.
The new edition will include cartoons featuring Muhammad and will also make fun of politicians and other religions, said its lawyer, Richard Malka.
The Irish Council of Imams has issued a statement regarding the republishing of the cartoons.
"We would like to state that while we respect the right for freedom of expression, we nevertheless believe that other people's beliefs and values should also be respected; a value which is protected by Irish law.
"We do not accept violence as a way to deal with issues and at the same time we do not accept offences," the statement says.
Signed by council chairman, Sheikh Hussein Halawa, the statement underlined that the value of tolerance is protected by Irish law.
Asked whether he was seeking legal advice on whether those publishing what he regards as offensive cartoons would be in breach of the Republic's blasphemy law, Sheikh Halawa said the council would take its decisions in the light of events.
On Sunday, at least 3.7m people throughout France took part in marches of support for Charlie Hebdo and freedom of expression.
World leaders linked arms to lead more than a million citizens through Paris in an unprecedented demonstration to pay tribute to the victims.