World leaders linked arms in an extraordinary show of solidarity as an estimated 1.6m people marched against terrorism in Paris.
They walked in silence to huge applause as they led a mammoth procession through the French capital.
At least 3.7m people marched against extremism across France today in the biggest mobilisation ever recorded in the country, the interior ministry said
The magnitude of the Paris march was "unprecedented", it added.
Some commentators said it was the largest number of people on the streets since the Liberation of Paris from the Nazis in 1944.
Dozens of world leaders, including Muslim and Jewish statesmen, took part.
"Fantastic France! I am told there could be as many as 1.3m to 1.5m of us in Paris," Francois Lamy, one of the main organisers, tweeted.
Fantastique France ! On me dit que nous serions entre 1,3 et 1,5 millions à Paris

— François Lamy (@lamy_f) January 11, 2015
They walked amid high security in the tribute to victims of this week's Islamist militant attacks.
President Francois Hollande and leaders from Ireland, Germany, Italy, Israel, Turkey, Britain and the Palestinian territories among others, moved off from the Place de la Republique ahead of a sea of French and other flags.
Giant letters attached to a statue in the square spelt out the word Pourquoi?" (Why?) and small groups sang the 'La Marseillaise', France's national anthem.     
Some 2,200 police and soldiers patrolled Paris streets to protect marchers from would-be attackers.
Police snipers could be seen on rooftops and plain-clothes detectives mingling with the crowd.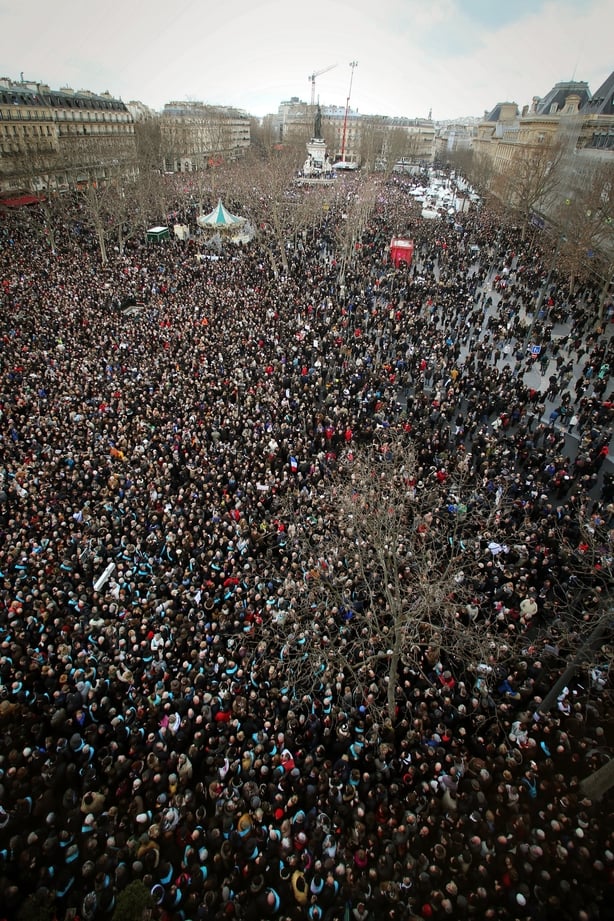 The massive march reflected shock over the worst militant Islamist assault on a European city in nine years.
For France, it raised questions of free speech, religion and security, and beyond French frontiers it exposed the vulnerability of states to urban attacks.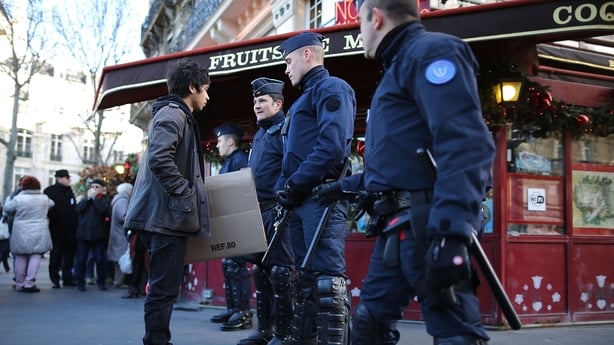 "Paris is today the capital of the world. Our entire country will rise up and show its best side," said Mr Hollande.             
Seventeen people, including journalists and police, were killed in three days of violence.
The violence began with a shooting attack on the satirical newspaper Charlie Hebdo on Wednesday.
It ended with a hostage-taking at a Jewish supermarket in which four hostages were killed.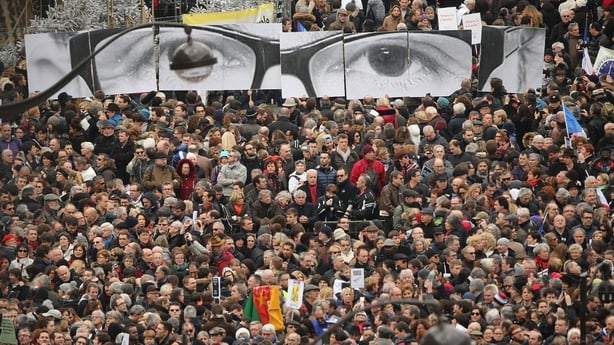 Overnight, an illuminated sign on the Arc de Triomphe read: "Paris est Charlie" ("Paris is Charlie").             
"We're not going to let a little gang of hoodlums run our lives," said Fanny Appelbaum, 75, who said she lost two sisters and a brother in the Nazi concentration camp at Auschwitz. "Today, we are all one."             
"The march will be an unprecedented demonstration that will be go down in the history books," Prime Minister Manuel Valls said.      
Twelve people were killed in Wednesday's initial attack on Charlie Hebdo, a journal known for satirising religions and politicians. 
The attackers, two French-born brothers of Algerian origin, singled out the weekly for its publication of cartoons depicting and ridiculing the Prophet Mohammad.             
All three gunmen were killed in what local commentators have called "France's 9/11", a reference to the September 2001 attacks on US targets by al-Qaeda.         
Thousands march in Ireland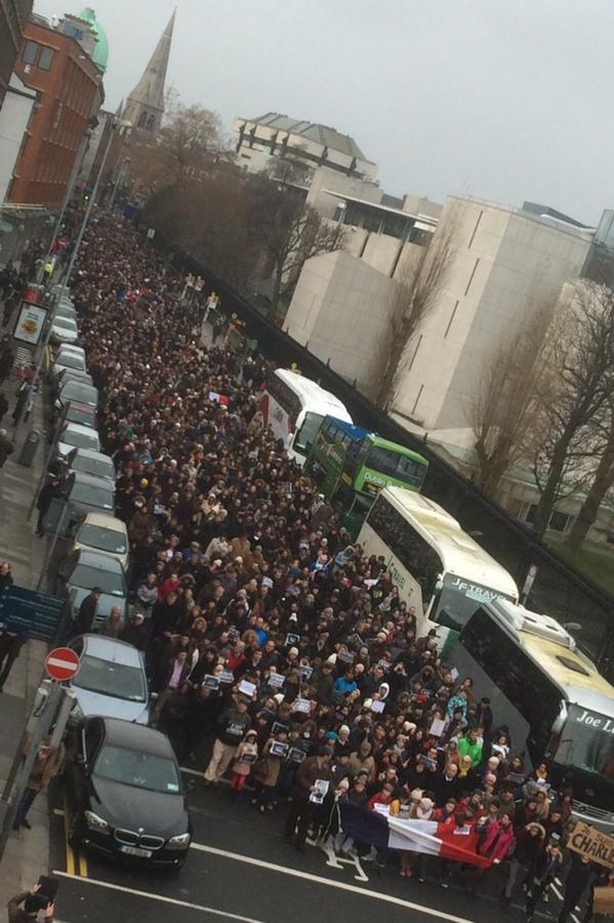 Around the world, people turned out in huge numbers to show their solidarity with France.
Here, up to 5,000 people marched in Dublin city centre to show solidarity.
It began at the Spire on O'Connell Street and proceeded to the Alliance Francaise cultural centre on Kildare Street.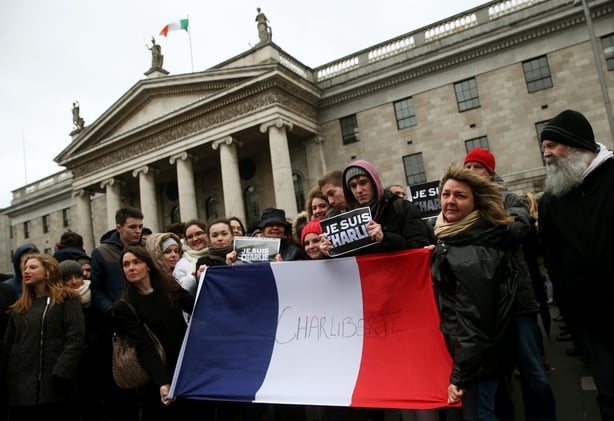 It was organised by members of the French community.

About 400 people gathered in Cork city centre for a silent candlelit vigil.
Organised by French people living in Cork, it was attended by honorary French Consul Patricia Mallon who described it as a very dignified and moving event. 
In Galway, around 200 people attended a silent vigil.
A large contingent from the city's French population joined locals at the Spanish Arch to remember the victims of this week's attacks. 
Many held "Je Suis Charlie" signs, while others had white roses.
The gathering was described by one participant as a small signal of the support of people in Galway for the French tradition of liberty and free speech.