French security forces are deployed in a northern town where two brothers suspected of killing 12 people in the attack on satirical magazine Charlie Hebdo abandoned their car.
RAID, the anti-terrorist unit of the French police force, and the GIGN, a paramilitary special operations unit, deployed in Villers-Cotterets in the northern Aisne region.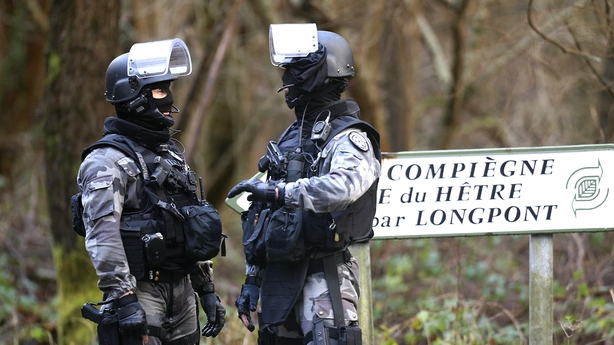 A source said the town is "where a car was abandoned after being used by the two suspects, who were identified by a witness".
32-year-old Cherif Kouachi and his 34-year-old brother Said were spotted by the manager of a petrol station in the town about an hour's drive northeast of Paris, who, after being robbed, "formally identified" the two men.
They were described as "masked, with Kalashnikovs" and what appeared to be a rocket-launcher.
Officers have carried out house-to-house searches in the village of Corcy, a few kilometres from the service station.
The brothers are French-born sons of Algerian parents, and US sources say that Said, the older brother, spent a number of months in Yemen in 2011 training with an Al-Qaeda affiliate.
A Yemeni official said the government was investigating a possible connection.
The Eiffel Tower went dark this evening as a mark of respect to those who lost their lives in the attack.
The lights normally illuminating the 324-metre tall monument at night went out at 7pm Irish time.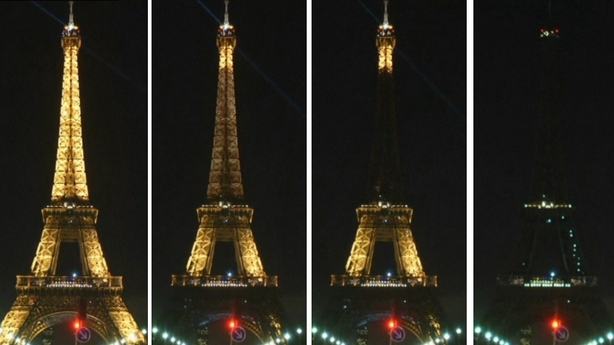 "Our city has been a refuge for writers, philosophers, journalists who were threatened for their ideas," said Paris Mayor Anne Hidalgo.
"There is no place in Paris for extremist ideas of any sort."
Earlier today, a minute's silence was observed across France for victims of the Paris attack.
The 12 who died at Charlie Hebdo
The bells of Notre-Dame cathedral rang out during the minute's silence and French tricolour flags flew at half mast throughout the country.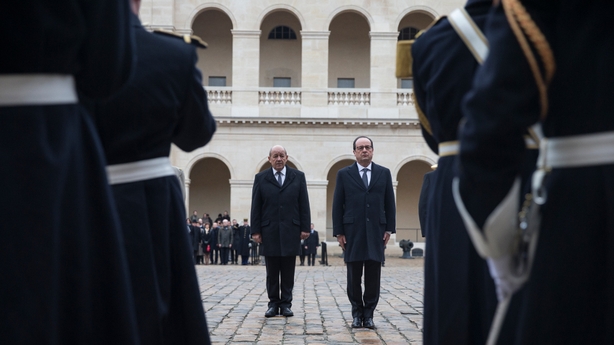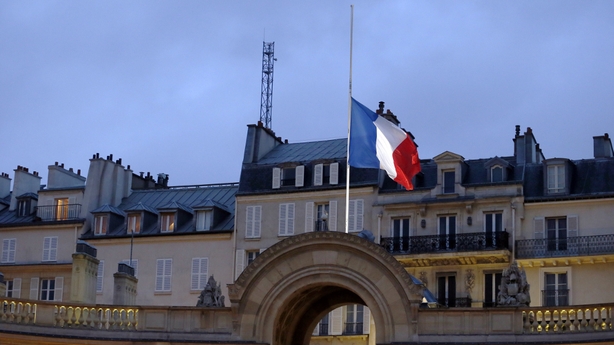 A dignified minute of silence at the place de la Republique in Paris pic.twitter.com/qeM3szYHd5

— Richard Downes (@downesr) January 8, 2015
RTE Radio 1, 2fm, and RnaG staff hold minute's silence for Charlie Hebdo murders. #JeSuisCharlie #IamCharlie pic.twitter.com/qmxd1nGxXj

— Ciaran O'Byrne (@DrivetimeTech) January 8, 2015
A minute's silence was also marked in cities and offices around the world.
Many European newspapers either republished Charlie Hebdo cartoons or mocked the killers with images of their own.
National leaders and allied states described the assault on Charlie Hebdo, known for its lampooning of Islam and other religions as well as politicians, as an assault on democracy.
US President Barack Obama made an unannounced visit to the French Embassy in Washington today where he signed a book of condolence to pay his respects following yesterday's attack.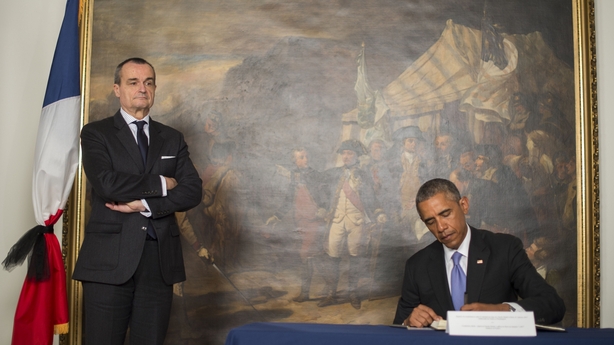 Mr Obama wrote "as allies across the centuries, we stand united with our French brothers to ensure that justice is done and our way of life is defended.
"We go forward together knowing that terror is no match for freedom and ideals we stand for - ideals that light the world."
Pope Francis today celebrated mass for those killed in the gun attack, praying for all those affected by the Islamist assault.
According to Vatican radio, the pontiff said that yesterday's attack "brings to mind so much cruelty, human cruelty, so much terrorism, both isolated terrorism and of state terrorism".
France's prime minister said this afternoon he feared the Islamist militants who carried out the attack could strike again as the manhunt for two men widened across the country.
Manuel Valls was asked on RTL radio after an emergency cabinet meeting with President Francois Hollande whether he feared a further attack.
"That question is entirely legitimate, that's obviously our main concern, and that is why thousands of police and investigators have been mobilised to catch these individuals," he said.
Police released photos of the two French nationals still at large, calling them "armed and dangerous".
Both men were already under watch by security services.
French investigators found a dozen Molotov cocktails and two jihadist flags in the car used by the gunmen during the attack.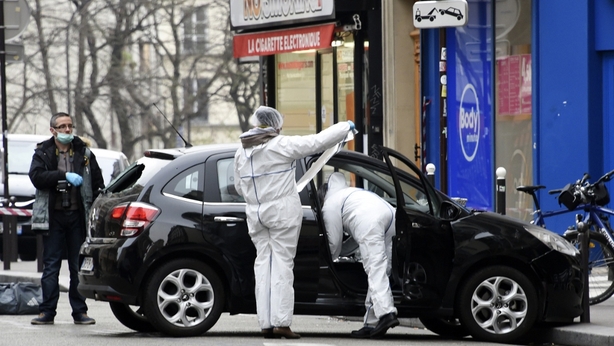 A source said the items were found in the abandoned black Citroen.
"This shows their Islamist radicalisation and that they had possibly planned other acts with the petrol bombs," the source said.
Late yesterday, an 18-year-old man turned himself into police in Charleville-Mzires near the Belgian border as police carried out searches in Paris and the northeastern cities of Reims and Strasbourg.
A legal source said he was the brother-in-law of one of the main suspects and French media quoted friends saying he was in school at the moment of the attack.
French social media carried numerous reports of police helicopters across northern France.
Police tightened security at transport hubs, religious sites, media offices and department stores.
British Transport Police also increased armed patrols at London's St Pancras station to provide reassurance to the public at the Eurostar terminal.
#INFOGRAPHIC Map on the manhunt in France Thursday for two remaining suspects in the #CharlieHebdo massacre pic.twitter.com/MItzewfLoZ

— Agence France-Presse (@AFP) January 8, 2015
There were scattered, unconfirmed reports of sightings of the assailants and police increased their presence at entry points to Paris.
One police source talked of a type of "psychosis" setting in with various reports and rumours, but police had to take each of them seriously.
France began a day of mourning for the journalists and police officers shot dead by the black-hooded gunmen.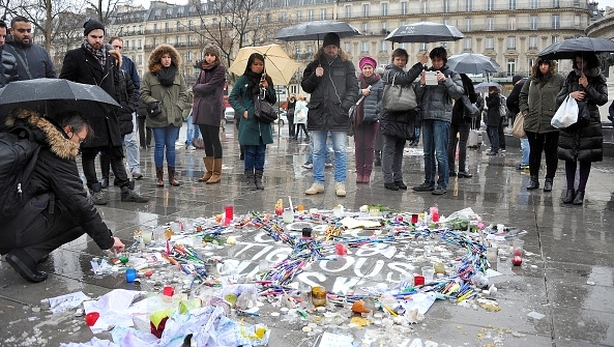 Tens of thousands took part in vigils across France yesterday to defend freedom of speech, many wearing badges declaring "Je Suis Charlie" (I Am Charlie) in support of the newspaper and the principle of free speech.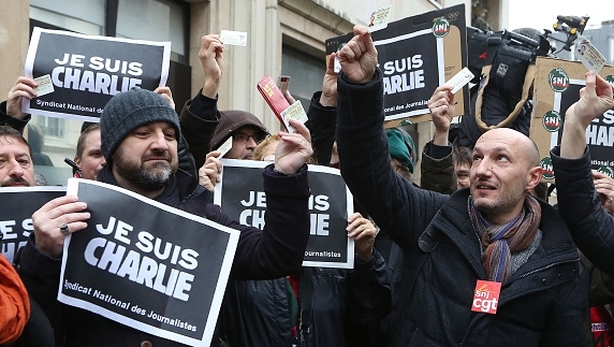 The attack raised questions of security in countries across the Western world and beyond.
Muslim leaders condemned the shooting but some have expressed fears of a rise in anti-Islamic feeling in a country with a large Muslim population.
France's Muslim Council called on all French Muslims to join the minute of silence and said it was issuing a call for "all Imams in all of France's mosques to condemn violence and terrorism wherever it comes from in the strongest possible way." 
Security services have long feared that nationals drawn into Islamist militant groups fighting in Syria and Iraq could return to their home countries to launch attacks, although there is no suggestion that the two suspects had actually fought in either of these countries.
Islamist militants have repeatedly threatened France with attacks over its military strikes on Islamist strongholds in the Middle East and Africa, and the government reinforced its anti-terrorism laws last year.
Nine detained following Charlie Hebdo attack
A total of nine people had been arrested since yesterday's massacre.
Police sources said they were mostly acquaintances of the two main suspects.
One source said one of the brothers had been identified by his identity card, which was left in the getaway car.
Cherif Kouachi served 18 months in prison on a charge of criminal association related to a terrorist enterprise in 2005.
He was part of an Islamist cell enlisting French nationals from a mosque in eastern Paris to go to Iraq to fight Americans in Iraq and arrested before leaving for Iraq himself.
The gunmen stormed the journal's offices yesterday morning, killing journalists, including its founder and its editor-in-chief, and shouting "Allahu Akbar!" (God is Greatest).
They then escaped in a black car, shouting, according to one witness, that they had "avenged the prophet".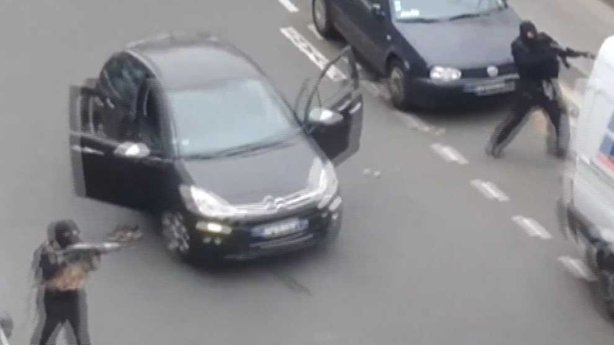 France to host international 'anti-terrorism' meeting
France's interior minister said he would host an international meeting on Sunday with his counterparts from the US and Europe.
They will discuss the battle against terrorism in the wake of the Paris magazine massacre.
"I have taken the initiative of inviting to Paris on Sunday my counterparts from the most affected European countries... as well as my American colleague (Attorney General) Eric Holder," said Bernard Cazeneuve.
A US Justice Department official said: "The meetings will include discussions on addressing terrorist threats, foreign fighters and countering violent extremism."