More than 100,000 people gathered in cities around France as night fell to pay tribute to the 12 people gunned down in an attack against the Charlie Hebdo satirical weekly this morning.
In Paris, 35,000 gathered at Republique square, not far from where the attack took place, police said.
Officials in cities such as Marseille, Toulouse, Nantes and Lyon also reported thousands gathering in public spaces on the country's darkest day in decades.
There are other rallies taking place in cities across Europe.
Dozens of people gathered at the Spire in Dublin's O'Connell Street in solidarity with those who were killed in Paris.
Among those there this evening were French people living in Ireland. 
Dozens of people have gathered at Dublin's spire this evening for #JeSuisCharlie solidarity pic.twitter.com/Q5J4PXgAzX

— Helen Donohue (@Donohuereports) January 7, 2015
Some have lit candles and brought flowers. Many were holding posters saying "Je suis Charlie" (I am Charlie).
Some lit candles on Dublin's O'Connell street spelling out Charlie. Others held posters saying #JeSuisCharlie pic.twitter.com/GzI2YW0KOn

— Helen Donohue (@Donohuereports) January 7, 2015
President Michael D Higgins earlier said: "I am deeply saddened to learn of the shootings in Paris earlier today.
"I wish to express my sincerest condolences to the families of all those bereaved and affected by today's tragedy, including the two police officers who lost their lives in the line of duty. 
"All of our thoughts are with the people of France who have experienced such a dreadful and brutal tragedy and such an unjustifiable loss of innocent life."
Taoiseach Enda this afternoon said: "I am shocked and appalled by the brutal and horrific killings which occurred earlier today in Paris at the offices of the Charlie Hebdo magazine. 
"Our thoughts are above all with the victims and their families, but also with the people of Paris and of France. 
"The murder of journalists and writers at their place of work is a direct attack on the basic values of freedom of speech and of tolerance. 
"That this should have happened in a city and a country which for centuries have been leaders in the international struggle for human rights is a particular outrage. 
"On behalf of the Irish Government, I offer our total solidarity and support to our French colleagues and friends as they work to capture the perpetrators and bring them to justice."
Minister for Foreign Affairs Charlie Flanagan said: "The targeting of a media publication is a direct attack on democracy and freedom, values which we cherish.
"Such attacks will only strengthen our resolve to vigorously uphold and defend these values in the face of hatred and violence."
Tánaiste Joan Burton said: "The brutal murder of 12 people in the Charlie Hedbo office in Paris represents an attack on freedom of expression and an attack on tolerance. 
"Freedom of expression and tolerance are cornerstones of any modern pluralist democracy, and no grievance, disagreement, difference of viewpoint, or perceived offence can justify an attack the likes of which we have seen today.  
"My thoughts today are with those who have been murdered and their families, as well as those who were injured in Paris."
President Obama called #French President Hollande from AF1 to offer condolences & express solidarity after today's horrific terrorist attack

— @NSCPress (@NSCPress) January 7, 2015
US President Barack Obama condemned the "terrorist attack" and pledged US assistance.
"We are in touch with French officials and I have directed my administration to provide any assistance needed to help bring these terrorists to justice," he said.
"I strongly condemn the horrific shooting at the offices of Charlie Hebdo magazine in Paris that has reportedly killed 12 people."
He praised France as "America's oldest ally" and a partner "in the fight against terrorists who threaten our shared security and the world".
German Chancellor Angela Merkel said the shooting was not only an attack on French citizens, but on freedoms of press and speech.
British Prime Minister David Cameron described the murders as "sickening".
The murders in Paris are sickening. We stand with the French people in the fight against terror and defending the freedom of the press.

— David Cameron (@David_Cameron) January 7, 2015
Mr Cameron told MPs: "This house and this country stands united with the French people in our opposition to all forms of terrorism and we stand squarely for free speech and democracy.
"These people will never be able to take us off those values."
Deputy Prime Minister Nick Clegg said the killings were a "barbaric attack on freedom of speech".
"My thoughts are with the victims, their families and their colleagues," he said.
Labour leader Ed Miliband said he felt "horror and outrage" about the attack.
"We stand in solidarity with the people of France against this evil terrorist attack by people intent on attacking our democratic way of life and freedom of speech," Mr Miliband said.
Russian President Vladimir Putin sent condolences to victims of the attack and condemned "terrorism", his spokesman said.
"Moscow resolutely condemns terrorism in all its forms," Mr Putin's spokesman Dmitry Peskov told TASS news agency, adding: "Nothing can justify terrorist attacks."
In a statement the Kremlin said "harshly condemned this cynical crime and confirmed his readiness to continue active cooperation in the battle against the threat of terrorism".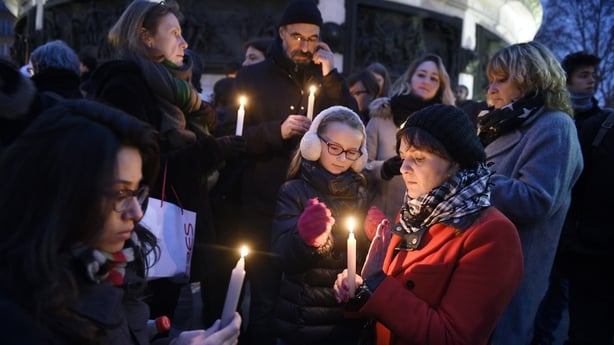 The UN Security Council has strongly condemned the "barbaric and cowardly terrorist attack.
"The members of the Security Council strongly condemned this intolerable terrorist act targeting journalists and a newspaper," said the 15-member council.
The Vatican condemned as "abominable" the shooting.
"It is a double act of violence, abominable because it is both an attack against people as well as against freedom of the press," said the Vatican's deputy spokesman, Fr Ciro Benedettini.
He said Pope Francis would likely issue a personal condemnation later by sending a message to the archbishop of Paris.
The Arab League and Al-Azhar, Sunni Islam's most prestigious centre of learning, both condemned the attack.
"Arab League chief Nabil al-Arabi strongly condemns the terrorist attack on Charlie Hebdo newspaper in Paris," the Arab League said in a statement.
Al-Azhar condemned the "criminal attack," saying that "Islam denounces any violence".
British-Indian writer Salman Rushdie paid tribute to the work of Charlie Hebdo, saying religion must be subject to satire.
Mr Rushdie was forced into hiding after Iran issued a death sentence on him for allegedly insulting Islam with his 1988 book "The Satanic Verses".
"I stand with Charlie Hebdo, as we all must, to defend the art of satire, which has always been a force for liberty and against tyranny, dishonesty and stupidity," he said.
"'Respect for religion' has become a code phrase meaning 'fear of religion'. Religions, like all other ideas, deserve criticism, satire, and, yes, our fearless disrespect."
#VIDEO French President Hollande calls for unity after deadly attack: http://t.co/jui3WyW1oX

— Agence France-Presse (@AFP) January 7, 2015