Each year on RTÉ LifeStyle, we share an all-Irish gift guide just in time for Christmas. We do so for two reasons: firstly, to support the incredible artists, jewellers, designers, authors, and entrepreneurs that this country has to offer; secondly, to encourage sustainability by cutting down on the carbon footprint that comes with ordering presents from around the globe.
This year, due to Covid-19 restrictions, and the fact that local businesses need all the support they can get, we're delivering our very Irish gift guide a little earlier than usual.
So, without further ado, here are some homegrown gift ideas from across the country.
CLOTHING & ACCESSORIES
Beanantees
Lana and Ciara are two Donegal girls having the craic with fashion as Gaeilge. Playing with language and pop culture, the duo have created a line of empowering apparel. With sizes running from XXS to XXL, you can pick up a t-shirt, jumper, or bag for any or all of the wild Irish women in your life. This black Bean an Tí top is €35.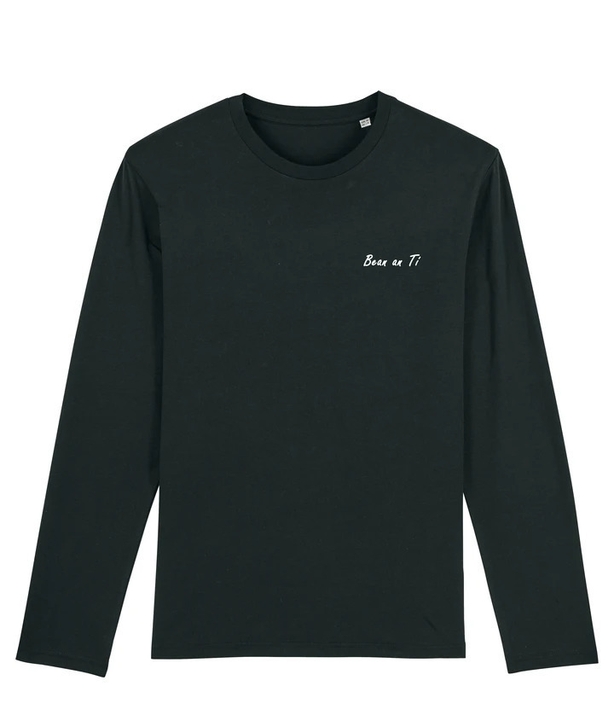 Stork Box
Sisters Sophie and Vicky are on a mission to relieve parenting stresses, one household at a time. With sustainability in mind, their signature tees, leggings and cardigans are designed to grow with children using adjustable waistbands, arm and leg lengths. This black cardigan is €25.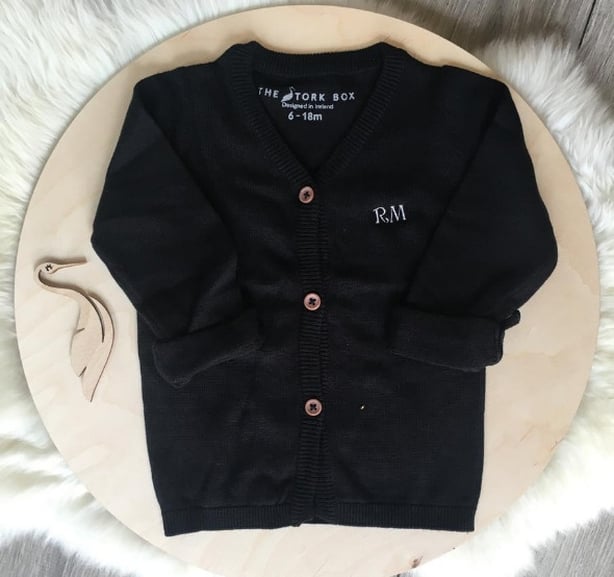 Salty Dudez
Seeing as how sea swimming has become the country's favourite past time this year, why not treat the man in your life to a pair of Irish-designed swimshorts? These colourful coconut shorts are €30.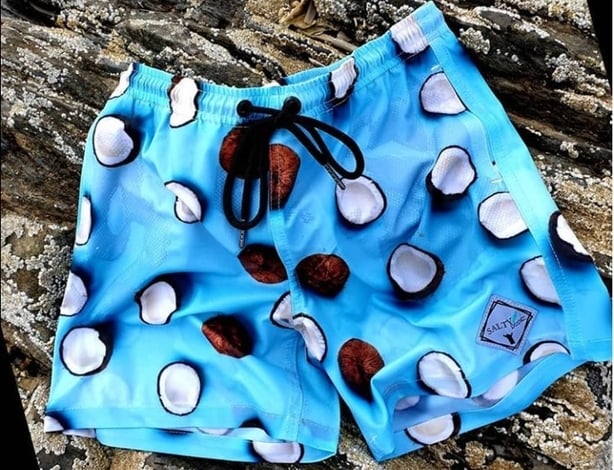 Emerald and Wax
As a self-taught designer, crafter and maker, Virtue Shine has spent her life surrounded by colour. Inspired by a childhood spent sitting on her grandmother's lap at her wholesale African fabric warehouse in Accra, Ghana, as well as being raised in New York, this fashion-lover hopes to bring the colour of traditional wax prints to her customers on the Wild Atlantic Way. This Akuma Kimono is €189.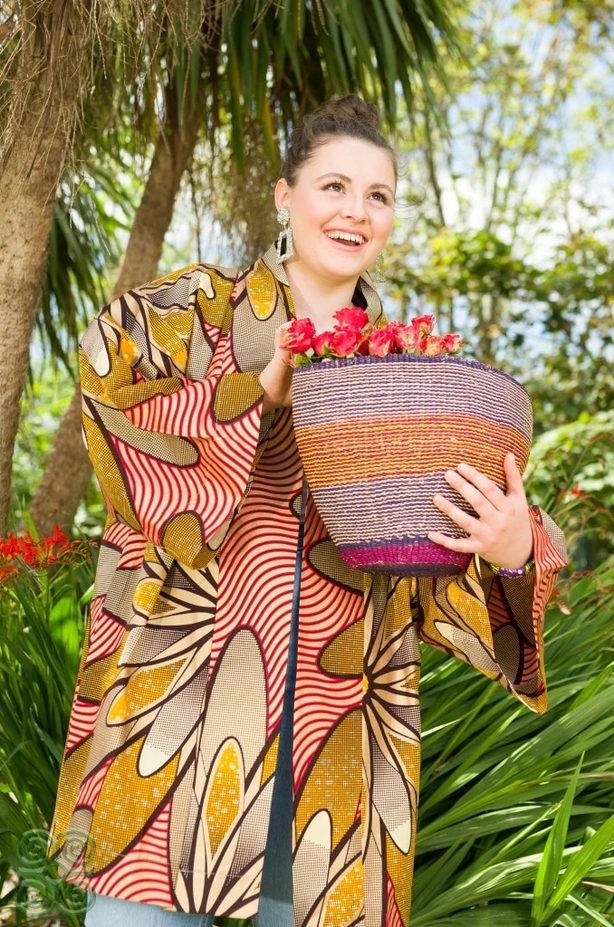 Fiadh Woven Designs
Fiadh is a textile designer and handweaver with a passion for traditional methods and contemporary design. Based in Dingle, the NCAD graduate draws inspiration from her scenic surroundings to create clothing inspired by nature. With sustainability in mind, the designer's ethos is all about creating something beautiful that is made to last. Her scarves range from €33 - €145.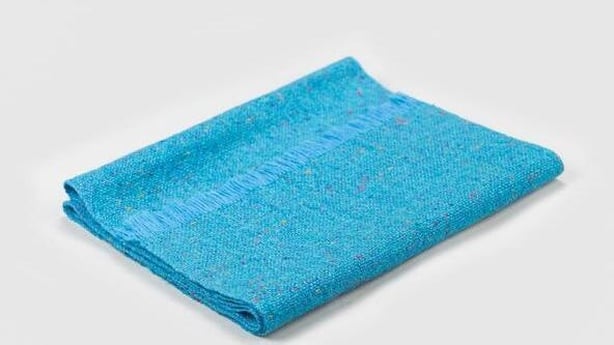 Celtic Tweed
Based in Balbriggan, Frank and Cathy Coghlan design and create handmade Irish tweed clothing for both men and women. Ranging from jackets, waistcoats, gilets, body warmers and three-piece suits, the tweed pieces are milled to their own unique patterns and weights and made by tailors in Dublin. The W.B. Yeats slim-fit jacket is €329.99.
We need your consent to load this Instagram contentWe use Instagram to manage extra content that can set cookies on your device and collect data about your activity. Please review their details and accept them to load the content.Manage Preferences
Lorient Gift
With a keen interest in supporting fair trade products and ethically sourced materials, the team at Lorient Gift in Greystones, Co. Wicklow, track down new and unusual pieces for their customers to peruse. This blue glasses case, for example, costs €18.95 and comes from a company that supports the development of women in rural areas of Vietnam.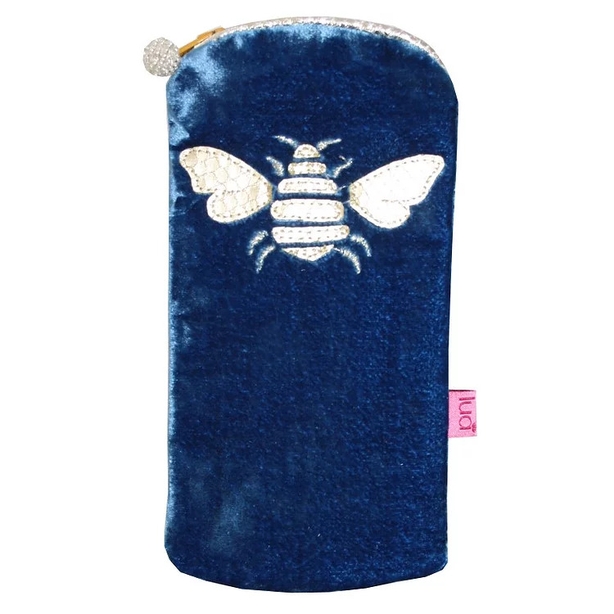 Umoja Production
Umoja Production is an Afro-centric fashion brand founded nearly four years ago by NUI Galway students Liswa and China. Their range of products aspires to promote African culture by bringing Nigerian and South African designs to the Irish market. This Eze shirt is €30.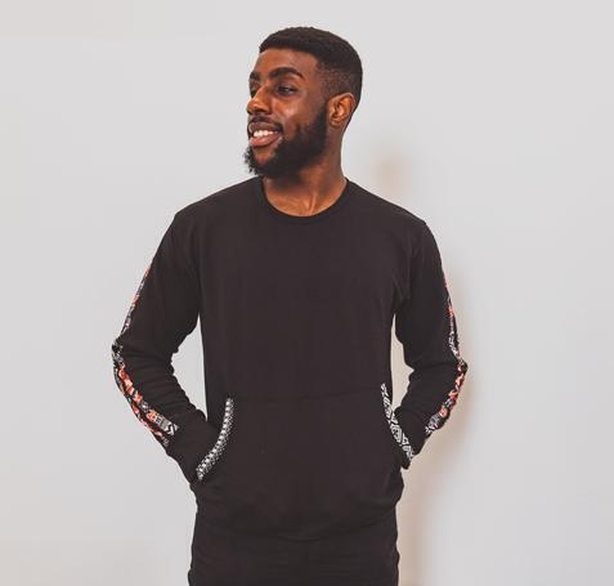 HappiClose
As a grandmother of seven young children, Irish designer Carol Fitzpatrick quickly realised how finicky children's clothing can be - especially when little ones are feeling fussy. In response to this, she created easy to fit and fasten pieces made from cosy cotton fabrics. These Little Mischief dungarees are €30.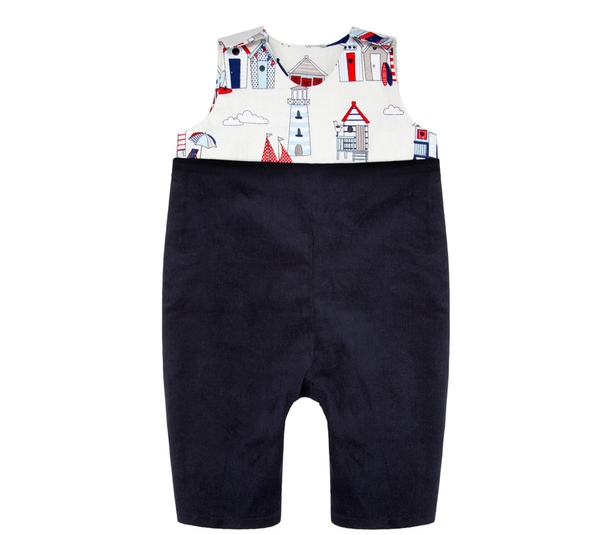 Polly and Andy
Polly and Andy are a mother and son duo who live together in the fishing village of Cheekpoint, Waterford. With a focus on children who are sensitive to certain fabrics, and those who may not have the ability to vocalise their needs, the two have created a line of sensory socks. These seam-free socks cost €8.95.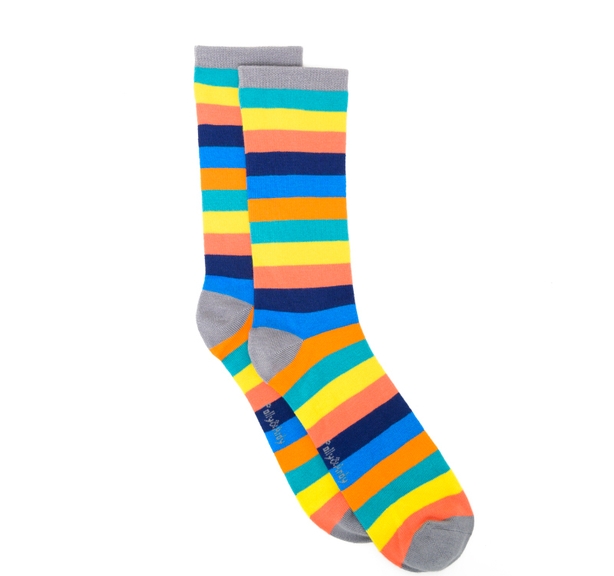 The Pod Collection
Hazel and Emma are two best friends who set out to create a streamlined collection of stylish pieces for new mothers and mums-to-be. Their chic maternity wear is designed in Ireland and each piece is carefully developed to be worn throughout pregnancy and beyond. The Little Black Dress is €69.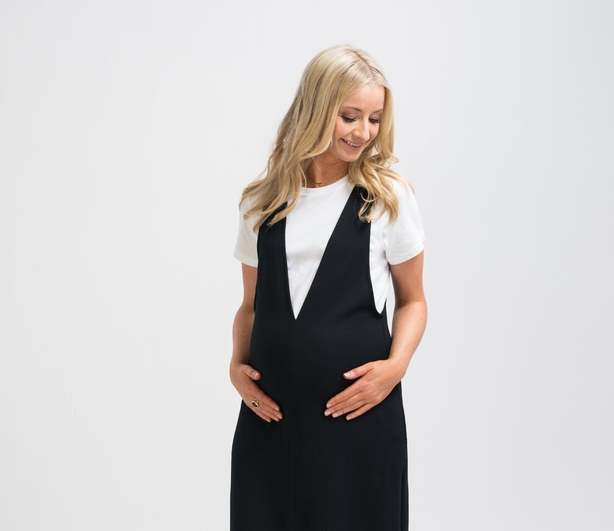 Love Lift
Dancing with the Stars competitor and Miss Ireland winner Holly Carpenter has added eco-friendly travel cups, silky robes and cosmetic bags to her accessory range, Love Lift. Last year she launched a range of handbags, each named after a woman who inspires her. We particularly like the pink Chrissy bag for €35.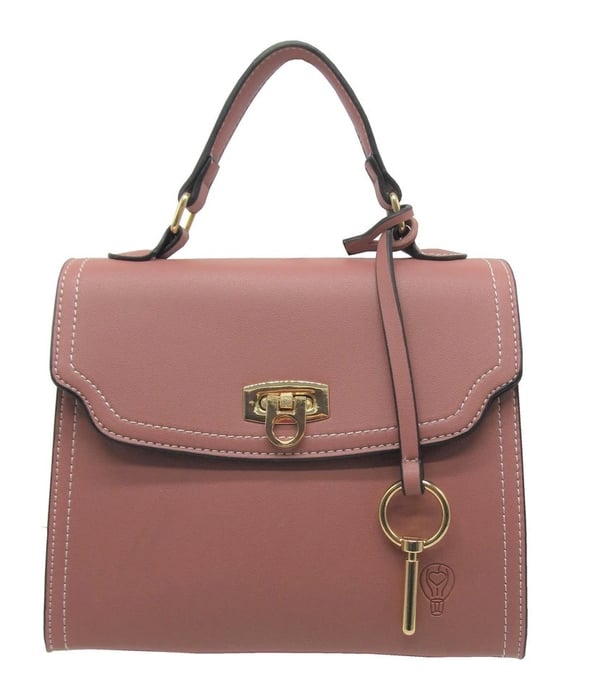 Irish Socksciety
Havin' the craic from head to toe, this novelty company might just have the perfect gift for himself. With the help of artist Shane O'Malley, the company launched the most Irish socks on the market. From Bye Bye Bye (€9) to custom designs, these socks will guarantee a pair of happy feet.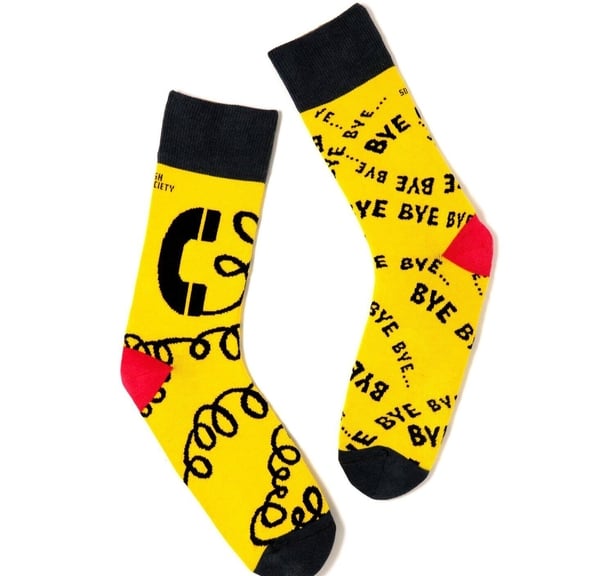 My Name is Ted
Born in 1913, Ted Carbery was a saddler from Mountmellick in the midlands of Ireland who built a thriving business with two leather workshops that supported his eleven children. Today, Ted's legacy continues with his grandchild who is fusing fashion and function to create luxury products with smart technology. This traditional messenger bag is €1,299.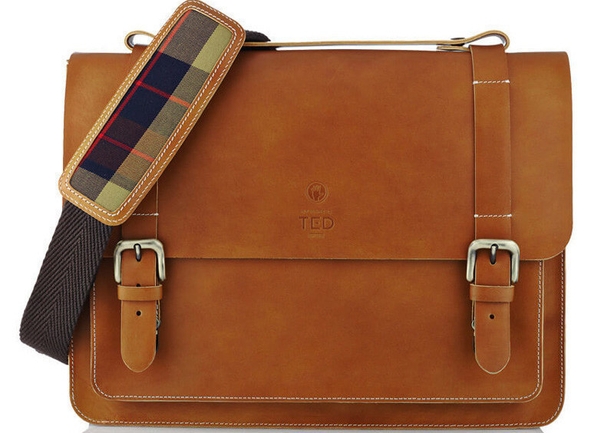 Folkster
This trendy independent store was founded by Irish entrepreneur Blanaid Hennessy. With two main stores (one in Dublin and one in Kilkenny) as well as a stand-alone bridal store, their dresses and accessories are perfect for the party season - even if celebrations are smaller this year. This hand-beaded dress is €239.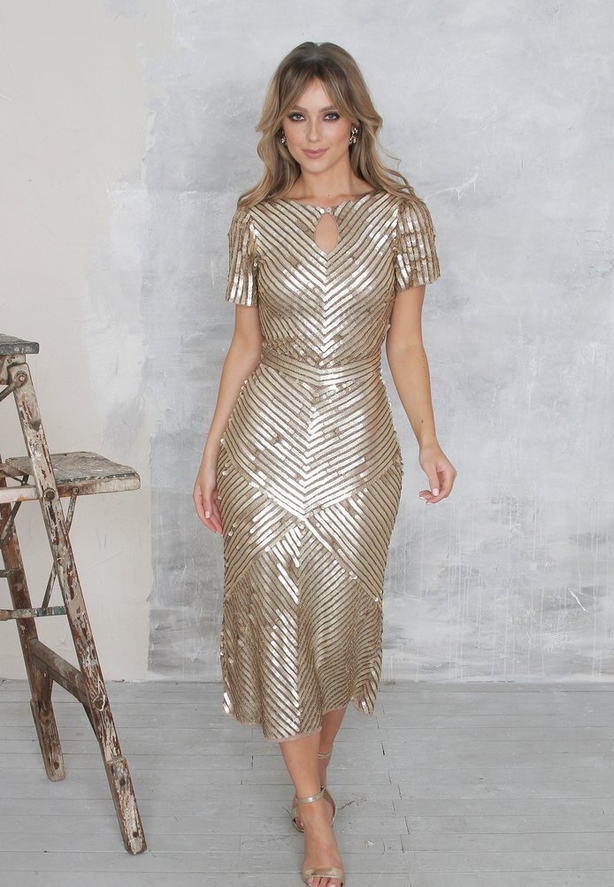 JEWELLERY
Blackbird
Based in Ennis, Co. Clare, Blackbird is a boutique-style jewellery store owned by Katie Rogers. Home to contemporary pieces from Irish and European designers alike, you're bound to find something fabulous for your special someone. These emerald cube pin earrings from Dublin jeweler MoMuse are €55.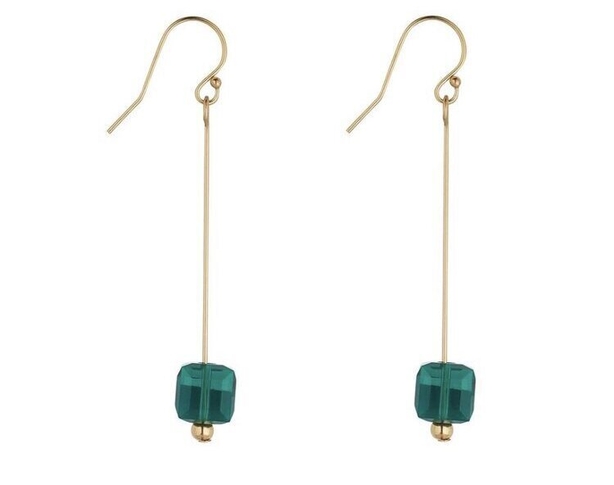 Janice Byrne Goldsmith
Janice Byrne is an award-winning goldsmith and jewellery designer with over 20 years of experience. Based in Dublin, she works with a variety of precious metals and gemstones to create eye-catching contemporary pieces. This rustic heart pendant is €60.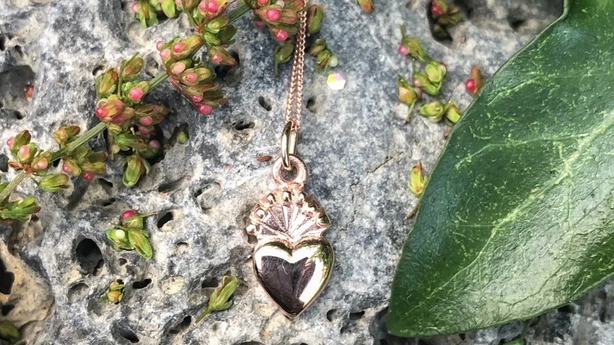 Kiki Na Art
Dublin born artist Ciarna Pham, who works under the name KIKI NA ART, is the creator of bright and bold statement pieces. If you have an idol or an image you would like made into a piece of handcrafted jewellery, contact her at kikinaart1@gmail.com. Check out Louise McSharry's Dolly Parton necklace below.
We need your consent to load this Instagram contentWe use Instagram to manage extra content that can set cookies on your device and collect data about your activity. Please review their details and accept them to load the content.Manage Preferences
Edge Only
Founded by former radio DJ, Jenny Huston, this jewellery brand is for individuals that "care about the jeans and trainers they wear every bit as much as the suit they wear to work". Ethically made in Ireland, the pieces are made from solid gold and sterling silver and are individually hallmarked in Dublin Castle. This squared-off ring is €169.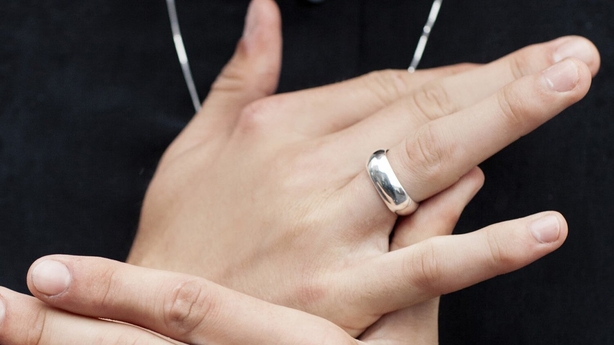 Martina Hamilton
Each piece of bespoke sterling silver and gold jewellery is handcrafted in the Goldsmiths studio in Sligo. According to the designer, the wildness of the Atlantic ocean, the wet crystal light and sea-glass waves, the tide burnished beaches, the shells, and the coastal flowers all serve as inspiration for designs. This leaves and pearls bracelet is €481.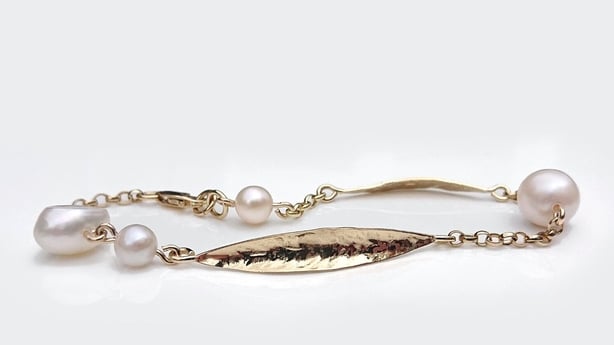 JK Makes
Based in Waterford, Irish designer Jacqui Kelleher creates statement textile pieces using elements of crochet and macrame. Using recycled t-shirt yarn as a base for most of her work, Kelleher creates brave and colourful designs. This 'Hello' chain is priced at €30 on her Etsy.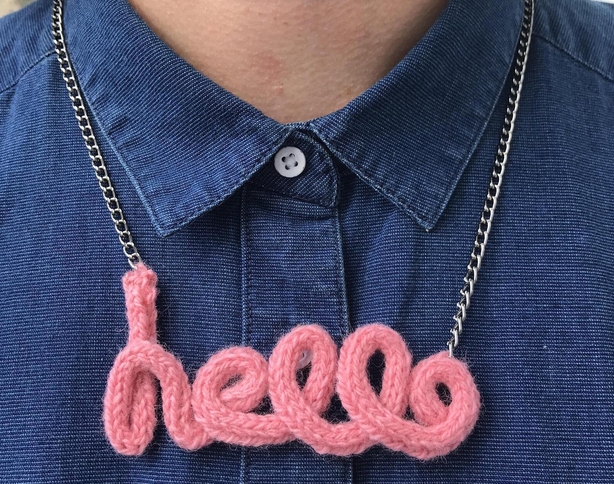 OceanMoonDesigns
Maura Dickerson is a New Yorker who has been living in the wild west of Ireland "for many moons". Through her Etsy shop, OceanMoonDesigns, she sells her handcrafted jewellery made from sterling and .999 fine silver. Her shamrock charm bracelet costs €35.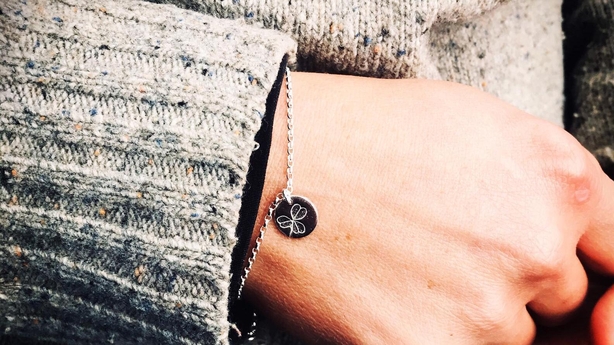 SKINCARE & COSMETICS
Ella & Jo
Make-up artist Charlene Flanagan and make-up artist and skin therapist Niamh Ryan created Ella & Jo cosmetics as a way to create fun and functional products for women. In 2017, they launched their Squeaky Clean Brush Cleanser, designed to remove makeup from your brushes between uses and deep cleans. You can pick it up for the aspiring MUA in your life for €20.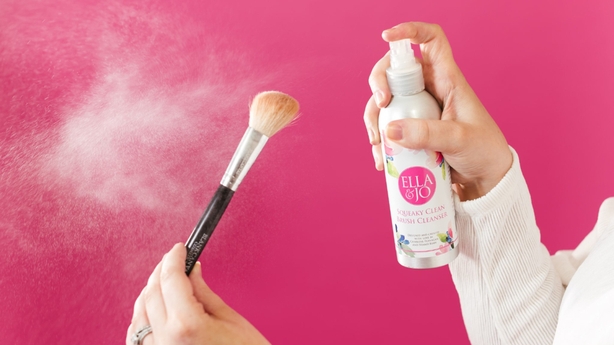 Kennedy & Co
As well as being a TV presenter, stylist, fashion journalist and Dancing with the Stars contestant, Darren Kennedy has a beautiful skincare range that includes moisturising gels, beard oils and peat scrubs. We recommend the daily moisturiser with SPF 20 for €9.95.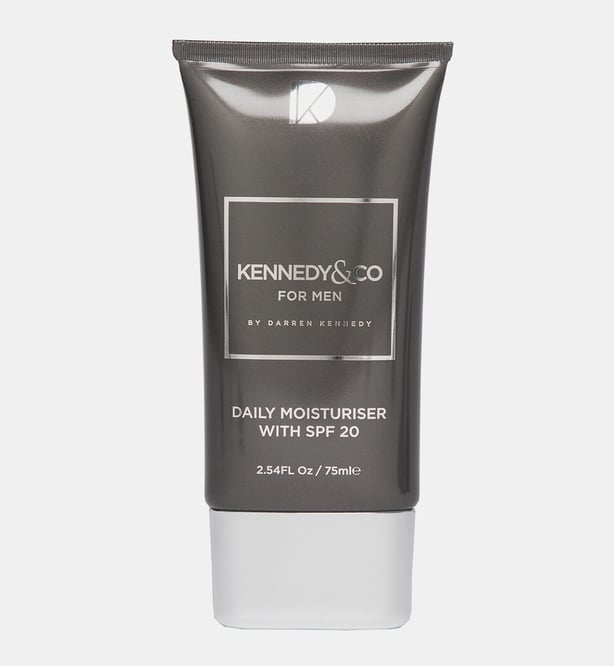 Dublin Herbalists
Founded in 2012 by Claire Brett, these beauty products are made from 100% natural ingredients and are never tested on animals, making them as ethical as they are beautiful. You can pick up this exfoliating body scrub with pink Himalayan sea salt for €15.95.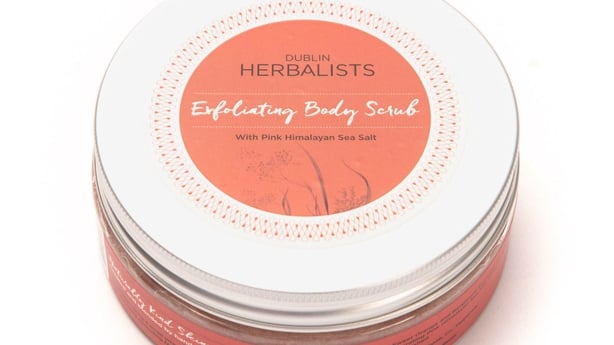 Nunaïa
Nicola Connolly founded an Irish luxury, organic beauty wellness brand called Nunaïa (pronounced noo-nigh-ya) in September 2018. This decadent Superfood Cleansing Balm is €59 and works as an antioxidant-rich, plant-based organic cleansing balm that deeply cleans, lifts impurities, and removes make-up.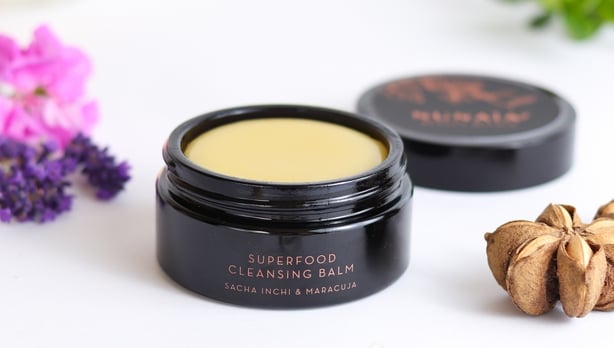 Oxmantown Skincare
Based in Dublin's Stoneybatter, all of Oxmantown's products are handmade in small batches using high quality, organic, and active botanical ingredients. Their jasmine and ylang-ylang revitalising body oil is made to nourish the skin and costs €30.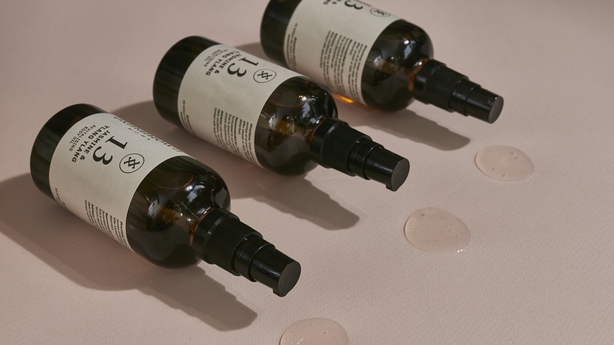 Luna by Lisa
Lisa Jordan is an Irish blogger based in Cork who launched a range of hair and makeup products including this best-selling brush set. The €20 trio caters to both the face and eyes - perfect for creating festive makeup looks.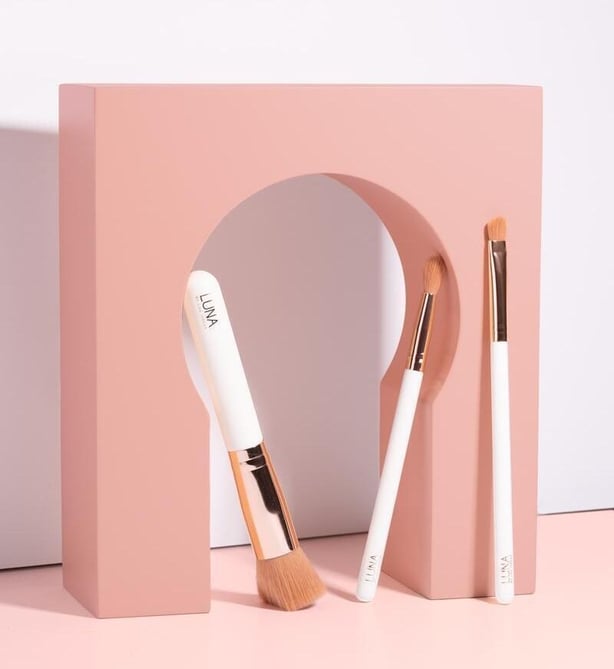 Bare by Vogue
Model and presenter Vogue Williams launched her tanning range, Bare by Vogue, in 2019. With foam, lotion and instant tan on offer, each formula is available in three shades. Additionally, the Dublin woman created a range of accessories including face mist, tanning mitts, water bottle, and beach towel. This foam and mitt combo is currently €25.40 (was €27).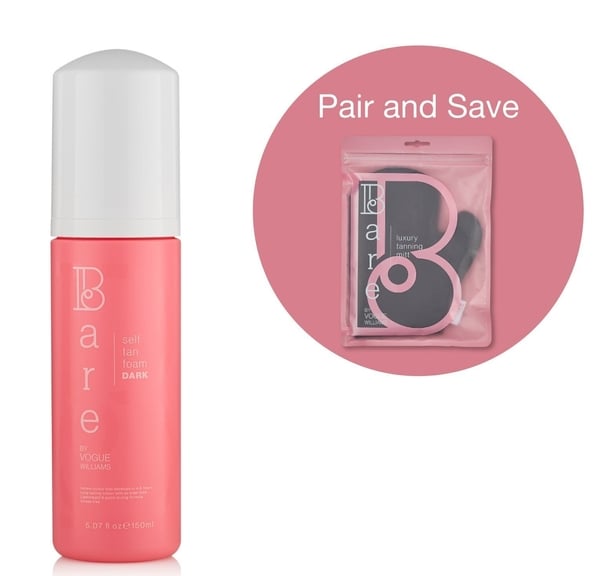 Pestle & Mortar
For many years, Sonia Deasy - a mother of five - worked alongside her husband in the business of portrait photography. It was during this time, while she got up close and personal with people's pores, that she decided to find a simple skincare solution to remedy dull skin. Pestle & Mortar quickly became a cult favourite with Irish beauty lovers. The Recover eye cream is particularly popular and costs €38.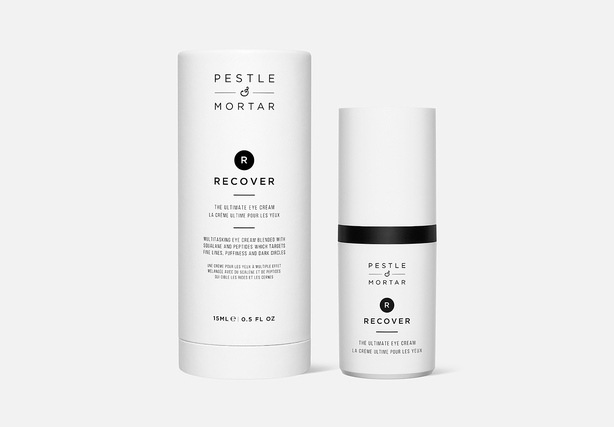 Green Angel
Founded in 2006 by Chris and Mary Mitchell, Green Angel is an award-winning luxurious range of Irish skincare, hair care and bath care. Without exception, all of their preparations contain organic bladder wrack, toothed wrack, knotted wrack and Irish carrageen moss - all packed with vitamins, minerals, iodine, trace elements and iron. This Seaweed & Collagen Face Cream is €30.50.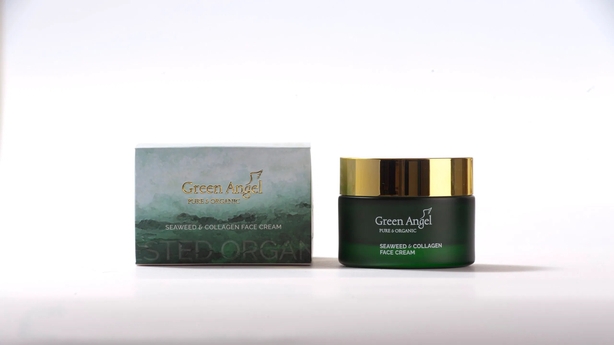 PRINT & PHOTOGRAPHY
Jando
Founded in 2015 by husband and wife duo Julie and Owen Mc Loughlin, Jando is a multi-award winning printmaking studio based in Dublin. Blending a combination of both traditional and modern printmaking, these pictures will make any wall pop. This Grand Canal Dock print is €30.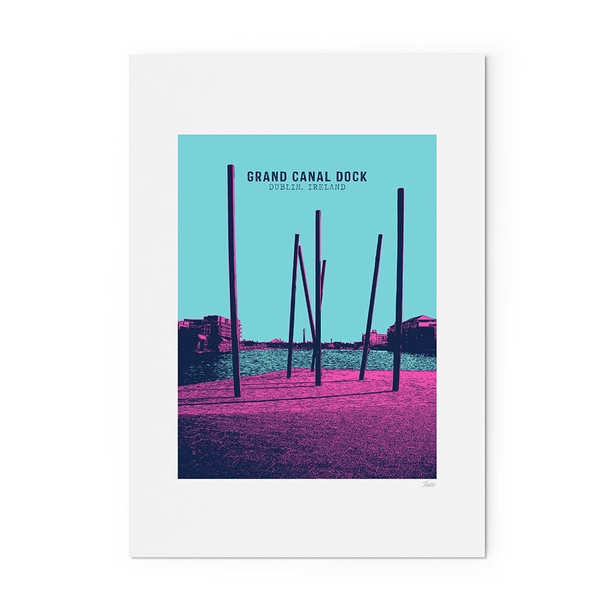 Girseach
Originally from Monaghan, artist Eilíse moved to Donegal over 12 years ago where she launched her website, Girseach. The NCAD graduate says that most of her work starts off as sketches that are then carved out of linoleum. Her designs are hand-printed so that no two are the same. This Tory Island Puffin is €25.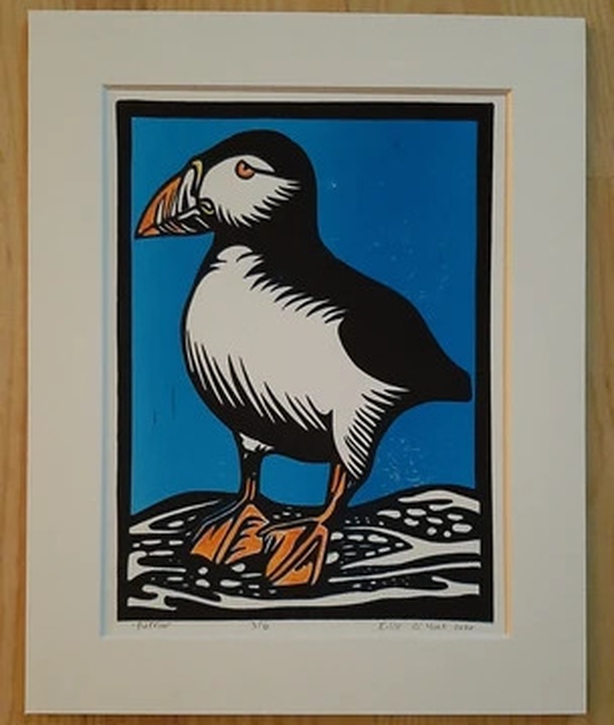 Written by Ani
Aneka is the young artist behind Written by Ani who designs and prints a range of colourful prints and greeting cards from her home in Dunshaughlin, Co. Meath. With sustainability in mind, she creates her pieces using recyclable cards and biodegradable packaging made from corn starch. This personalised map is €25.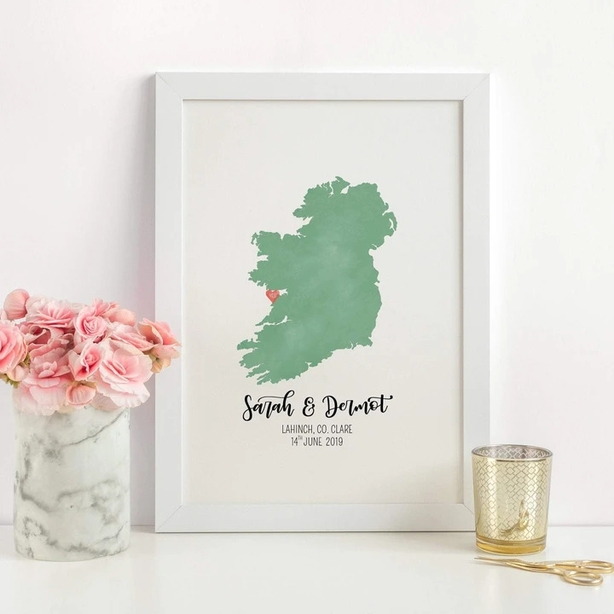 SIAR
SIAR, meaning West or Westward in Irish, is home to a range of contemporary prints of the Irish landscape by photographer Gary Collins. Each piece is captured, printed, packaged and sold from the Wild Atlantic Way. This shot of Loop Head Lighthouse is €24.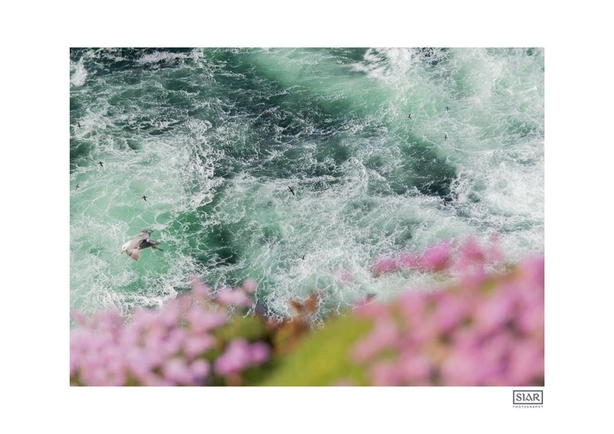 Scratchable Map Ireland
Hand drawn by Tipperary artist Cian Corcoran, this scratch map is the perfect way to document your many, many future staycations. With 62 of the best places to visit in Ireland, this is a unique souvenir and an eye-catching talking point. Perfect for the adventurer in your life, this map costs €29.99.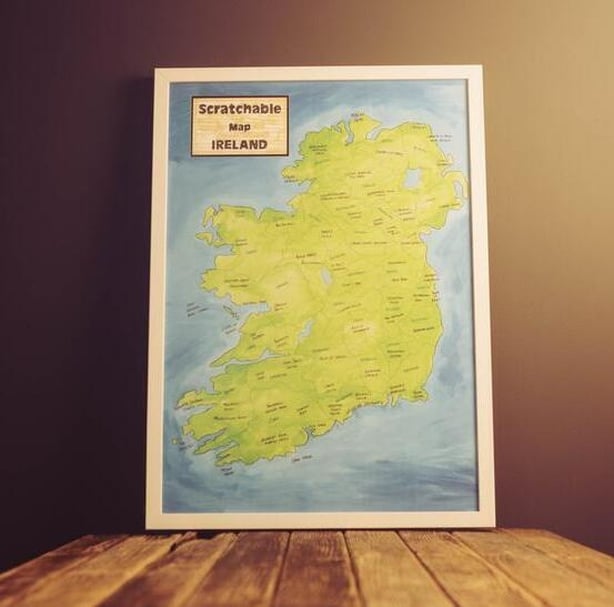 Nine Arrow
While travelling in Japan, Irish illustrator Catherine realised just how much she missed the Irish language. Once she returned home, she created a series of prints with Irish words that interested her. You can order her prints and learn some interesting 'cupla focail' along the way or put in a request for your favourite Irish phrase. This cute bumbóg print is €15.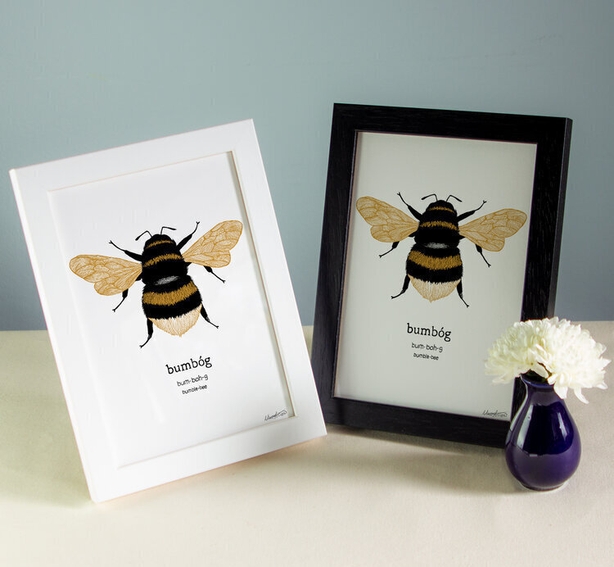 Selkies
Selkies is a self-taught artist from Dublin who is currently living in Brussels. Inspired by everything from big characters on reality TV to the everyday people around her, she has a range of incredible designs at a variety of prices. You can also commission her for a portrait or a custom family Christmas card.
We need your consent to load this Instagram contentWe use Instagram to manage extra content that can set cookies on your device and collect data about your activity. Please review their details and accept them to load the content.Manage Preferences
MIMI + MARTHA
Mimi and Martha are a mother-daughter duo with a background filled with music, art, design, and culture. The eco-conscious women bring a unique collection of crafts and designs to their website, supporting artists from both home and abroad. This 'Ireland For Holidays' print is currently going for €15.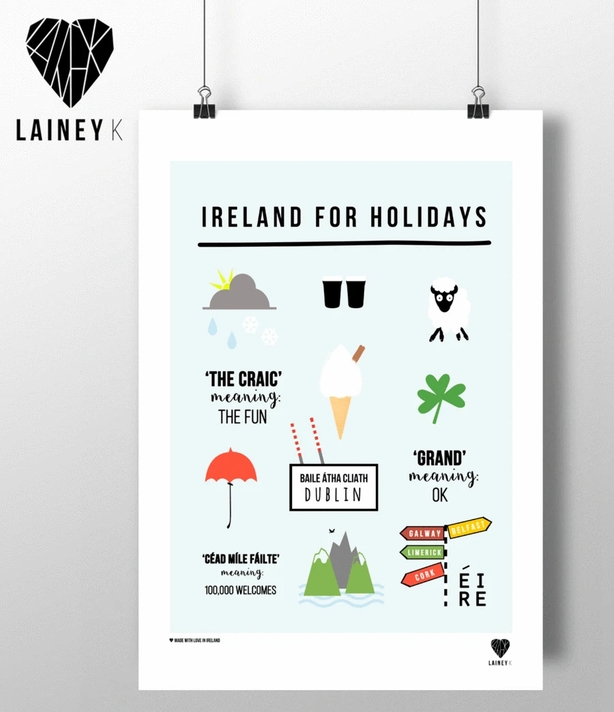 Jill & Gill
Illustrator Jill Deering and printmaker Gillian Henderson are the creative duo behind an incredible range of print and jumpers starring badass women such as Iris Apfel, Anna Wintour, Grace Kelly, and Countess Markievicz. The portrait of Iris is €100.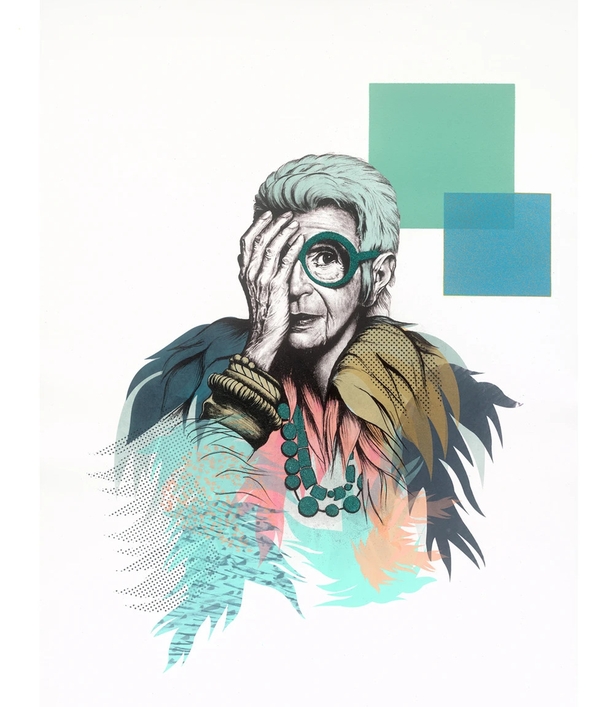 April and the Bear
As an independent Irish store, each product at April and the Bear has been carefully selected by owner Siobhan Lam for its unique aesthetic. The 'Born Bred Buttered' print by Irish artist Jess Tobin is exclusive to the store and each print is signed by the artist. Get your county for €35.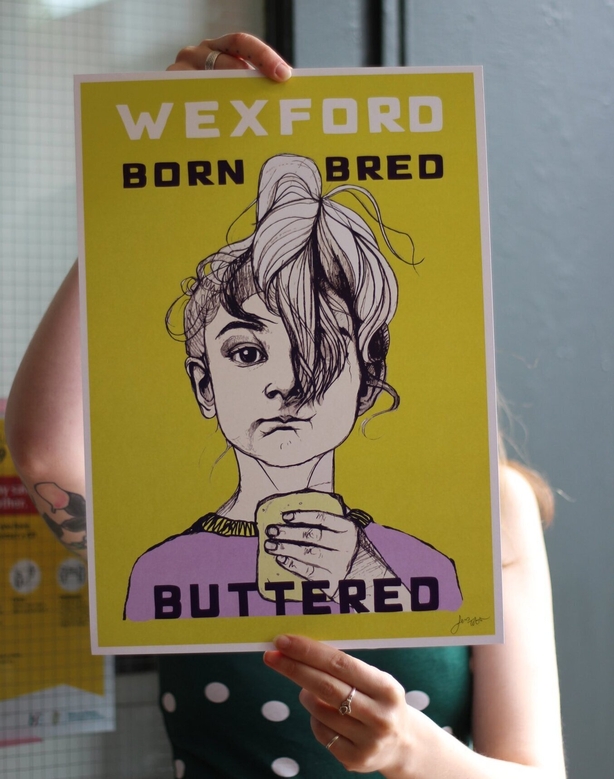 BOOKS
When shopping for stories this holiday season, be sure to contact your local bookstore to see if you can order online or over the phone. If not, you can try O'Mahony's, Kenny's, Gutter Bookshop, Dubray Books, Alan Hannah's Bookshop or Easons.
The Homekeeper's Diary 2021 by Francis Brennan
Renowned hotelier Francis Brennan is known for his impeccable taste and high standards in homemaking, so there's no better man to help you out throughout the year with advice on cleaning, getting organised, gardening, cookery and all other aspects of household management.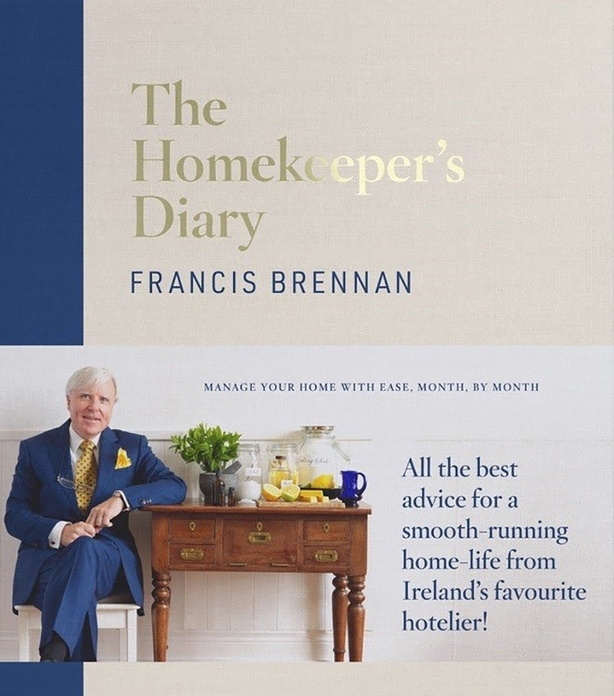 One for Everyone by Kathleen Watkins
Irish broadcaster Kathleen Watkins returns to charm us all once again with a wonderful selection of poetry. These are the verses that have comforted and consoled her over the past year, that she has reached for again and again.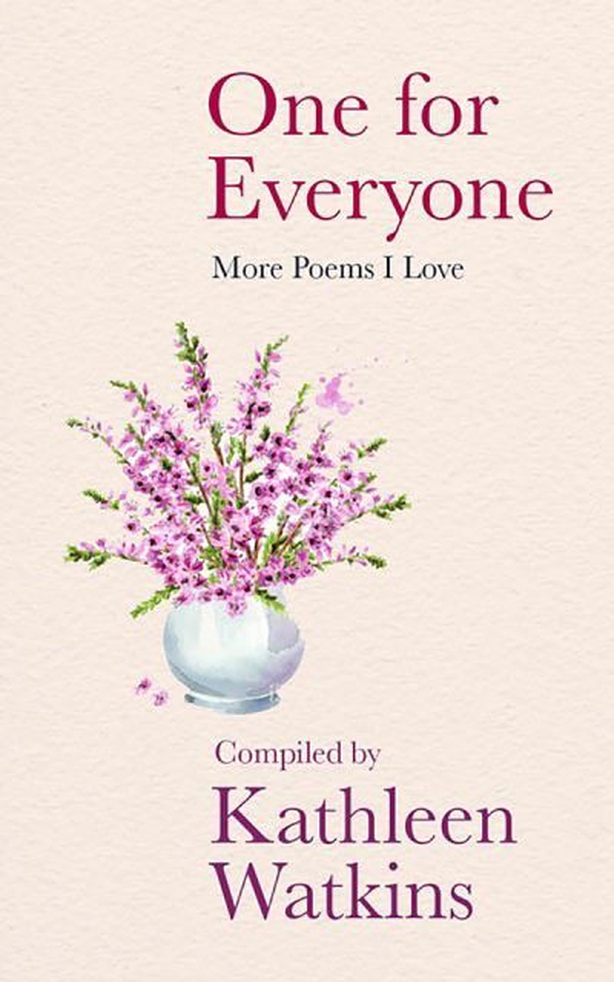 A Light That Never Goes Out by Keelin Shanley
Charting the twists and turns of both a remarkable career as an investigative journalist and a lengthy battle with cancer, in A Light That Never Goes Out Keelin reveals with real honesty what it's like to keep living your life and career - right up to becoming a co-anchor of RTÉ's Six One News - while dealing with the challenges of cancer treatment.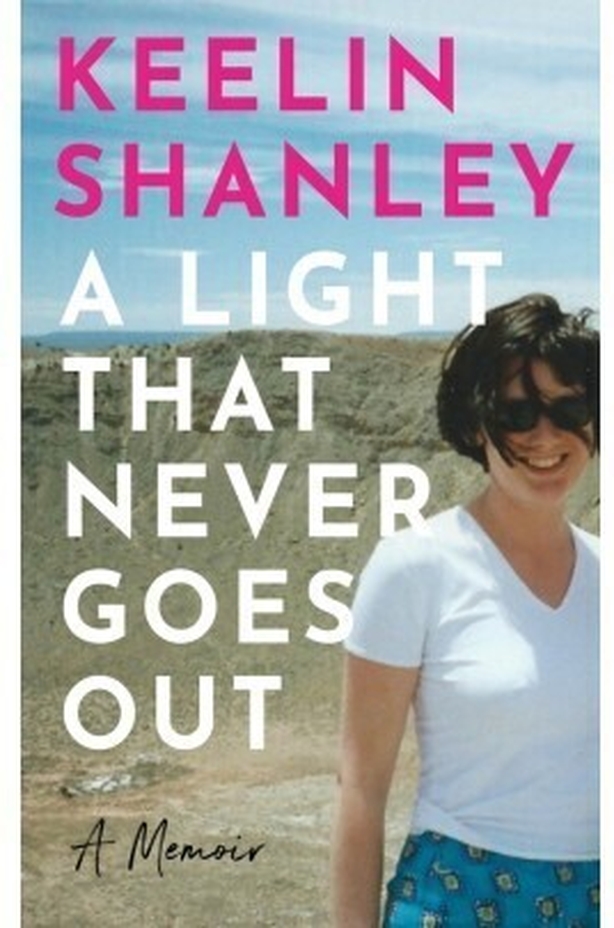 Twilight Together by Ruth Medjber
Pre-order Medjer's book featuring portraits of over 150 households and over 40 stories of lockdown life across Ireland. The book will be signed by the photographer on the inside and dispatched from November 5th.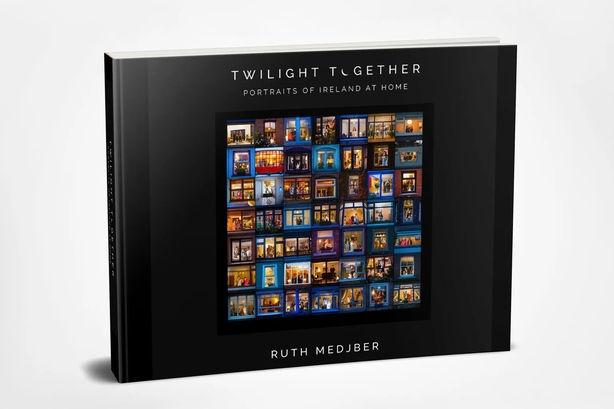 Boulevard Wren and Other Stories by Blindboy Boatclub
Boulevard Wren and Other Stories is the stunning follow-up to the bestselling Gospel According to Blindboy, and a warped mirror held up to the Irish psyche.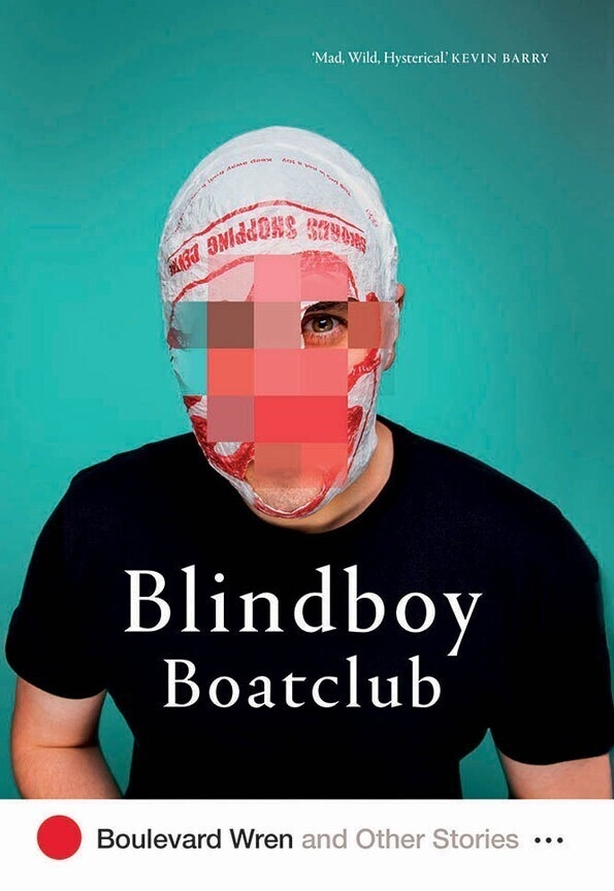 After the Silence by Louise O'Neill
Nessa Crowley's murderer has been protected by silence for ten years. Until a team of documentary makers decides to find out the truth. In this bold, brilliant, disturbing new novel Louise O'Neill shows that deadly secrets are devastating to those who hold them close.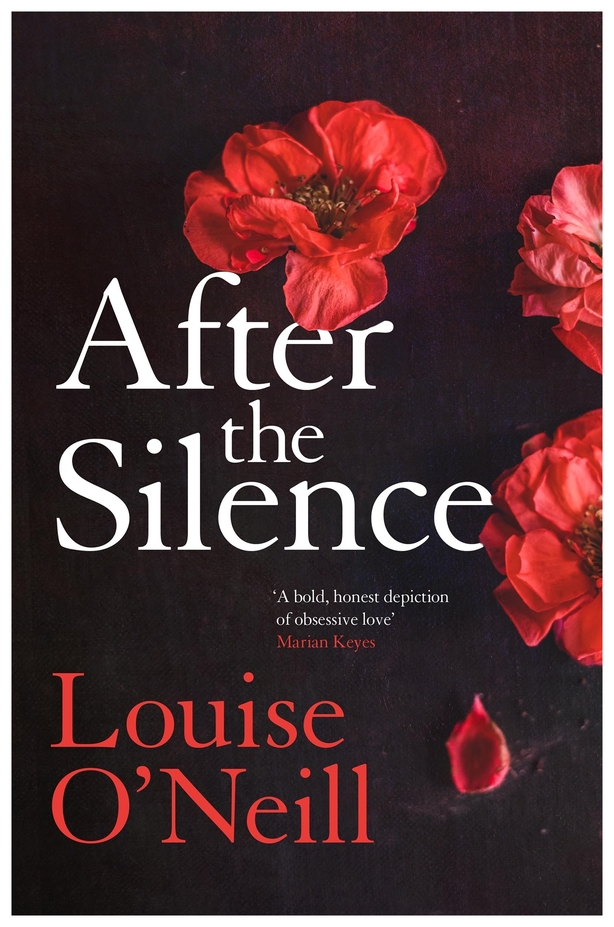 Go, Johnny, Go! by Paul O'Flynn
Go, Johnny, Go is the incredible story of how Johnny Sexton became one of the greatest rugby players of all time.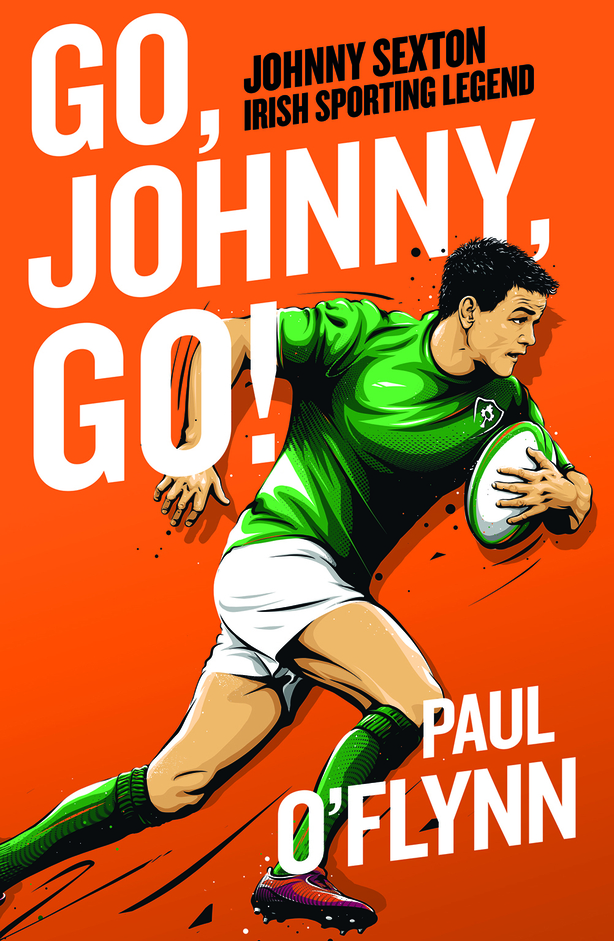 Mary Robinson: A Voice for Fairness by John and Kathi 'Fatti' Burke
Discover the first female president of Ireland, Mary Robinson! Mary grew up with four brothers – something which gave her an interest in women's rights from a young age. She was a brilliant student and worked hard, becoming the youngest professor of law in Ireland.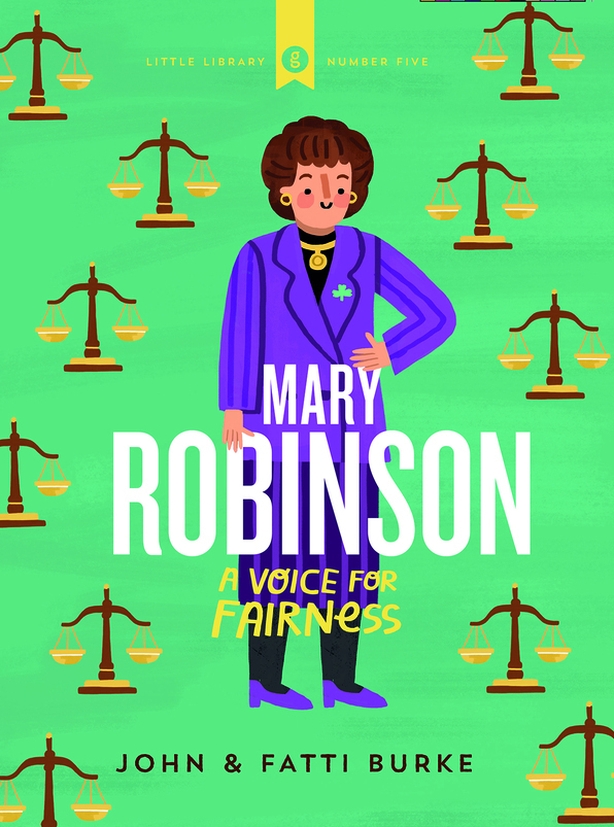 The Great Irish Farm Book by Darragh McCullough
Did you know that there are almost 2,000,000 pigs in Ireland? And that sheep have rectangular pupils, which means they have amazing vision? Would you believe only 10 percent of the milk produced in Ireland is consumed here? This book has everything your child needs to know about Irish farms.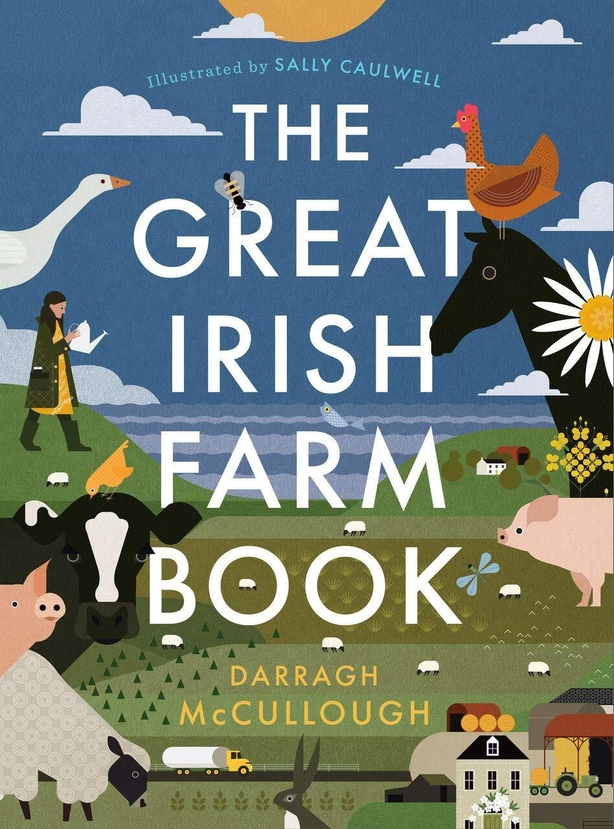 Izzy's Magical Camogie Adventure by Emma Larkin
Izzy is an eight-year-old girl who lives in Ireland and loves all sport, especially camogie and Gaelic football. She is very excited to learn how to play camogie, but she is frustrated when she can't master all the skills as quickly as she would like...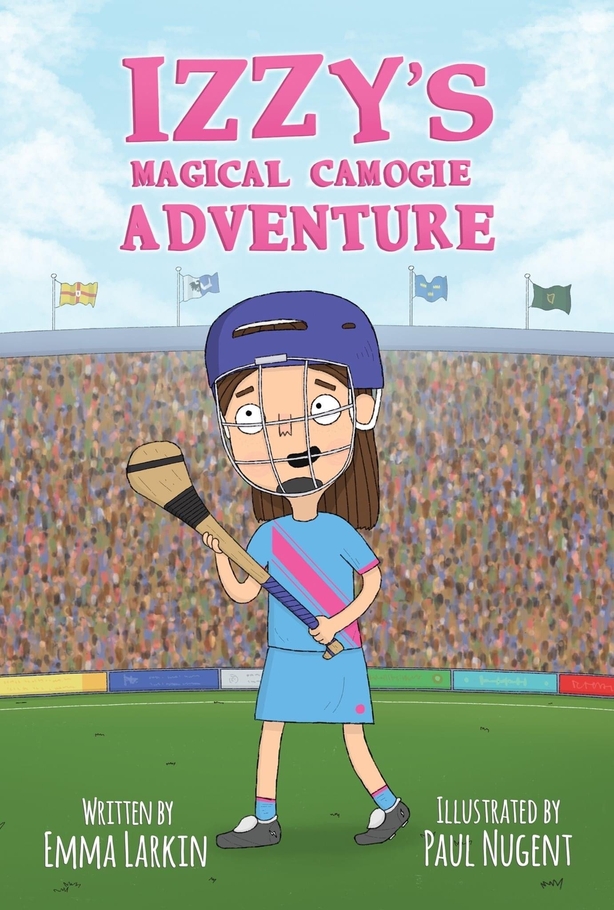 BookyWooky
Ross Good is the owner of BookyWooky, and he believes in the power of books for newborn babies right up to adulthood and beyond. You can make your child the star of bed time story by creating a personalised board book. The stories cost €35 and you can make yours from scratch of follow a ready made theme.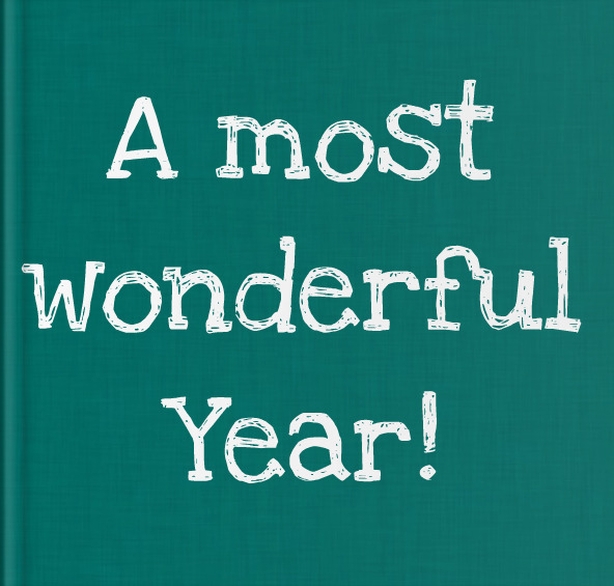 TOYS
HoloToyz
Founded by husband and wife team, Kate Scott and Declan Fahy, and Paul Cosgrave, HoloToyz is a new range of children's products that come to life through augmented reality. Their books, stickers, and decals tie in with fun technology that kids can enjoy in a child-friendly environment. Their temporary tattoos and stickers (€5.99) come in packs of ten.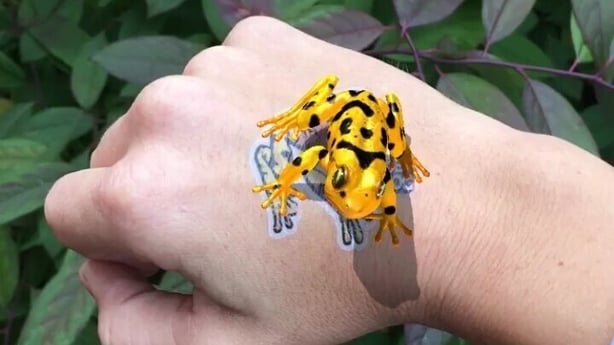 Loki the Huskey
Daithi and Rob are two Irish designers who turned their careers around when COVID-19 came along. Instead of designing events this year, they came up with Loki - a high quality plush Husky toy.
With so much going on in the world, Santa has had no time to train up his special husky pup. So, this year, he is asking for little ones to help him! Loki is delivered to your house with all the training activities. Then, once he is trained, the pup should be left under the tree on Christmas Eve so that he can go and help Santa on his delivery and to receive a diploma and sleigh.
Additionally, part of Loki's fee goes to Irish guide dogs.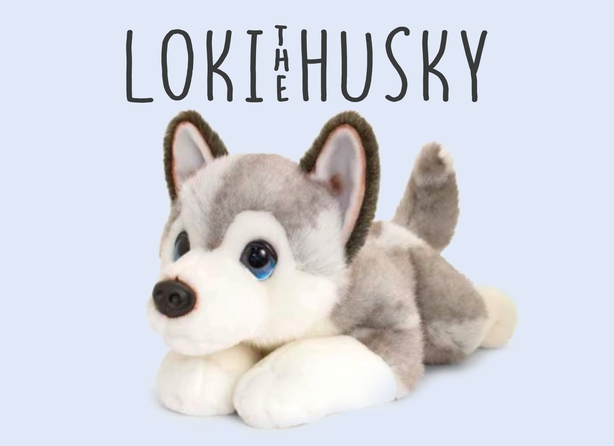 Barróg Bunny Teddy
Barróg (the Irish for hug) is a cuddly bunny that is machine washable and suitable for children over 36 months. All proceeds from the purchase go directly to supporting the families of sick children staying at The Ronald McDonald House, a charity that accommodates and supports 20 families of seriously ill children every night at Crumlin Children's Hospital.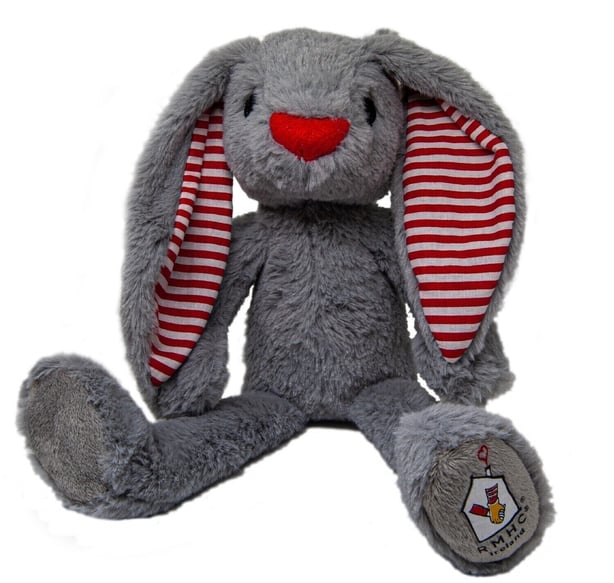 ActiVacation
Mullingar woman Ursula Kane Cafferty has devised, designed and produced an exciting family board game to be played for three to four players or teams. The aim of the game is to get to the airport for a flight home before lockdown, after an activity-based vacation to every continent in the world. (€50)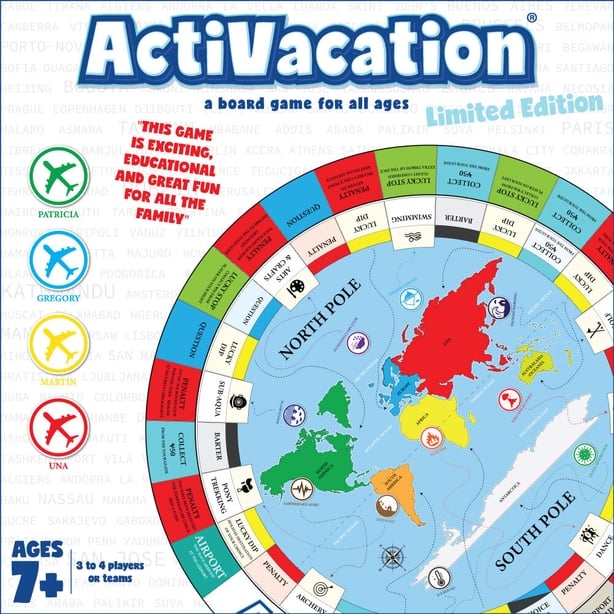 Pinnochio's
Since 1983 Pinocchio's on Paul Street has been family-run and specialises in traditional, mostly wooden, toys of a slightly more alternative type. This jigsaw puzzle of Skellig Michael is made in Ireland and costs €15.95.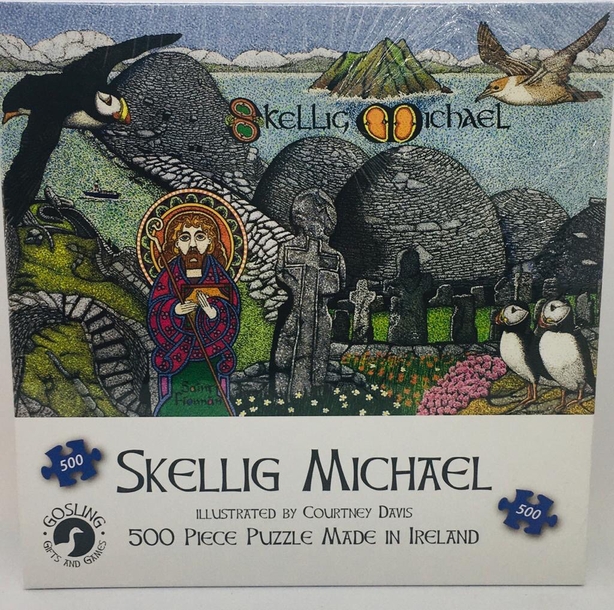 Fairy Elle
When her children were small, Therese made up a story of a fairy called Fairy Elle who had the power to help children by sprinkling positivity dust at night. Some years later, this magical creature came to life as a reassuring wellness doll. Whether she's comforting children at night or helping to take a worry away, Fairy Elle is a great companion for young kids. (€32)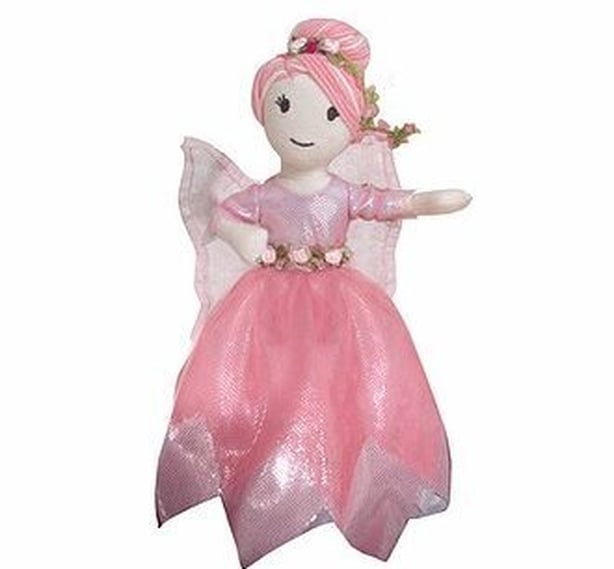 Miggle D Giggles
Have a laugh with the President of Ireland, Miggle D Giggles. This fun, warm, giggly toy currently costs €19.95 (was €24.95) and a portion of the purchase will go towards CMRF Crumlin, which raises vital funds for Our Lady's Children's Hospital, Crumlin & the National Children's Research Centre.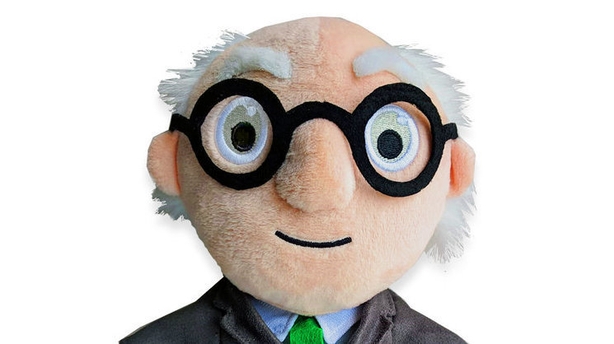 Red Rufus
Every sock animal is carefully handmade using traditional sewing and crafting techniques by Christina Sanne, aided by Rufus, the Irish Setter. These slow skills give each animal their own unique personality from Oriella the magical unicorn to Chloe the bashful ballerina.
We need your consent to load this Instagram contentWe use Instagram to manage extra content that can set cookies on your device and collect data about your activity. Please review their details and accept them to load the content.Manage Preferences
30 Seconds
This Irish invention is a quick-thinking, fast-talking, description game that is perfect for some post-Christmas dinner entertainment. Players must give hints to their teammates so that they can correctly guess the five well-known names on the card in 30 seconds or less! (€24.99).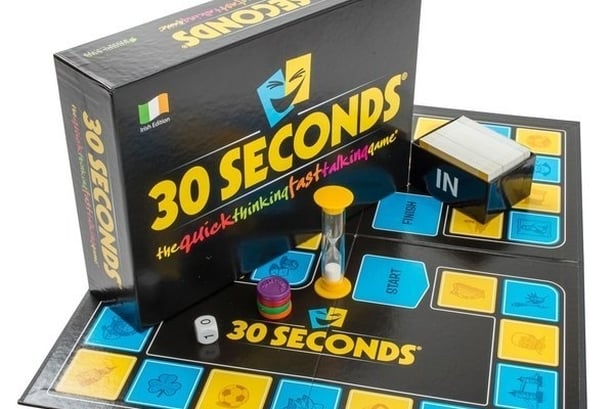 Arckit
Manufactured in Co. Wicklow, and founded by Cavan architect Damien Murtagh, Arckit is a fun way to open up the world of architecture to kids and parents alike. Forget 'cut and glue' models, this game allows you to create and explore designs with a 'click and connect' model. The Mini Dormer 2.0 Kids Architect Scale Model House Building Kit is €49.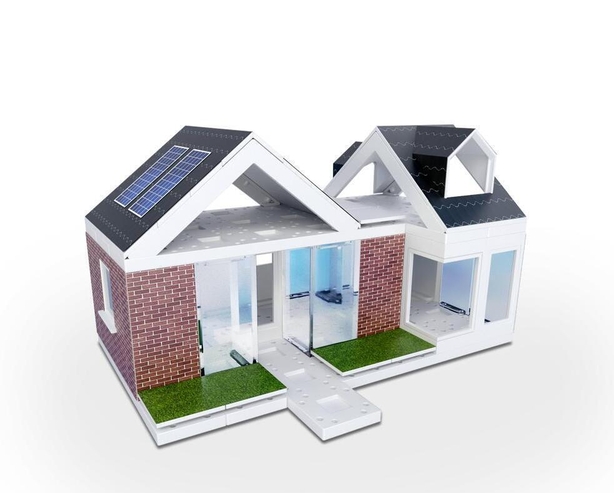 The Reindeer Feeder
From the creators of the Irish Fairy Doors, Aoife & Gavin Lawler, The Reindeer Feeder is a magical new tradition to be enjoyed by the whole family. The Reindeer Feeder (aka Shrumann) is a crucial player on Christmas Eve and ensures a seamless delivery from Santa Claus and his reindeer. Available for €19.99.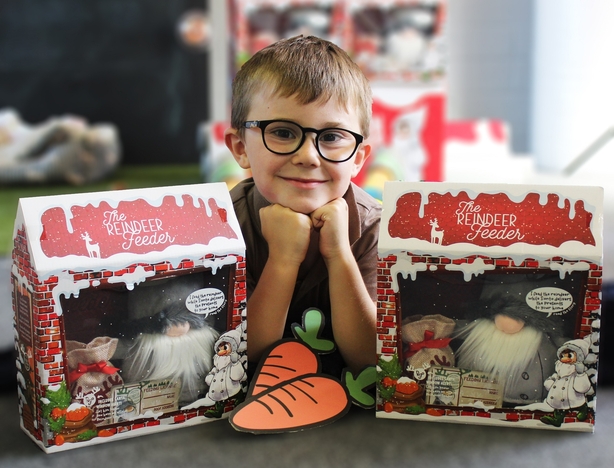 Jiminy
Ireland's biggest and best eco-specialist toy distributor, Jiminy, was started by best friends Sharon and Suzanne. The two proud Dublin mammies are on a mission to help parents and teachers find guilt-free, worry-free craft supplies for kids. This wooden Irish tipper truck is €15.73.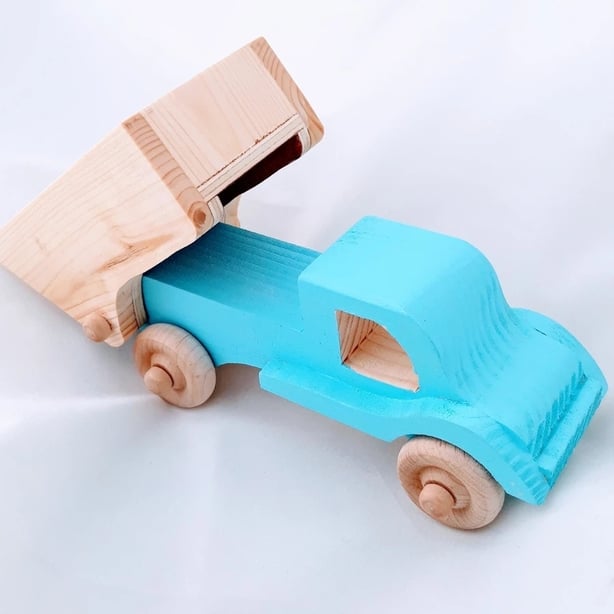 FITNESS & WELLNESS
run angel
Founded in 2013 by husband and wife team David and Ellen Caren, this safety wristband has a loud 120dB high-pitched audible alarm that will ring out when activated attention in an emergency. The device pairs with smartphone devices over Bluetooth to send out alerts in the event of an emergency and costs €83.46.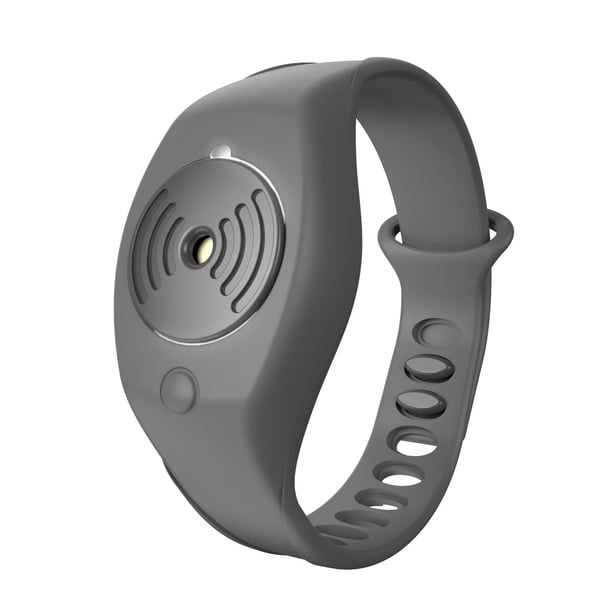 Gym+Coffee
This Irish activewear brand was founded by three highly-caffeinated men: Niall Horgan, Diarmuid McSweeney and Karl Swaine. Together, they created a one-stop-shop for the fitness guru in your life. The stainless steel water bottles are particularly trendy and cost €25.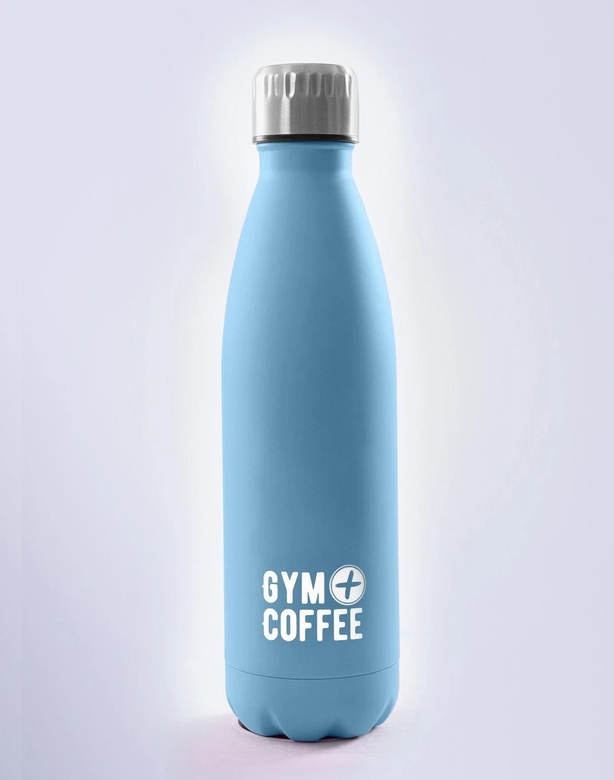 Hike Life
Podcaster, recipe creator and Hike Life founder, Roz Purcell, has spent the last few years encouraging her followers to get outside and explore the beautiful hiking trails that Ireland has to offer. Now, you can keep your head warm and cosy while you do it with her cute range of beanies, costing €17.50.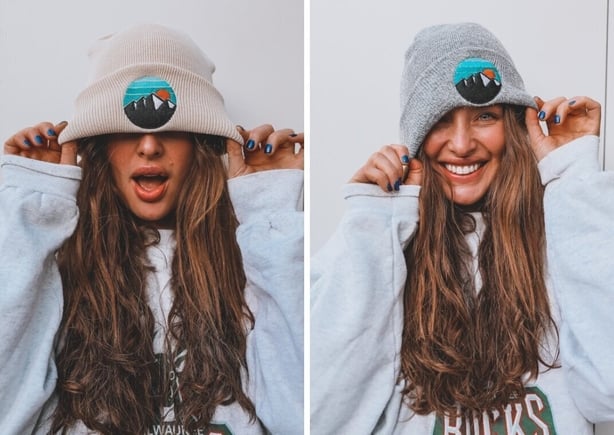 I-Spy
In November 2014, mother and daughter Paulette and Louise Egan came together, joining their passions for fitness, lifestyle and yoga to create a fitness clothing brand called I-Spy. The range includes women's leggings, tops, and accessories. This black and blue t-shirt costs €35.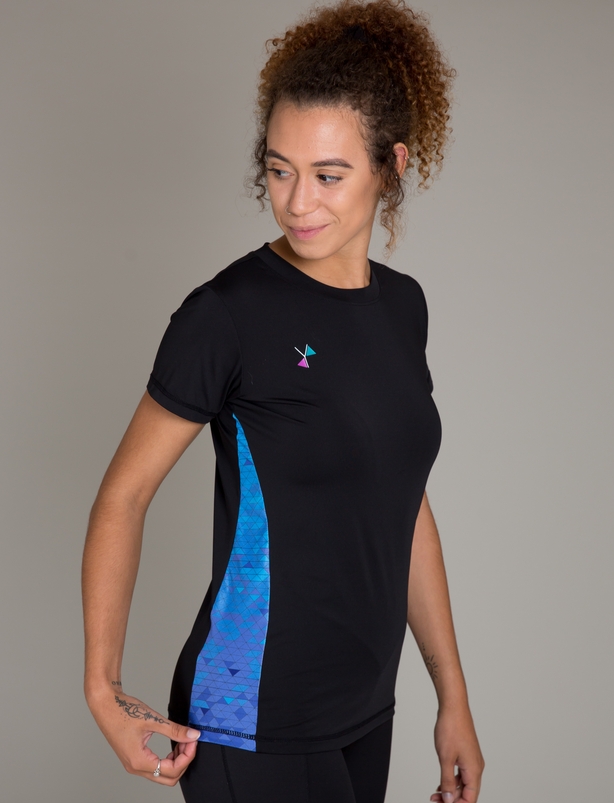 Peachy Lean
In August 2017, Sharon Keegan was inspired to create a clothing brand based around body positivity. From her retail space in Ballymount, she is selling "confidence, support and self-esteem" in the form PeachyLean shapewear. The leggings come in a range of sizes and colours including these navy blue leggings (with pockets!) for €65.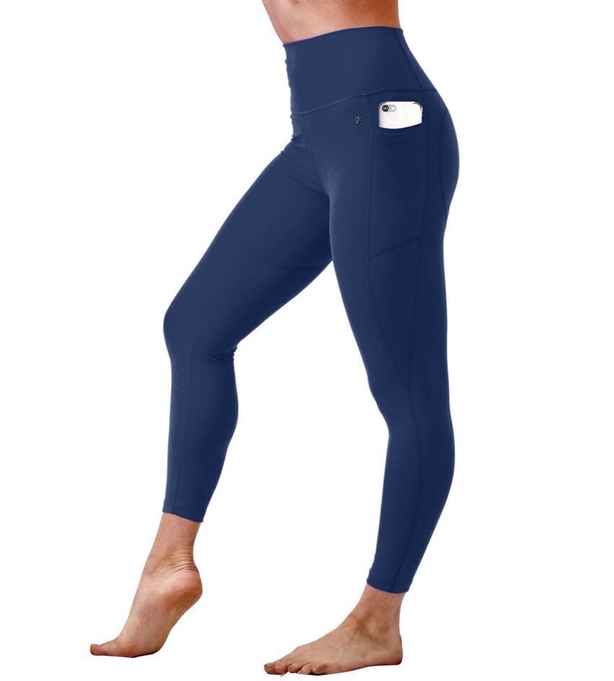 Kotanical
Founded by Karl Murray, Kotanical is the first company in Ireland to distill oil from natural native sources. While others import oils and re-bottle, the Dublin man saw potential in the flora found closer to home. With sustainability in mind, and hoping to create as little waste as possible, the company will take back all used essential oil bottles.... including their competitors. This essential oil kit is €35.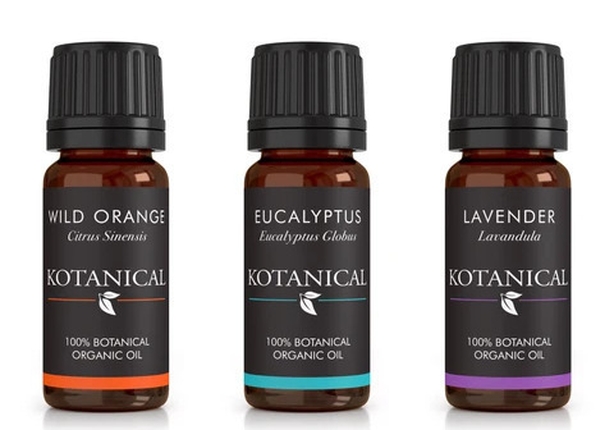 Vixi Gifting
Based in rural Tipperary, Vixi Gifting is an independent online store founded by sisters Melodie and Fenella Fox, and their mother Nicky Fox. Whether you're looking for pre-curated gifts for your family or a custom made set for your best friend, this agency is sure to have the answer. This calming sleep box is €84.95.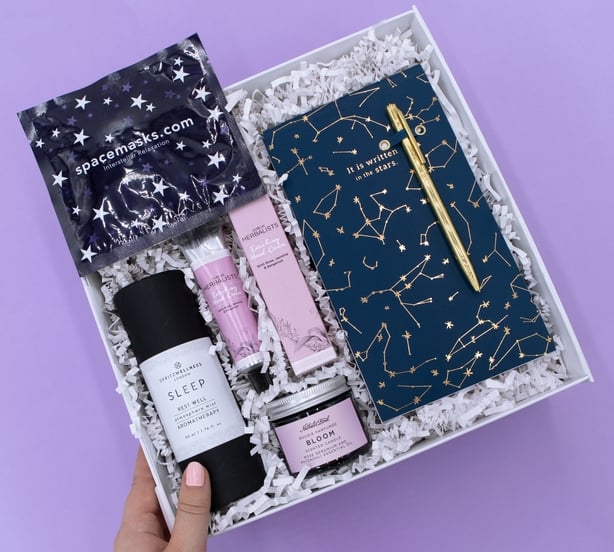 Bell Meadow Ireland
Armed with her trusty Singer sewing machine, Maria Ryan is working hard to make her garden-based flower farm and design studio in rural Co. Carlow a success. Sewing children's dresses and aprons, she is selling her own designs sell alongside gorgeous homeware gifts from Irish and international brands.
We love these €9 bath salts, inspired by the delicate floral scents of summer meadows found deep within The Burren. They are made by Raquel Ruido of The Moher Soap Co. in Co. Clare.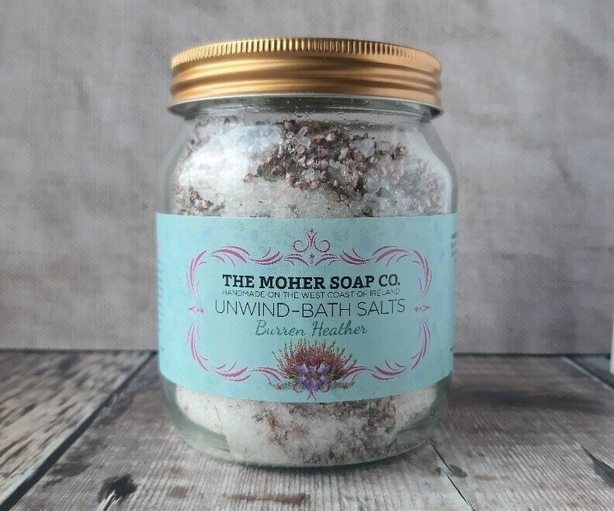 Milk Bath
Run by a busy mum of four, this small Irish business in North County Dublin uses natural ingredients, fully recyclable packaging, and as many Irish suppliers as possible. With both real Irish grass-fed wow's milk and vegan organic coconut milk, you can create your very own wellness retreat at home. This Lavender & Ylang Ylang Milk Bath costs €7.95.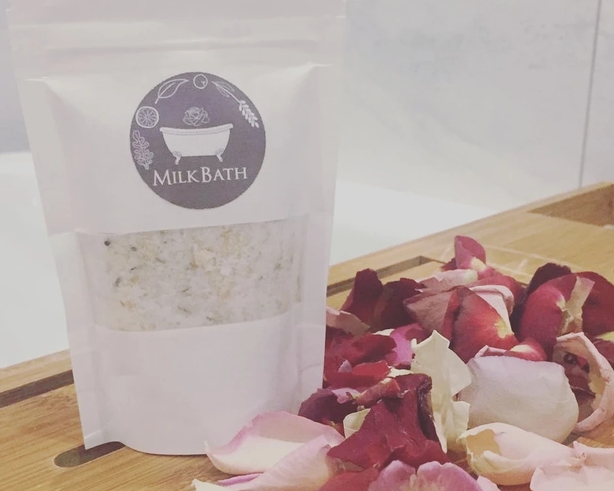 Spotlight Oral Care was founded by Dr. Lisa Creaven and Dr. Vanessa Creaven in 2016. The two spotted a gap in the market and created a range of oral care products ranging from toothpaste and floss to teeth whitening strips.Their oral care toothpaste tubes are made from sugar cane, making them the world's first ever 100% recyclable tube. This year, they have a Sonic Toothbrush on offer for €110.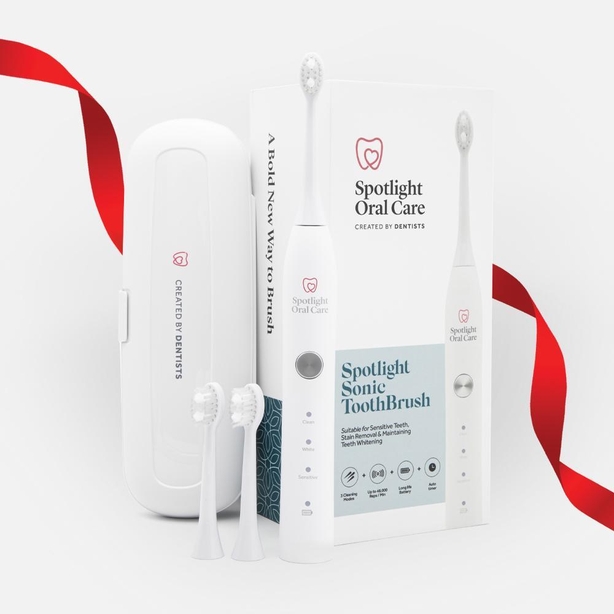 HOMEWARE
Article Dublin
Opened in 2010, Article is located in Lord Powerscourt's former dressing room in Dublin's Powerscourt Townhouse Centre, and the shelves are stocked with everything from Irish woolen throws to Ostrich feather dusters. This Into The Wild Wool Throw by Studio Donegal is €195.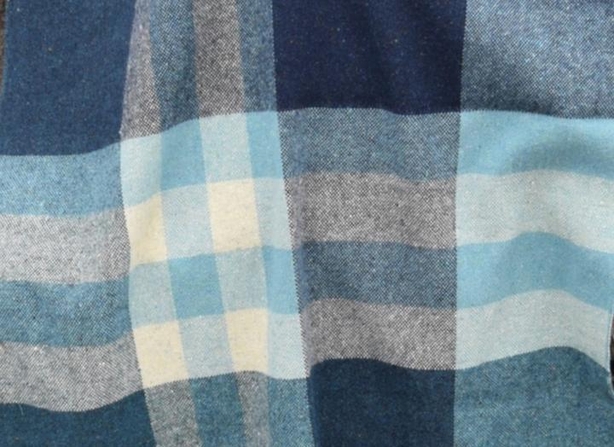 The Old Mill Store
From unusual gifts to unique household products and crafts, The Old Mill Stores will surely have the perfect gift for your friends and family. This independent shop has been run by owners Tom Keane and Claire Graham in Cork since 2012. Check out this eye-catching Face Pot Collection is €20.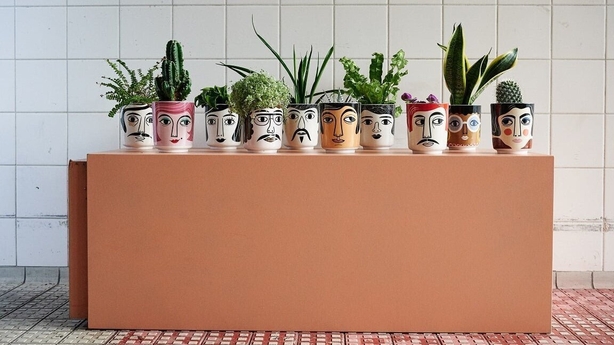 Anzer
This family-run business in Limerick believes in keeping waste to a minimum. Creating handmade products in a smoke-free and pet-free environment, they use bio-degradable mailer bags for packaging. As well as offering a range of face masks, the team at Anzer creates silk and satin pillowcase right here in Ireland. The Síoda set costs €49.95.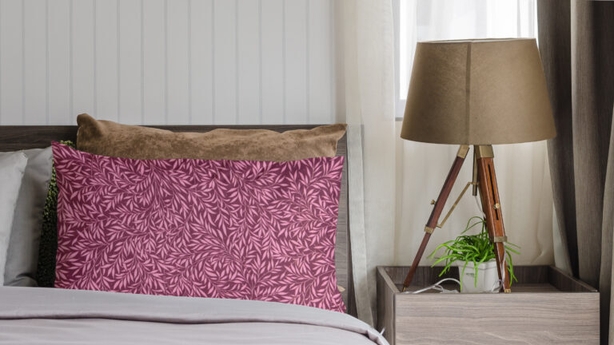 My Shop...granny likes it
A small shop with an unusual name, 'My Shop...granny likes it' is based on Upper Abbeygate Street in Galway. Home to the best of contemporary Irish art, craft and design, the space is dedicated to celebrating and supporting homegrown talent. This Irish Garden Birds Placemat Set is by Cork artist Annabel Langrish, and costs €30.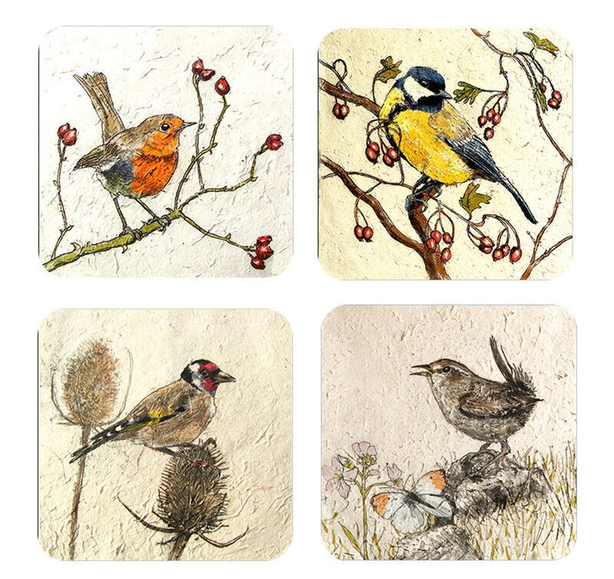 Ballyshane
Created by couple William and Cheryl, Ballyshane is home to beautiful wooden pieces, handcrafted using locally sourced Irish Hardwoods. From cheeseboards to pizza boards, they'll surely have something to suit the foodie in your life. This small cheese board costs €25.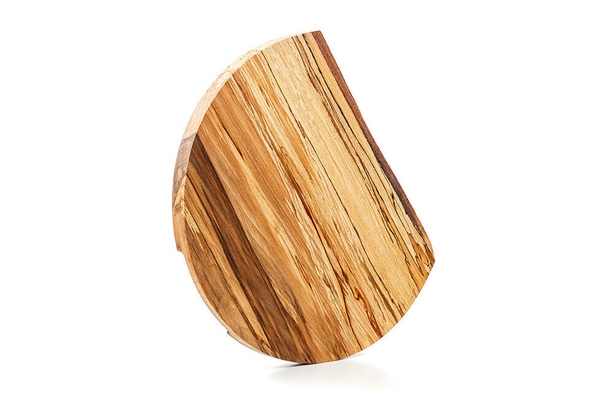 Sam agus Nessa
Many years ago, Sam and Nessa - along with their cat named Dude - settled into their home in Kildare where they launched an award-winning furniture company. Inspired by the Irish vernacular and observing the world around them, the two create functional furniture and homewares from locally sourced Irish timber. This 'Teach' candle holder is €14.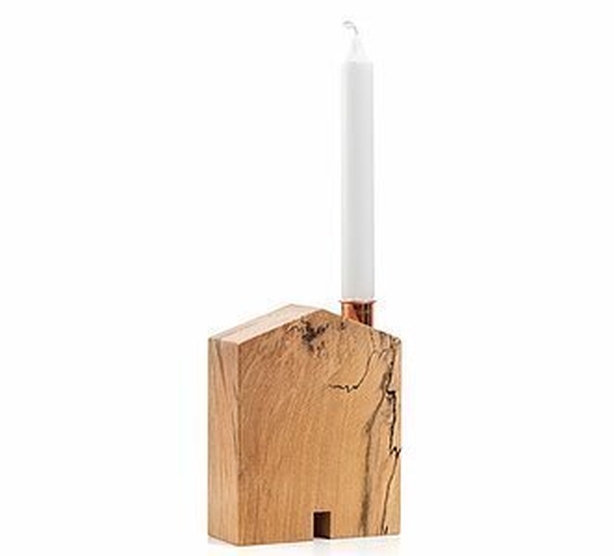 Fabricate
Having graduated with a Bachelor of Arts Degree in Fine Art Printmaking from the Limerick School of Art & Design in 1997, Karen Cunneen Bilbow decided to continue her passion for art as a hobby. However, when she lost her job in 2018, she decided to turn that hobby into a career. These days she creates bespoke art ranging from textile stitched frames and lampshades. This wild and free landscape lampshade is €99.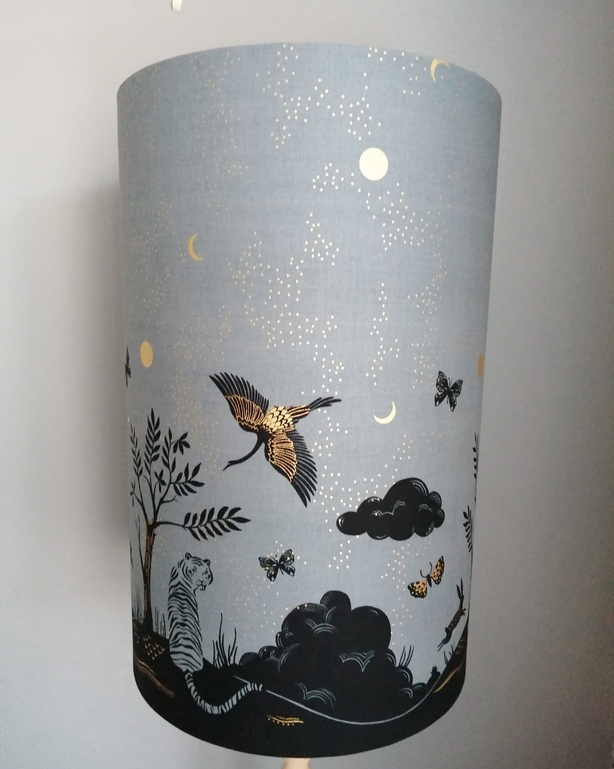 karoArt
Christmas decorations make for a lovely stocking filler and, of course, we recommend you buy an Irish one this year. karoArt is a small ceramic studio based in Dublin that makes all kinds of beautiful wall pieces and ornaments. These personalised Christmas baubles are €29.50.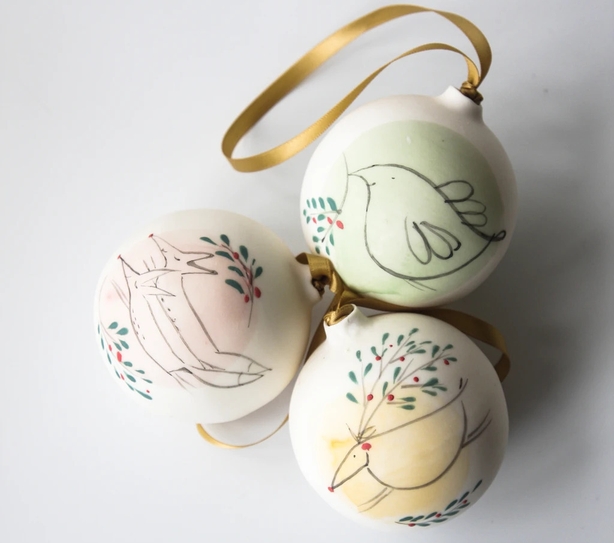 Irish Design Shop
Established in 2008 by two jewellers, Clare Grennan and Laura Caffrey, this homegrown store offers traditional and modern handicrafts. These ceramic coffee cups (€23) are wheel thrown in durable earthenware by master potter Caroline Dolan. Hand-painted and crafted with handmade tools, each cup is unique and bears the initials and stamp of the maker on the base.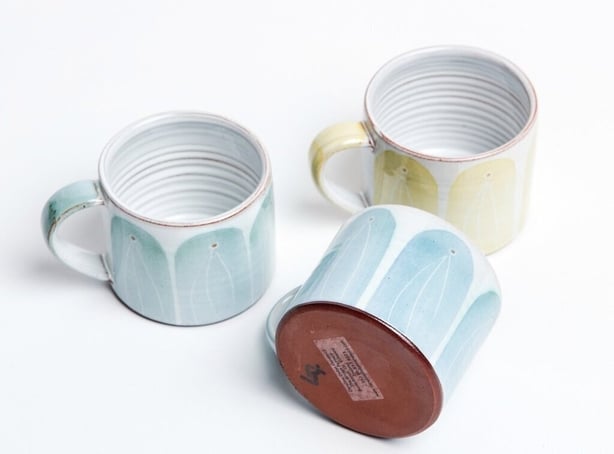 Ticknock Farm
This brand believes in using all-natural oils that are sustainable, vegan, free from paraffin, palm oils, dyes. They produce all their goods on their farm in Tipperary and use no unnecessary packaging. Their candles and soaps are made on a very small scale in a farmhouse using traditional methods. Pick up a bar of Dark Rose soap for €5.50.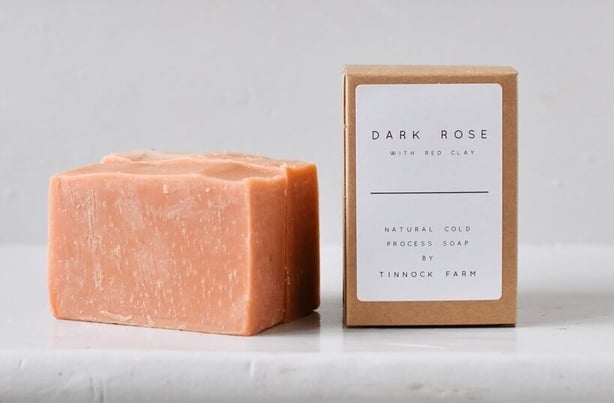 Scout
In 2008, Wendy Crawford decided to create a space that would support the wealth of talent in Ireland's thriving design scene. Based in the corner of Temple Bar's historic quarter, Scout is home to gorgeous textiles and unique furnishings. Wendy's ethos is to provide a range of timeless products that offer functionality and longevity. This Tuscan Grove candle from Clean Slate was handmade in Dublin and costs €19.95.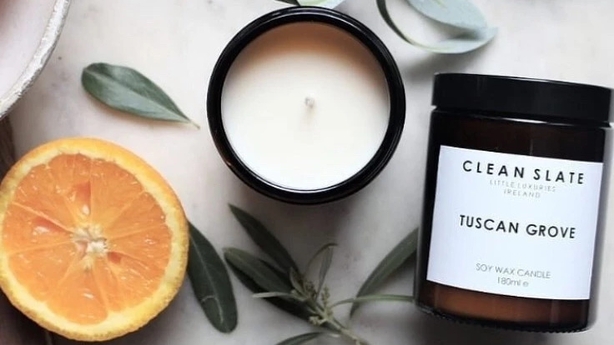 Natasha Rocca Devine
Natasha Rocca Devine is an award-winning Irish-Italian interior design staging specialist. Her 'Secret Garden' candle costs €30 and is created with vintage fragrance scents that is designed to remind fragrance lovers of the beauty of nature. Made in Ireland (in La Bougie candlemakers, Co Cork), the glass holder can be re-used for plants or personal storage.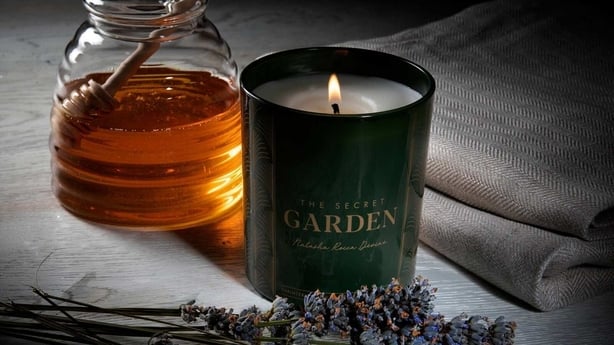 The Handmade Soap Company
Fill your home with wild and warming winter spices this Christmas with an Irish candle made in Co. Meath. These products are vegan-friendly, cruelty-free, and scented with essential oils only. This winter candle and diffuser set is €39.95.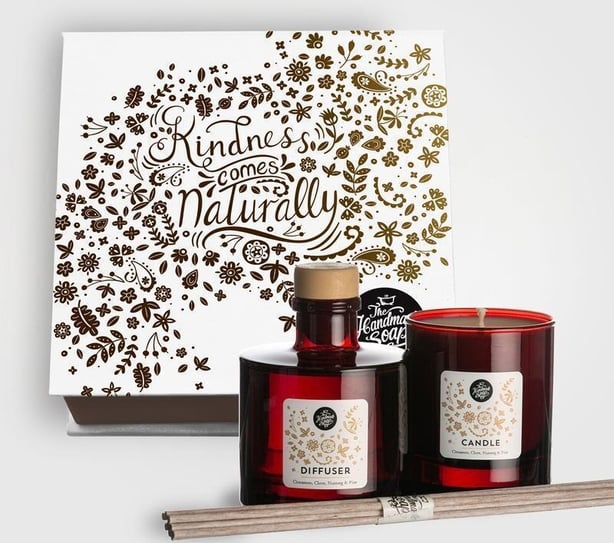 ECO-FRIENDLY
The Kind
The Kind is Ireland's newest zero waste lifestyle store, selling eco-friendly products that are both kind to you and kind to the planet. Curated by founder Sheelin Conlon, each piece on offer supports small independent businesses and makers around the country. The Giftbox for Nursing Homes costs €40 (was €60).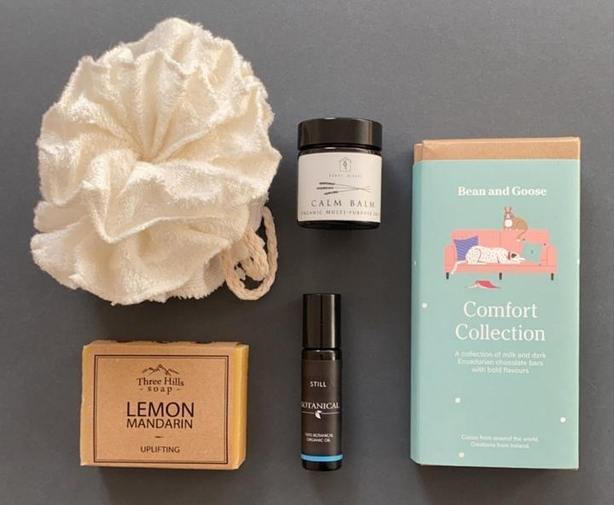 Reuzi
With an aim to be as helpful, well-priced, and minimal as possible, this Foxrock sustainable-lifestyle shop sells everything from recycled cotton yarn hanging baskets. Run by Brazilian woman Pat Kane, the website is filled with fun gift ideas including this 'Make your own Beeswax Candle' set for €22.50.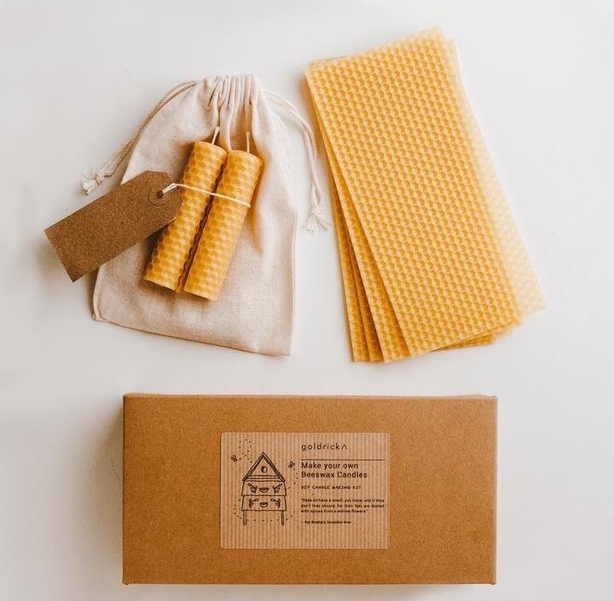 Chou's Cottage
Julie and Paul, a French couple who arrived in Ireland in October 2016, opened their eco-friendly shop in Clonmel in 2018. They support about 80 small Irish designers and makers and home to a 'zero waste corner' where they sell skincare, cutlery, household items and loose food. We particularly like this calendar which was handcrafted in Co. Clare and costs €12.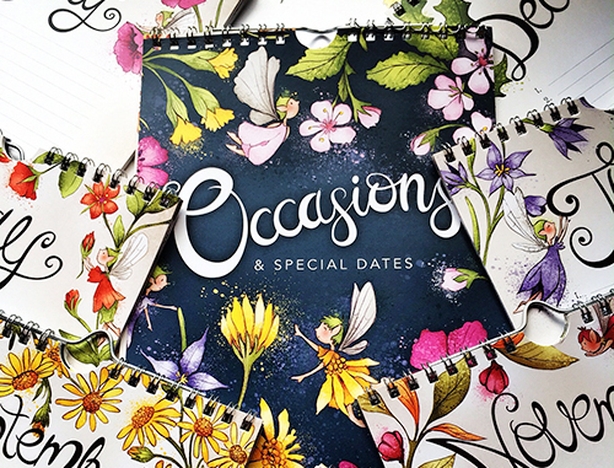 Cool Planet
The Cool Planet Experience is an interactive journey where visitors understand what climate change is all about. Based in the scenic surroundings of Powerscourt Estate & Gardens in Co. Wicklow, this experience helps guests discover the innovations and solutions they can embrace to solve the problem. This reusable coffee cup costs €6.50.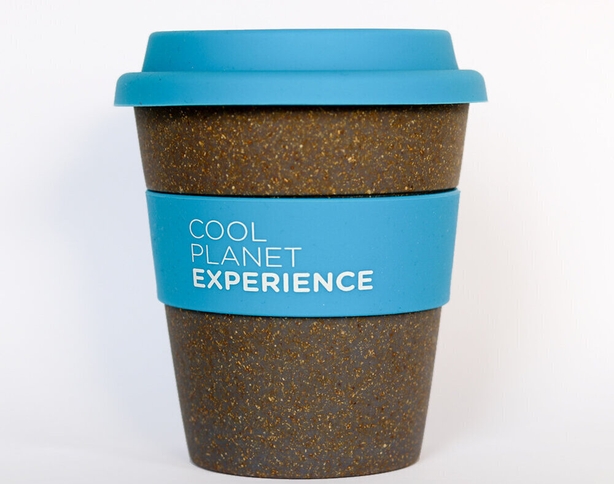 Green Outlook
Whether you're zero waste or looking to make your first plastic-free swap, Fiona Smiddy's website is sure to cater to all your eco-friendly needs. The website is home to over 100 products handmade in Ireland, including this notebook made from recycled paper, costing €17.50.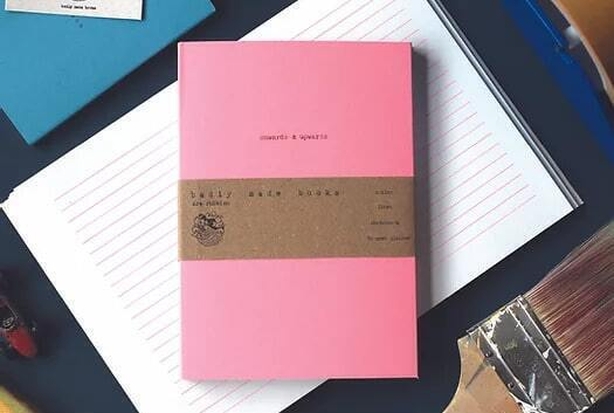 OUTSIDE THE BOX
As well as buying products, it's important to keep businesses that are currently closed in mind this holiday season so try to think outside the box.
Plan ahead by investing in a voucher for your favourite local restaurant, a weekend away at a nice hotel, or even a night at a comedy club to be enjoyed when restrictions ease and the country begins to reopen.
If you're on a tight budget, there are plenty of hidden gems to be found in charity shops and thrift shops such as Saint Vincent de Paul, Oxfam, Enable Ireland, and Nine Crows.
If you know someone who is particularly hard to buy for, perhaps you could make a donation to a charity close to their heart, or simply give them the gift of time and company by organising a weekly video call or daily walk.