Caroline Foran is all about owning your anxiety - so much so that she wrote a book about it.
Her first book, Owning It: Your Bulls**t-Free Guide to Living with Anxiety was hugely successful and the follow-up, The Confidence Kit: Your Bulls**t-Free Guide to Owning Your Fear looks set to follow suit.
Stressing that she is not a psychologist or mental health professional, Caroline told Ray that the book comes from her own personal experiences with anxiety and her research, which involved interviewing a number of professionals.
She described the circumstances around the first bad bout of anxiety that she remembers having:
"I had started a new job and I moved out of my parents' house and in with my boyfriend…
"When I knew the job wasn't right for me, this little seed inside of me just sort of grew and I left it unaddressed for so long and it just sort of grew and grew and I was like, 'Jesus, what's wrong with me?'. And I was having horrendous panic attacks."
Ray asked Caroline to describe what it feels like to have a panic attack. Caroline explained that different people have different symptoms. She doesn't fit the stereotypical "breathing erratically into a brown paper bag" mould.
"For me, it felt like a sort of fire had been lit inside my chest and it just went out from all of my limbs and paralysed me to the point that I felt like I needed to flee.

"But there was nothing to flee from and you couldn't really get away from it."
Caroline remembers that she didn't understand what was happening to her.
"I was so afraid that I just completely retreated into myself and I didn't want to leave the house and I, kind of, had to start from scratch again and be comfortable…I was afraid that I was just losing my mind, basically."
Caroline thinks that listeners should try to see opportunities to turn mental blocks into building blocks and move away from our comfort zone.
"If you're permanently in the comfort zone, no learning can happen."
"Fear-hacking", the practice of confronting what we are afraid of and disarming that fear, can also help in the battle with anxiety, Caroline says.
"You don't need a major reason to be anxious. And people give themselves a really hard time, you know, thinking 'something terrible didn't happen to me' but that doesn't matter…It doesn't matter what your CV looks like, anyone can struggle with anxiety."
Another important thing to keep an eye on is how we assess our esteem and self-worth. Caroline explained that she tries to separate how her professional work is received from her personal self-worth.
"My confidence has to come from knowing that I did my best and that's what I could control. And all I can control outside of that is how I react to things happening to me."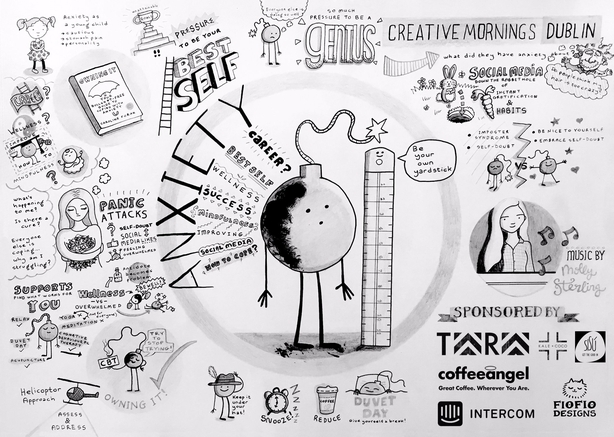 Fíona Ní Broin created an illustrated sketch for a 'Creative Mornings' talk on anxiety with Caroline Foran last year - check it out above.
Caroline joined Ray D'Arcy in studio on RTÉ Radio 1 - listen by clicking on the video above.