Season 11 of Operation Transformation will kick off tonight, Tuesday, 9th and tomorrow, Wednesday, 10th of January. We caught up with Dr. Ciara Kelly to find out what we can expect from the new series. Watch the interview above.
"Yeah, there are going to be new things that you're going to see this year on the programme.
"I do believe that you're going to be seeing a little more of the experts and maybe seeing a little bit more of us behind the scenes so that would probably show, I suppose a more rounded picture of us.
"I know sometimes all you get is us behind the desk and kind of going 'I can't believe you've only lost half a pound' and people are like 'what the hell is wrong with those people?' - it's a team effort.
"We see ourselves as mentors to the leaders and sometimes mentors use carrots and sometimes mentors use sticks and we're very happy to use both because what we really want for them over that short period of time - two months - to achieve their full potential and if that means giving them a kick up the ass the odd time, we will do it."
Meet your 2018 Operation Transformation leaders
Dietician Aoife Hearne, fitness expert Karl Henry, Dr Ciara and Dr Eddie Murphy spend a lot of time with the Operation Transformation leaders in the hopes of changing their lives for the better.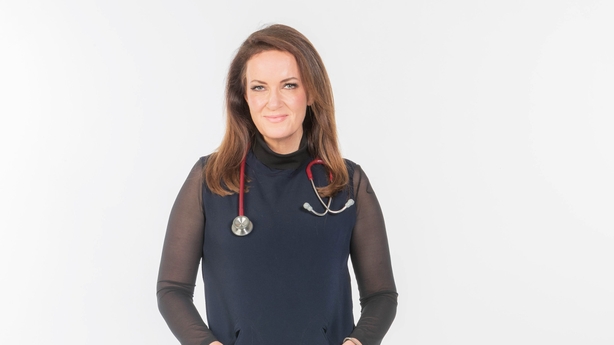 So, how are things when the cameras aren't rolling?
"We have actually a lot of fun on the set and we have actually a lot of fun with the leaders and we tend to have actually very good relationships off camera with the leaders.
"We're very fond of them and we really do want them to do well so I think you're going to see some more of that more casual, informal, interaction between us."
OT fitness expert Karl Henry says exercise must be 'vigorous' to count
Season 11 of Operation Transformation will kick off on RTÉ One tonight at 8:30pm. Is there anything new that we can expect?
"I think, also, you might be getting to see some of us do a few things that we haven't done before... and I'm not going to tell you anything more than that."
For more info on the Operation Transformation leaders, head over to https://ot.rte.ie
Watch Operation Transformation on RTÉ One every Tuesday and Wednesday at 8:30pm or catch up on RTÉ Player now.