We all love a cheeky takeaway to treat ourselves after a long work week or even to order a healthy salad for lunch but where exactly are we Irish ordering from?
Deliveroo has named the top 100 dishes ordered in 2017 around the world and according to the food delivery company's data, the Irish absolutely love a good burrito.
Ireland's fav takeaway?
The second most ordered dish on the website across the world was Boojum in Dublin while the sixth most ordered dish was Boojum's Twojum in Belfast.
Other Irish dishes featured in the top 100 are:
Black Bean Chicken from Ramen in Cork
Teriyaki Donburi from Wagamama in Dublin
Steak and Cheese Sub from Subway in Dublin
Chicken Tenders from Rocket's in Dublin
Parma Pizza from Pompeii Pizza in Cork
Fresh North Atlantic Cod from Beshoff Bros in Dublin
If you want to make your own healthy burrito, check out our recipe from Operation Transformation here.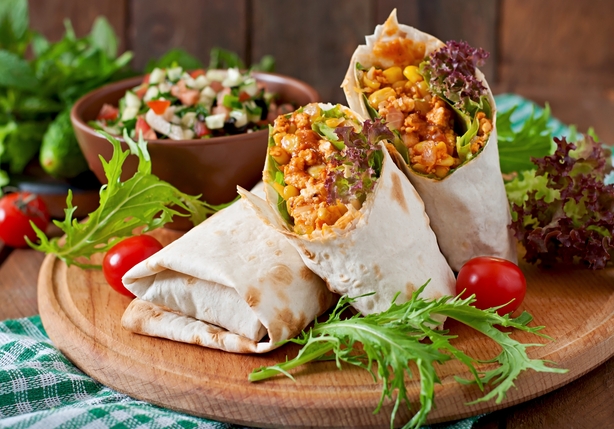 Ultimately though, the most ordered dish in the world was an old favourite - The cheeseburger.
The most ordered dish in the world was Big Fernand's Les Fernandines cheeseburger in Lille.
The third most ordered was a cheeseburger from Five Guys' in London
The tenth most popular dish was a 6oz cheeseburger from Gourmet Burger Kitchen in London.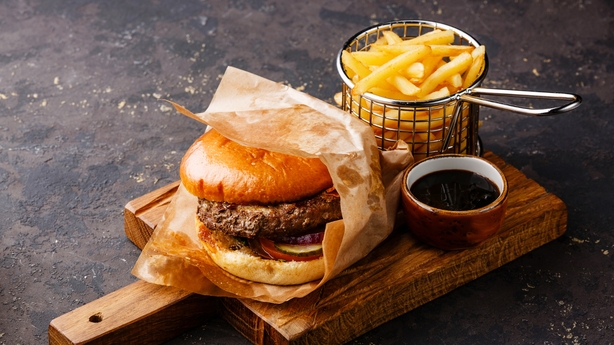 So there you have it, burritos and burgers have reigned over pizza and curry in 2017.
Top 100 dishes ordered across the world from Deliveroo:
Les Fernandines, Big Fernand in Lille, France
Burrito, Boojum in Dublin, Ireland
Cheeseburger, Five Guys in London, UK
Tripletta Pizza, Tripletta in Paris, France
Regular Burrito, Taqado Mexican Kitchen in Dubai, UAE
Boojum's Twojum, Boojum in Belfast, UK
Sushi Box for Two, Sushi Shop in Toulouse, France
Chicken Salad Bowl, The Daily Cut in Singapore
Chicken Katsu Curry, Wagamama in London, UK

Cheese 6oz American Cheeseburger, GBK in London, UK
Burrito, Guzman Y Gomez in Sydney, Australia
St Peter's Burger, The Meating Room in St Albans, UK
Medium grilled chicken burrito, Tortilla in Brighton, UK
Ga Bun, James Bun in Paris, France
California Bowl, Poke Poke Dubai in Dubai, UAE
MANA!Love Wrap, MANA! Fast Slow Food in Hong Kong
Crazy Salmon Roll, Kenji Sushi in Edinburgh, UK
Byron Burger, Byron in London, UK
Avocado Beef Burger, Little Apple in Paris, France

The Bacoa Burger, Bacoa - Universidad in Barcelona, Spain
Dead Hippie Burger™, MEATliquor in London, UK
Oahu Bowl, Ahi Poké in London, UK
Bouchees, Tamarin in Paris, France
Grilled Chicken Burrito, SALSA SHOP in Amsterdam, The Netherlands
Beef Egg Noodles, Wok to Walk in Toulouse, France
The Twenty, Barsalata in Dubai, UAE
Siracha Spicy Tuna Bowl, Poké Perfect in Amsterdam, The Netherlands
The Beepbop Bowl, Grain Traders in Singapore
Poké Bowl, Pololi in Hong Kong

Biang Biang Noodles, Yau Yuen Siu Tsui in Hong Kong
Sushi bowl Salmone, Macha/Japanese café in Milan, Italy
Porc/Boeuf Meatball, Ballekes in Brussels, Belgium
California Dream Sushi Box, Sushi Shop Louise in Brussels, Belgium
Cheeseburger, Five Guys in Madrid, Spain
Cheeseburger, Tommi's Burger Joint in Berlin, Germany
Pho Tai, BEP Vietnamese Kitchen in Hong Kong
Chicken Grill, Street Bangkok in Paris, France
Classical Burger, Le Camion qui Fume in Paris, France
Classic Pizza, Pizzare in Berlin, Germany

Poké Bowl | El Spicy Tuna, Sushito in Amsterdam, Netherlands
Pollo Asado Burrito, Muchachos in Singapore
Full Rack | American Style Ribs From The Texas Smoker, Braai in Amsterdam, Netherlands
Tie Guan Yin Tea, TPTea in Hong Kong
Bufala Pizza Slice, Mamma Roma Chatelain in Brussels, Belgium
Cheeseburger, Burger King in Amsterdam, The Netherlands
Mary's Burger, Mary's in Sydney, Australia
Pizza Quatro Stagioni, Novecento in Haarlem, The Netherlands
SIgnature Boiled Chicken, Boon Tong Kee in Singapore
Bavet Spaghetti, Bavet in Ghent, Belgium

Porc and Beef Würst, Wurst in Ghent, Belgium
Pitta Gros, Greek and Shop in Madrid, Spain
2 Mini Burgers + Side, Krush Burger in Dubai, UAE
Chicken Satay, Thai on High in Hong Kong
Pollo Polo, Richy's - JLT in Dubai, UAE
Thai Green Curry, Lucy Chang in Antwerp, Belgium
Chicken Chilapa, Chilapa Casanova in Barcelona, Spain
Steakmous, Mantoushe in Dubai, UAE
Tuna Poke Bowl, Aloha Poké in Singapore
Poke Bowl, A Poke Theory in Singapore

Chicken Egg Noodles, Wok to Walk in Barcelona, Spain
Buffalo Campano Burger, Trita, Milan
Bourbon Chicken Wings, SteakBurger - Atocha in Madrid, Spain
Subway Melt, Subway in Eindhoven, The Netherlands
Pho Wagyu Beef, NamNam Noodle Bar in Singapore
Queen Burger, New York Burger in Madrid, Spain
Mild Grilled Chicken Burrito, Guzman Y Gomez in Singapore
Tortilla Española, José Luis in Madrid, Spain
The Italian with grilled chicken, Toss'd in Dubai, UAE
Paris Texas Burger, Paul's Boutique Station in Ghent, Belgium

Salmon Poke, CALI-POKE California Seafood House in Dubai, UAE
Golden Axe Burger, 8 Bit in Melbourne, Australia
Cheeseburger Five Guys in Dubai, UAE
NY Style Bagel, Bagels in Milano, Italy
Tacos with Dessert, CHEZWaWa in Brussels, Belgium
Poached Chicken Pho, Hanoi Hannah in Melbourne, Australia
Lemongrass Pad Thai, Lemongrass in Berlin, Germany
Black Bean Chicken, Ramen in Cork, Ireland
Teriyaki Donburi, Wagamama in Dublin, Ireland
The OG Poke Bowl, Fishbowl in Sydney, Australia

Daruma Sushi Roll, Daruma Sushi in Roma, Italy
Sabbaba Vegan Pitta, Sabbaba in Sydney, Australia
Happy Waffle, Waffle Brothers in Berlin, Germany
Kross Duck Hanoi Deli Eppendorf in Hamburg, Germany
Steak and Cheese Sub, Subway in Dublin, Ireland
Big Club Sandwich, California Bakery in Milano, Italy
Salted Caramel and White Chocolate Gelato, Gelato Messina in Sydney, Australia
Bibimbab - Honey BBQ Beef, Son Kitchen - Korean Street Food in Berlin, Germany
Hamburger di manzo with bacon, Beveria Monteverde in Rome, Italy
Chianina Hamburger, Aviazione in Florence, Italy

Khao Pad, Aroydee in Frankfurt, Germany
Japanese Fried Chicken Wings, Soi Noodle Bar in Canberra, Australia
Chicken Tenders, Rocket's in Dublin, Ireland
Türkitch, Türkitch - Köfte & Kebap in Munich, Germany
Parma Pizza, Pompeii Pizza in Cork, Ireland
Cheese Bacon Burger, Macinata - Sarti di Burger Firenze in Florence, Italy
Simmered Pork Knuckle Dried Noodle, Min Saam Gun, Hong Kong
Fresh North Atlantic Cod, Beshoff Bros in Dublin, Ireland
Chilli Wagyu Beef Dumplings, Oriental Teahouse Chapel Street in Melbourne, Australia
Mango Pancakes, Tei Mou Koon Dessert in Hong Kong
201 Shanghai Lao Lao - Kennedy Town in Hong Kong