This year, The Ray D'Arcy Show on RTÉ Radio decided to lend a helping hand to those cooking Christmas dinner for the very first time.
Twenty-four, cooking deficient, listeners who face the daunting task of preparing Christmas dinner for the first time ever were chosen to head to the Cooks Academy on South William Street, where they were put through their paces and given all the help and cooking tips they need to get them through Christmas Day.
Today we're @cooksacademy for @RadioRayRTE Christmas Cooking special w. @SuperValuIRL #FoodKarma @kevindundon @Martin55980321 @SHearneSmith pic.twitter.com/B2gyWX6Ets

— RTÉ Radio 1 (@RTERadio1) November 23, 2016
Yesterday, celebrity chefs Martin Shanahan, Kevin Dundon and Sharon Hearne-Smith brought those twenty-four listeners through a delicious boot camp ranging from starters to dessert. The day began at 9am and in no time at all, the wannabe-chefs were making everything from apple pear and cranberry relish, sausage meat stuffing to a full roast turkey".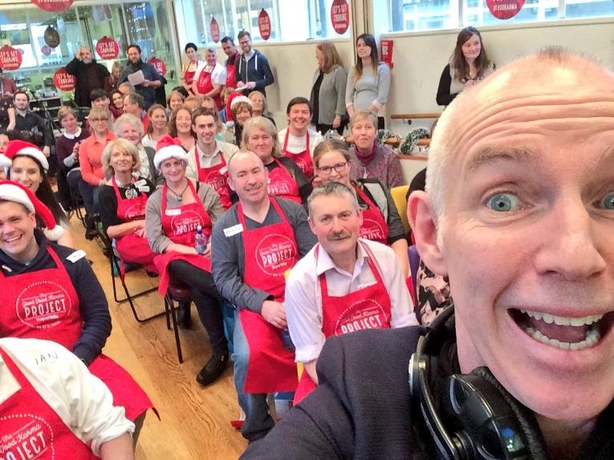 Sinead from Cork, Caroline from Dublin, Darren from Meath, Hillary from Cavan, Heather from Carlow and many more, gathered together to share their stories of hilarious cooking mishaps or as one woman put it:
"My dinners parties are sort of legendary, but not for the right reasons"
Kevin Dundon, Martin Shanahan and Sharon Hearne Smith picked up on the energy when they walked into the room and were many by all the nervous chefs-to-be. However within no time at all everyone began to find their groove in the Cooks Academy. As Sharon said:
"Within the hour, I could see their confidence rising already, it was great to see! By the end of the day they were super-confident to the point that they didn't want to see our demos!"
Triple Chocolate Trifle.... the sherry trifle's been upgraded this #Christmas! @RadioRayRTE pic.twitter.com/VVz8LRcUtV

— RTÉ Radio 1 (@RTERadio1) November 23, 2016
Kevin Dundon said that the atmosphere from the group was fantastic and only improved throughout the day: 
"At the start of the day, there was this kind of high-pitched excitement going on but about an hour into us cooking, it just got this lovely hum happening of happiness and I thought, we're there now, we can progress."
Click here to listen to all of the participants' hilarious cooking stories and touching reasons as to why they're making Christmas dinner this year.