Eurovision is a dedicated time of year to celebrate culture, identity and national pride, no matter how far you delve into the drama and spectacle of it all. The Contest aims to bring out the best of talents and the best in each country (though we are all susceptible to a little bit of healthy rivalry and competitiveness).
It's also a celebration and merging together of language, customs and traditions. What better excuse than the weekend of the annual continent-wide Song Contest to whip up something in the kitchen that celebrates European diversity, whether you're a fan of the cheesy anthemns or not.
Let your tastebuds take you travelling across the smörgåsbord of Europe or island-hopping around the continent's perimeter as you indulge in some of the most traditional and iconic European dishes and delicacies.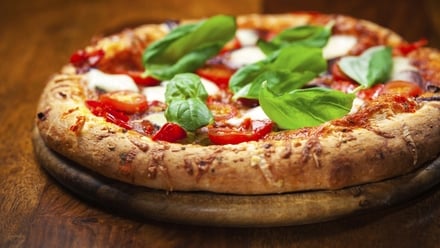 1. Italy
We have a heap of pizza recipes on site which are completely adaptable to whatever flavours you want to explore or how many people you may be feeding. Why not make a tray of mini pizzas with lots of different toppings and flavours to keep guests guessing!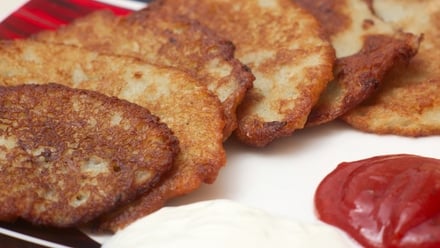 2. Belarus
One of the most interesting things about Belarusian cuisine is that the potato is as important to them as it is to us in Ireland. Their signature dish, 'draniki', takes the form of something like a less starchy boxty and is enjoyed with lashings of sour cream. To recreate it at home, This potato pancake recipe from Kevin Dundon is a great base to jump from.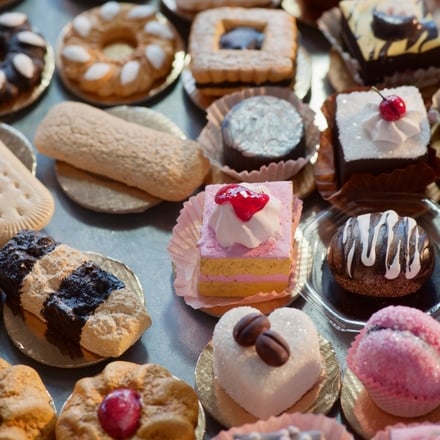 3. France
Rachid Zouaia's petit fours are a great entertaining treat, and ones that will disappear before your very eyes, evcen if the process of making them can be a whole heap of effort. Watch him make delicious bitter chococlate truffles here and a passion fruit tart.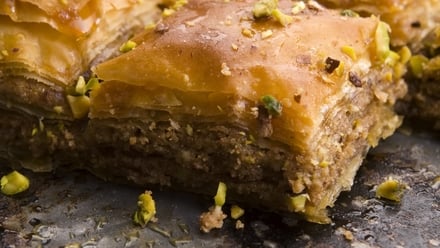 4. Armenia
Baklava is a rich and sweet pastry treat which hails from the Middle East. For an Armenian twist on baklava, load the recipe with sweet spices like cinnamon and clove. Pistachios sprinkled on top are a great touch too! Try Tommy Fitzherbert's recipe to recreate at home.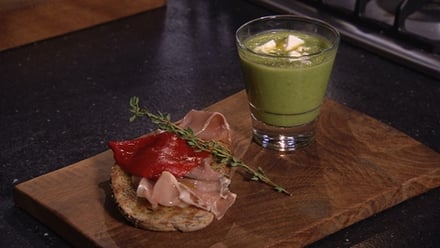 5. Finland
Pea soup is something which is filling, wholesome and ridiculously easy to make. In Finland, Thursday is a nationally regarded day of eating pea soup, so use Paul Flynn's straightforward recipe to try it at home. A great way to kick off a Eurovision party - give everyone a little taster in a large shot glass or small tumbler!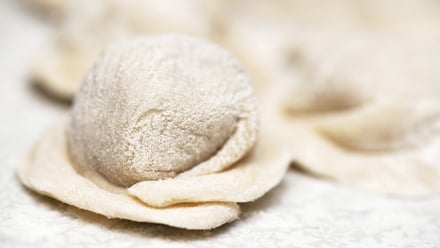 6. Russia
Siberian food is something a lot of us may have never had the opportunity to explore and enjoy, so this recipe for Siberian Pelmeni from MasterChef Ireland is a great start. Pelmeni are meat dumplings which are enjoyed and interpreted in various ways throughout Russia and in many of the former USSR states.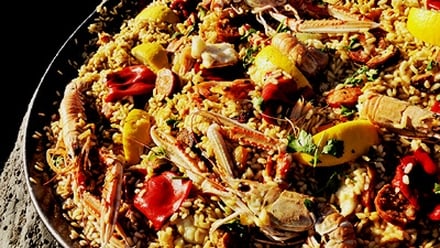 7. Spain
In contrast to Russian food, Spanish food is something almost every person in Ireland has been exposed to in one form or another. Paella and sangria are two of the most recognisable recipes originating from Spain, and are perfect when enjoyed together. This is something substantial and worthwhile if you have a large crowd coming around to celebrate. Clodagh McKenna gives a simple seafood version in this recipe.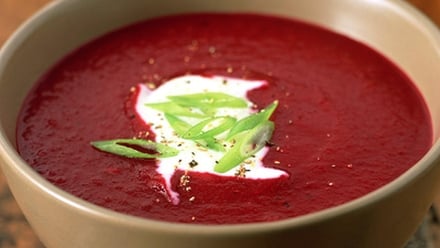 8. Ukraine
Borscht is a dish enjoyed throughout Eastern Europe, and one that is a real party piece. Not only is the colour eye-catching and festive, the earthy beet taste is unique and interesting. Lorraine Fitzmaurice's nails a traditional Ukranian borscht at this recipe.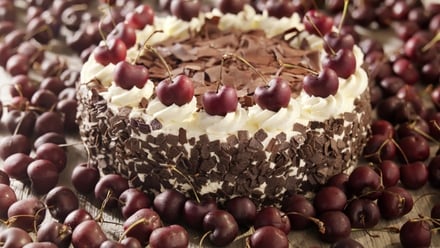 9. Germany
A real dazzler, if a little kitsch and dated. A good Black Forest Gateau is a real celebration, with its deep cherry/kirsch flavour mingling with light, fluffy cream, sumptuous sponge and finishing with an indulgent chocolate bite. Queen of baking, Louise Lennox, offers up her Gateau recipe for recreation.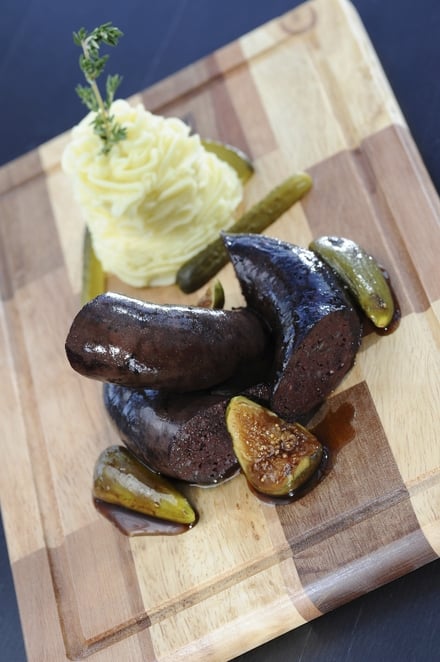 10. Estonia
Keeping to the north, Estonia have somewhat of a love for black pudding to rival Ireland. Though we celebrate our version with breakfast, verivorst is traditionally eated in Estonia in the winter, and especially at Christmas.
It's a real treat of celebration, so if you're a black pudding lover this is your perfect opportunity to do something different with pud, maybe as a canapé for guests arriving on some crusty bread with some lingonberry jam on top?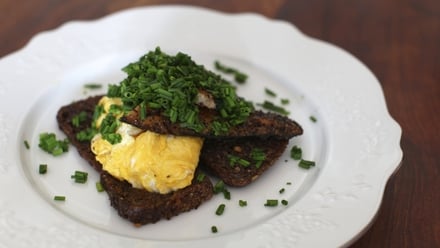 11. Denmark
Snug in the middle of the Baltic Sea is Denmark who are famed for their open sandwiches, smørrebrød. Be as creative as you like. This rye sandwich recipe, fusing Irish ingredients and Danish preparation, by Oliver Dunne is particularly exceptional.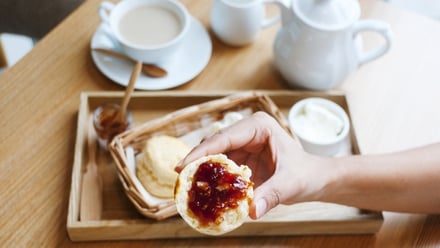 12. United Kingdom
Our close neighbour has a healthy and wealthy food history, but comfort is particularly provided with UK food , for example dishes like hotpot or pasties. The traditional English scone is a major part of the institution that is afternoon tea, and something that is easy to prepare and has a delicious pay-off. Try Angel Adoree's scones with lavender cream for something a little different.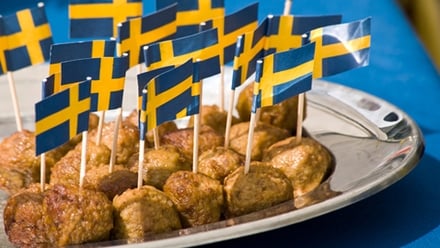 13. Sweden
Last year's winner and this year's host country literally created the word smörgåsbord, so you can be assured they have a vibrant and diverse culinary culture. One especially Swedish dish, made famous worldwide by IKEA, is meatballs. Though maybe not Sweden's most interesting dish, meatballs are certainly a crowd pleaser and really easy to make and to add flavour to. Donal Skehan has the expert recipe for Swedish cocktail meatballs, so look no further.
14. Belgium
Chocolate, beer and frites, of course. The Belgians are disputedly the beer champions of the world and have somewhat of an obsession for fries, being very particular about how they are cooked as well. But for this round-up, it's the turn of chocolate to take centre stage. Not that anyone needs any excuse to indulge in chocolate, so here are over 200 chocolate recipes to delve into.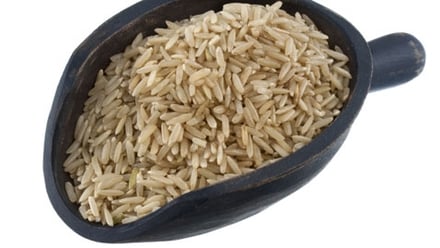 15. Azerbaijan
Plov, or Pilaf, is a staple in many countries around the Middle East and Azerbaijan is no exception. A simple pilaf from Tommy Fitzherbet should fit the bill if you want to try it yourself.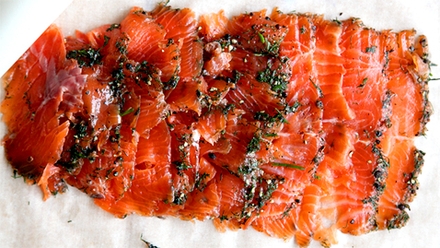 16. Norway
Gravadlax is a staple in many Scandinavian countries, but Norway is especially famed for its fish. Though traditionally made with salmon, try Paul Flynn's take on the dish using trout. A delicious starter or canapé, served on some rustic brown bread with some mustard - a real winner!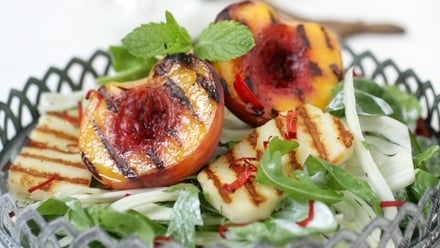 17. Greece
Though Halloumi is actually Cypriot, Rozanne Stevens' beautiful salad with chilli and peach is too good to miss, especially if laying out a spread of food for hungry guests before watching the Contest together. This is where the humble salad really takes centre stage!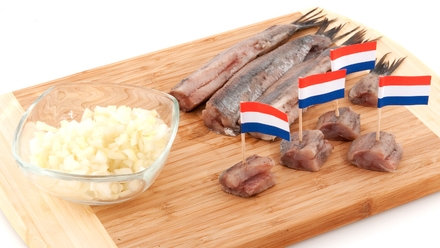 18. Netherlands
A delicacy in The Netherlands, this one is for the tough of stomach. raw herring anybody? Try Richard Corrigan's version if you feel up to the challenge and in an especially celebratory mood!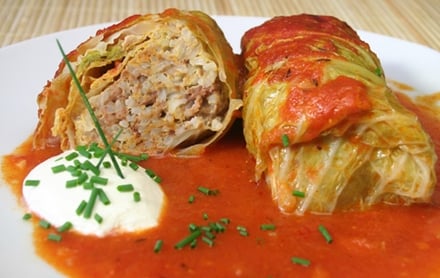 19. Hungary
Stuffed cabbage is an frequent dish spotted across various different parts of Europe and one that is definitely worth trying. Not the easiest thing to serve to a group of hungry guests, but filling, indulgent and delicious all the same. Lorraine Fitzmaurice has a great, crunchy, vegetarian version to try at home.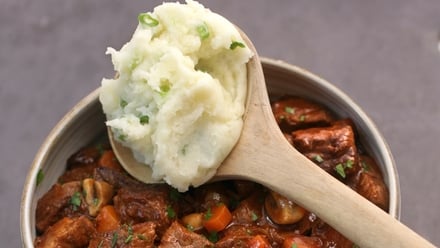 20. Ireland
As they say, save the best for last. Leaving our humble abode until last, and what a coincidence - Ireland's entry this year, Ryan Dolan, will perform last this weekend as he brings the ESC 2013 to a close on May 18th, and with a bit of hope may even bring the title right back to our shores for another time.
You don't need to be told what's delicious and different when it comes to Irish cuisine, so let's leave this one up to you! Maybe a little beef and Guinness casserole with some colcannon on the side might do the trick though?
If these are all too obvious for the discernable diner, why not try out Icelandic pylsa (hot dogs), Romanian gogosi (doughnuts), a Maltese rabbit casserole, Georgian khachapuri or some Moldovan mamaliga?
Patrick Hanlon