The Distress Papers in the National Archives, Ireland, can tell us many stories behind the grim statistics of Famine Ireland. Charles Trevelyan held the post of Assistant Secretary to the Treasury from 1840 and played a crucial role in the management of famine relief measures in Ireland. His tendency to micromanage is evident from this letter dated 10 June 1846 where a new line of road is sanctioned in the Barony of Dunkerron in the Iveragh Peninsuala, Co. Kerry:
'I am commanded by the Lords Commissioners of her Majesty's Treasury to acquaint you for the information of the Lord Lieutenant of Ireland that my lords have been pleased to sanction the execution of the new road from Sneem to Killarney between Greenane Harbour and Coomadoveen Gap(sic)* at the expense of £1,350…One half to be provided by loan, and the other moiety by a contribution of £300 from Mr Mahony and the remainder by grant'.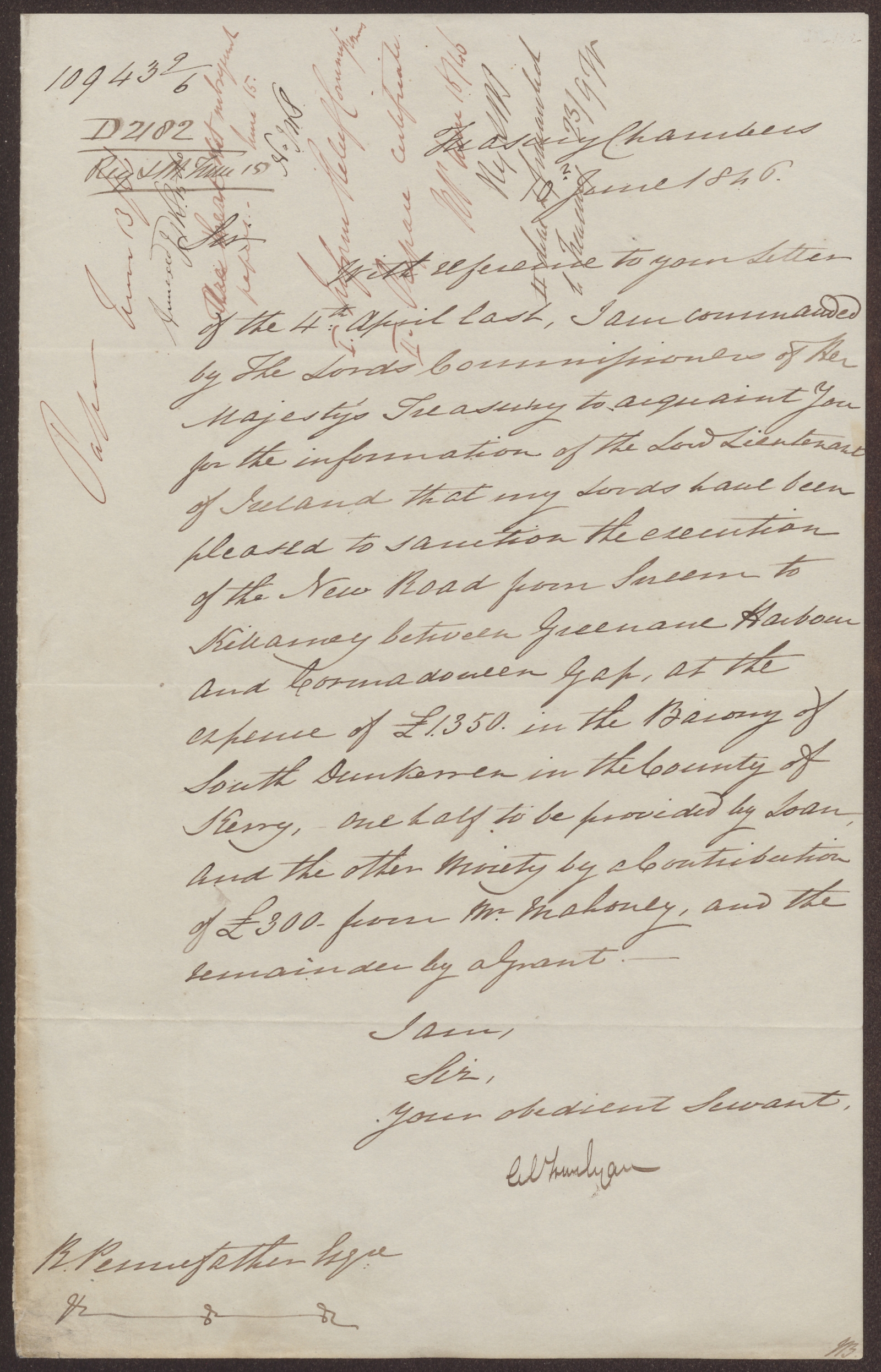 According to Peter Gray, Trevelyan 'was an ideologically driven workaholic' and nowhere is this more evident than in his concern for the minutiae of government expenditure on famine relief.
*The writer of the letter seems to have confused 'Com an Daimh' (Moll's Gap) with Com Uí Dhuibh (Cummeenduff/The Black Valley) that is immediately adjacent to it - special thanks to Breandán Ó Cíobháin/ Source: National Archives of Ireland CSORP, Famine DISTRESS PAPERS 1846 D2182 001
Find out more about the Distress Papers and what they contain here.