Radio presenter Jason Collins is proud of how local radio stations have been helping during the crisis: "if ever people in these modern times wondered what part radio plays in people's lives, I think it's been wholly evident during these restricted times."
"My days have been starting out with a quick breakfast with my wife Maria and my two boys, Juan, who is ten, and Luciano, who is seven. After that, it's goodbye to Maria, who has now taken over our bedroom as her makeshift office, and off to minding the boys until I see her again for lunch.
"As a stay at home dad and radio presenter, I'm used to juggling work with home, taking care of the boys but I quickly realised into the lockdown that when it came to homeschooling my two boys, I'm a woefully inadequate replacement for my sons' two wonderful teachers. Just like the rest of the country, I've a newfound respect for what they do. I now know, I don't have neither the patience or aptitude but I'm doing my best like the rest of us.
"One day, a couple of weeks in, I foolishly asked Juan, who is in fourth class, and Luciano, senior infant, if they thought Dad was a good teacher. Nervous looks exchanged before my eldest said 'you're okay, Dad', but my youngest bluntly said, 'no, you're not!'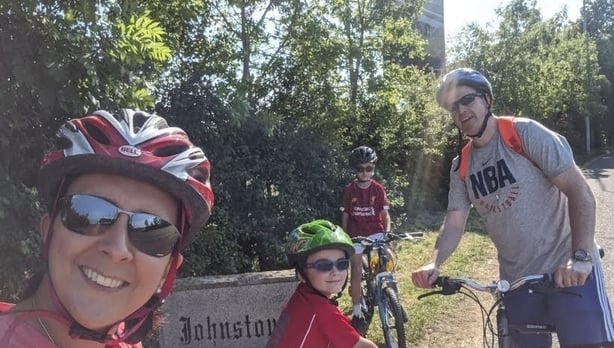 "Teaching clearly isn't my calling but for now, we've been getting by thanks to weekly worksheets and a constant open line of communication to the school. I hope the boys get their same teachers for next term because while they've coped with all the upheaval, I think the stress of them starting back would be lessened with the teachers who have been with them through all of this.
"With regards to work, when the restrictions started we had no idea how things were going to go but my wife's company was one of the first to send their staff to work from home. My own radio work with East Coast FM etc all followed suit and for the last three months, I've been doing various radio shows from the box room, including my main Saturday show for East Coast FM.
"Since we've both been working from home, we've been gradually converting parts of our home into mini-offices. I work out of the box room and my wife, as I mentioned, from our bedroom, both are starting to look more like the batcave in the Batman movie, what with all the technology around us but we're very lucky our jobs afford us the opportunity to work from home when others haven't got that option. That's something routinely said between us. Our dynamic works but I don't know how parents are doing it, with both having to work from home, or being unable to work at all. I can't imagine the stress involved in that.
"Outside of work, we had a seventh birthday to celebrate at the end of May, not the ideal way to celebrate a little boy's big day with no family or friends physically present with us but we were joined through WhatsApp Video and Zoom calls.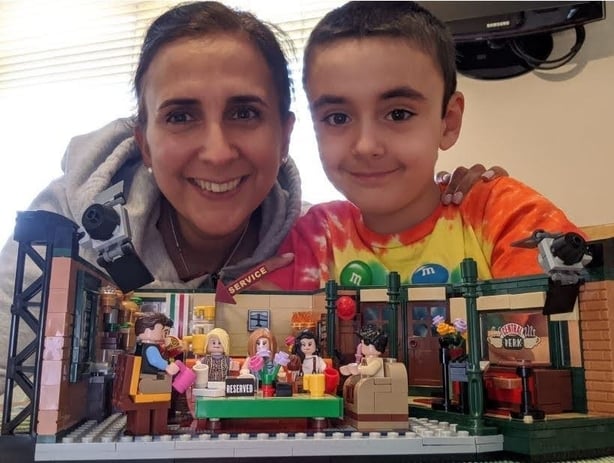 "My clever niece Gráinne gave me the idea of asking all of his friends from his senior infant class to send us a birthday video and we put the videos together to show him, he loved it. Between that, his presents and a pinata battle in the kitchen, he was happy with the celebrations but we're definitely looking forward to having a second party face to face with friends and family for him to enjoy. I'd add as well, we're lucky the boys have had each other to play with. That's made things easier.
"For exercise, I've been a reluctant runner and even Joe Wicks couldn't get me star-jumping but as a family we've been taking advantage of the local walkways and green areas surrounding Kill and Johnstown. It's a beautiful spot here in North Kildare and as a family, we try to get out for walks and cycles as much as we can. Nothing like a pandemic to help you realise (a) what you have and (b) that you're blessed with a wonderful community like we are, here in Kill, County Kildare.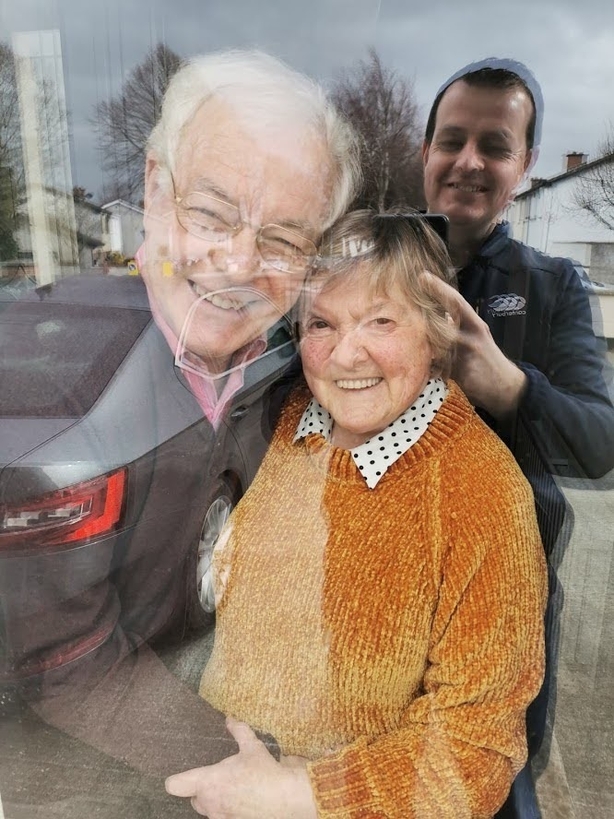 "Apart from the walks, there's been some big Lego construction going on, a lot of board games (which can end in tears, usually from the parents, moreso), there's been baking and new recipes tried out too. I'm not the worst cook and can do a few meals really well but my wife is really the star in the kitchen as well as holding down a challenging career. We had some fun making homemade pasta and my wife baked a fabulous dinosaur themed cake for my son's birthday!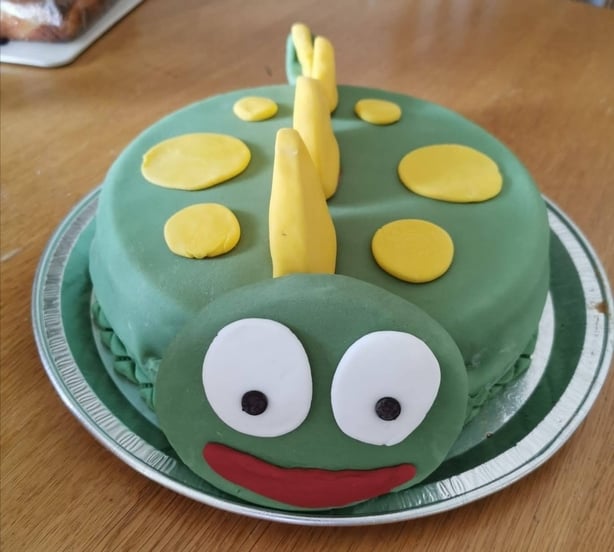 "My parents have both been cocooning and I've been helping out delivering the big shop for them once a week, albeit under strict social distance conditions. I'd leave the shopping outside their porch door before retreating. While lovely to see them, it was hard not being able to give my folks a hug. Recently my dad, who was in a need of a haircut, decided to cut his losses and use me and my electric razor. I'll have to add barbering to the list of vocations to appreciate when this is all over. He got a tight haircut from me and then made us chuckle by telling us he now looked like Bruce Willis.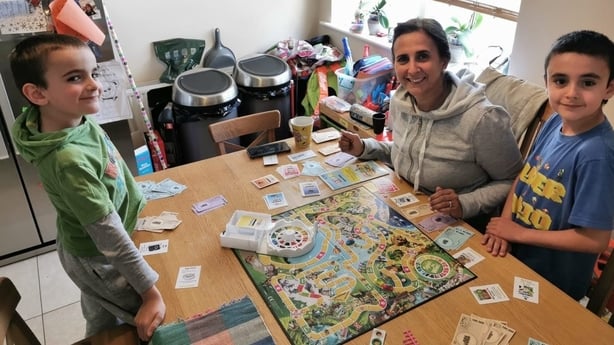 "I listen to a lot of radio and music for work purposes but I imagine if you work in a chocolate factory you might get tired of eating chocolate, so my two ways of relaxing during the last few months have been finding a good book to get stuck into or a series or movie on Netflix or telly.
"I asked my sister, an English teacher and a knowledgeable bookworm, to recommend some to me and the first two were some of the best books I've read in a long time; American Dirt by Jeanine Cummins, a great piece of fiction that follows a mother and son fleeing Mexico for the United States to escape cartel violence that I'd be surprised if it's not made into a movie! And Educated by Tara Westover, a brilliant but shocking at times memoir about a young girl who, kept out of school, left her Mormon survivalist family to go on to earn a PhD from Cambridge University. I'd recommend both to anyone.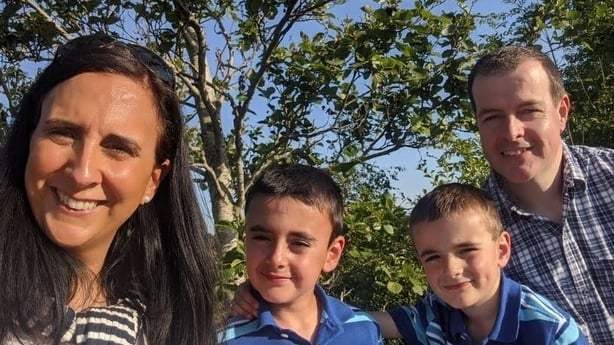 "On the TV front, I've been stuck into Jim Carrey's Kidding, Michel Gondry has a hand in it, and it's just brilliant clever telly. Better Call Saul was great and it's starting to feel really like Breaking Bad territory now. After Life (season 2) was lovely, but way too short a series. Lately I've been watching the sci-fi series, Snowpiercer, on Netflix. It's a bit crazy, but good fun - a handful of survivors circumnavigate a frozen Earth in a giant class-segregated train. I would have said it's a bit too 'out there', but then the pandemic came along!
"The kids and I've been enjoying the new Star Wars TV show, The Mandalorian. It's a lot of fun and way closer to the original three movies than all the rest of the others combined I'd say. My wife has been really enjoying K-Drama on Netflix, she came across one Korean show by chance called Crash Landing On, and from then on, Netflix, as it does, recommended other Korean shows for her to watch. She loves them, Maria says the plots are all over the top, cheesy and lots of fun.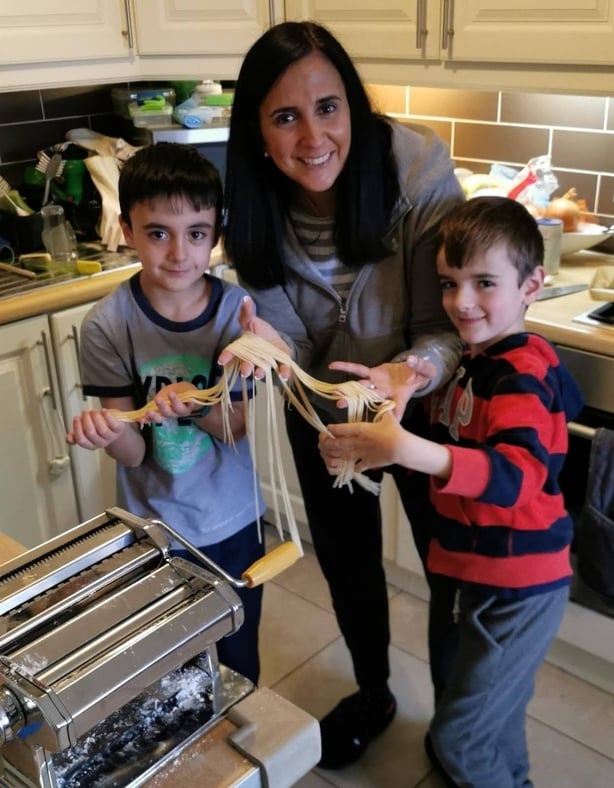 "Movies-wise, a couple I've loved have been The Vast of Night and Uncut Gems. The former reminded me a lot of Steven Spielberg's Close Encounters of the Third Kind, it's set in 1950's New Mexico and it's about two teenagers who search for the source of a mysterious frequency.
"That's all I'll say, it was made on a shoestring and it's just fantastic. Uncut Gems with Adam Sandler, was a bit of a revelation, I can see why everyone was talking about it, Sandler plays a New York jeweller who is about to pull off a huge diamond deal but things start to go against him. He's unbelievably good in it but the movie is so original. Wait until the end!
"Aside from all that I did my first ever TikTok, a lip-sync parody of Donald Trump which went down really well. The problem is people now want me to do more, and I think I should get out at the top, especially as I'm over 30!
"All in all, I'm kept busy, the boys are relatively happy but we're all wondering what will happen once the restrictions are finally lifted. Wait and see I guess."
Jason Collins is a freelance radio presenter with East Coast FM, KFM and 8radio. He presents his Saturday show from 10am to 2pm on East Coast FM